Win the Loan-some battle
Getting a loan can be a lot easier if you can train yourself as a good borrower. Do your homework carefully even before your first meeting with the banker.
Tags: Getting a loan can be a lot easier if you can train yourself as a good borrower. Do your homework carefully even before your first meeting with the banker.
BY Entrepreneur | May 03, 2010 comments ( 1 ) |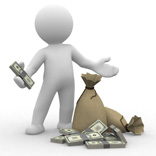 Taking a loan from a bank can be the most tedious and hair draining exercise you have gone through. On top of it you cannot hate banks or shun them no matter however tough it may seem. After all you have nowhere else to go if you cannot arrange the badly needed 'cash' from friends or family. Subsequently, banks may be easier to push through than VCs and paying interest on loans is lesser costly than giving away equity as in venture capital funding.
Getting a loan can become easier by improving your understanding of the dynamics of the banking business and being thoroughly prepared with all the documentation and conditions you need to satisfy. However, it is not as simple as you can read into this. Here are some practical tips to crack the nut.
Shed all the preconceived negative notions about banks. They are just doing their jobs in the way they are supposed to. The reluctance to lend comes out from their prime responsibility that is to protect the depositor's money. So instead of hating them, try to make their job easier. You would be rewarded for that.
Different banks specialize in their own particular niches. So you must find out banks that lend to small businesses owners or startups. Say, getting a loan from SIDBI or Small Industries Development Bank of India would be a lot easier than other banks. If you are seeking collateral free loans, then you must find out banks which are registered as Member Lending Institutions of CGTMSE (Credit Guarantee Trust for Micro and Small Enterprises). Similarly, for loans of very small size, you could consider a Microfinance Institution rather than commercial banks.
Do your homework well even before the first meeting with the banker. Find out what all documents are required and get ready with correctly filled up applications forms. Most small business banks would ask for the following documents:
Your resume
A great Business plan
Personal financial statement which is a statement of your net worth.
At least three years of personal or business tax returns or both.
Dress up like a CEO. The way you dress up makes a lot of difference to your customers. So your dressing up, appearance and the way you carry yourself can make a great impact on your banker. So look your professional best.
Try to provide the banker with information about everything he would like to know about your business. You can be creative here. Provide a list of your prospective customers, competitors, your company and competitor's brochures, products etc.
No business can be free from risks or downsides. So if you keep talking about the positives of your business, you may sound unconvincing. Be honest and tell him all the risks or uncertainties which are the part and parcel of your business. The banker would be very interested in knowing how you plan to deal with these uncertainties.
Before you ask for money, do your homework on how much money you need. The worst thing that can happen to you is to come back to the bank six months later asking for more money. Add 10% to your estimated amount for emergency situations.
The banker is more important than the bank. Try to strike a personal relationship with the banker. He may keep changing banks throughout his career while maintaining his loyalties to you.
Do not hesitate to ask questions and get important information you need. Some of these questions may be:
The repayment options
Loan renewal options
Processing fee, interest rate etc.
Personal guarantee/collateral required
Can the bank help in any way to promote your business?
Finally remember that getting a loan is not the real issue, being prepared for the same is.
Please add your comment
rupal Mehta
May 27, 2010 at 7:13 am
Can a bank help an entrepreneur to promote his business?
Reply |