5 Reasons Why Banks Refuse to Lend
Eligibility check for getting a loan
Tags: 5 Reasons Why Banks Refuse to Lend
BY Entrepreneur | Nov 10, 2009 comments ( 2 ) |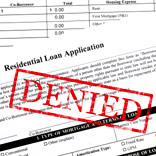 Banks are the first ones to come to your mind when you need funds to start your business. You approach the bank with lot of expectations but your loan application gets rejected. Don't worry! You are not the only one. There are many people like you who face such setbacks at the need of hour. However, the only way to come out of it is to try and understand what banks want from you. You need to check if you fulfill all the criteria that make you eligible for getting a loam.
Here are some major points to take care of:
1. An Unviable Business Plan
Entrepreneurs may invest in business plans which are not bankable because of lack of feasibility or pre-screening, insufficient security, weak or misbalanced projected cash flow. Apart from these technical aspects, banks also find the business plan quite confusing at times. This is especially the case when these poor quality business plans are drawn up by consultants with little input from the client. "For us the only criteria to pass or reject a loan application is the lack of feasibility of the business plan", says Mr Bajalia, Executive Director, IDBI.
2. Lack Lustre Attitude of the Entrepreneur
This is considered to be a vital parameter for banks apart from other business statistics. The most important yardstick is the entrepreneur's understanding of the business and the ability to form a diversified efficient management team to run it. Lack of owner commitment, confidence and lackluster attitude can readily turn-off the banker. On the whole, banks crosscheck every aspect to get assured that the borrower is trustworthy in every sense.
3. Startups are risky Investments
There is a traditional perception that start-ups and small businesses are less creditworthy than established large corporates. The main factors behind this notion are the inability to provide a credible collateral, fears of divulging details about the business, no credit ratings and of course not so impressive strong business plan accompanied with a weak management team. Applicants making a contribution in the form of cash or assets - thus showing a willingness to take risk - stand a greater chance of obtaining finance.
4. Lack of Collateral Security
Banks probably want to have an asset-backed borrowing transaction with business owners, rather than loaning money to a business based on inventory or other such methods. If the loan required cannot be justified by the borrower's financial statements alone, a pledge of security may bridge the gap. Arranging this security in the form of endorsers; co-makers and guarantors for fresh entrepreneurs is not a feasible option as banks ask them for not only legal assurance but also to pledge assets or securities.
5. More Limitations for Risky Companies
If the bank perceives a company to be highly risky it may decide to grant the loan, however with stringent limitations. On the other hand if the company is perceived as a safer bet, then lesser limitations are imposed. Limitations imposed can be strict repayment terms, pledging or the use of security and periodic reporting in order to have careful monitoring and transparency. ML Sharma, Manager, Bank of Baroda says, "Fresh entrepreneurs generally don't have enough cash and although their business plan might be good but we still incorporate certain checks to secure our money."
Please add your comment
sudhir lal
May 17, 2013 at 4:41 pm
From past years i had problems regarding paying off debts and taxes and also regarding credit cards so through my network i came across this company called Credit Sudhaar which deals with credit health improvement for the customers, so there by i contact them and shared what problem did i have and discussed with them, they helped me out respectfully and solved all my problems that i was facing. I was completely impressed with their feedback.
Reply |
IngeneGuignee
February 12, 2013 at 1:45 am
Oh my goodness! an impressive write-up dude. Thank you But I\'m experiencing concern with ur rss . Do not know why Unable to subscribe to it. Is there anyone getting identical rss predicament? Everyone who knows kindly respond. Thnkx
Reply |