Putting Her Best Foot Forward
Farah Malik Bhanji, Executive Director, Metro Shoes, always fantasised as a child how much fun it is, to be at a shop selling shoes. Metro Shoes carries a six decade old ethos of keeping service at the forefront, despite evolving with its new brands.
Tags: Metro Shoes, Farah Malik Bhanji, Rafique Malik, footwear,
BY Punita Sabharwal | Apr 02, 2012 comments ( 0 ) |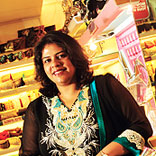 Taking an early morning flight to Mumbai on the first working day of the week, I begin my journey to meet the entrepreneur family of Rafique Malik and Farah Malik Bhanji, the father and daughter duo. Meeting them on various other occasions has been limited to formal meetings - of knowing the owner of a well-known shoe company. But today, our meeting is more towards getting real insights; to know the transformation of a six decade old brand and how it still remains relevant to the new generation. Though time is short, with just an hour given to know them, I ensure to notice each and every detail. Entering Farah's room I can see models of footwear displayed on the side table and on the other side, the family portraits. Both actually tell me a lot about her, the keen interest towards merchandising and the family playing a role in the business.
A shoe fetish of every woman is something Farah can easily relate with. The dream to be the number one shoe retail brand in India is the vision that actually keeps Farah awake at night. Even now, after having various brands like Metro, Mochi and MSL in her platter, Farah doesn't seem to rest, as her journey has just begun. She is now excited about her next project which is Metro Accessories. "In the newer projects we constantly take a lot of risk to ensure it is a success. So you have to justify what you are doing now. Though it is a family business, it should be professionally run, and the company should be able to succeed irrespectively," assures Farah.
Farah is proudly aware that she now heads the most well-known footwear retail company in India, but that actually makes her more cautious about the service standards at each of the stores. Standing tall at 175 stores in 55 cities, Metro has come a long way. The company incepted in 1947 came out with its first store at Colaba, which still remains a landmark in Mumbai. Customers travel all the way from other parts of Mumbai to shop at the flagship store. "People relate with this store. Even after being a part of modern retail, we still carry the local touch of a small retailer to treat our customers with best service. I am proud of our brand's heritage," she exclaims.
Over the past years, a new continuous improvement management technique has evolved. This is primarily because being on the shop floor; Farah gets many ideas of improvements from the front end employees. If the idea is good, it gets implemented across all the stores as a best practice.
FOLLOWING THE FOOTSTEPS
The first Metro Shoes store was opened in Colaba by Farah's grandfather, Late Mr Abdul Malik Tejani in 1947. In those days, footwear stores were named after famous theatres and that's how Metro Shoes got its name. The first Metro Shoes store even attracted film stars like the young Amitabh Bachchan. Even today it remains a favourite shopping destination for NRIs and tourists. Farah's father, Rafique Malik, who joined the family business at a young age of 19, saw tremendous potential in the concept and made possible the large-scale expansion of Metro Shoes across the country.
Farah who graduated in 1999 from the University of Texas came to India to join the family business. Since a very young age, Farah was involved with the business. Farah joined the family business in 2000 in the marketing function first. However, her passion for fashion and product sourcing drew her towards the function of Buying and Sourcing, which she currently spearheads besides marketing and operations.
SHOE FETISH
Lot of players come in and go and suddenly retail is the new fad. Everybody is running for aggressive expansion plans. For Metro Shoes, every shop's success is very important. The manager has to ensure a good bottom-line. "We have seen some of the highest sales per squarefoot in Tier 2 cities like Chandigarh. It's a small store but with a very high average price. Bombay, by its sheer size and the opportunity being so big, takes over other cities as compared to sales," claims Farah.
When Metro Shoes primarily started, it was only doing men's and women's footwear. "Then we realised there is definitely a need for a younger brand. There is a lot of youth force in India to which we are not necessarily catering to. Metro Shoes is more of a family store. And that's how we started Mochi." Farah told me. She has been spearheading new concepts in development and bringing out new projects in the market. She also made Metro Shoes the first Indian footwear company to start its own website, www.metroshoes.net.
Metro Shoes also saw a great opportunity in the value segment. A lot of current brands who were holding a very large share across the value chain were moving out of the budget space. Thus the company soon started another brand called MSL (More Shoes for Less), which now has about 35 points of sale.
The new accessories venture will be launched by the end of this month which will be known as Metro Accessories. It will house all kinds of accessories for men and women, from belts to wallets to handbags. On this new move, Farah says, "In the last 3-4 years, we have seen tremendous growth in the accessory section, which is also housed in Metro stores. In our current stores, we do not have the shelf space to exploit this potential. That's why we thought there was a need for that kind of a store in the marketplace."
STAYING ONE STEP AHEAD
Handling manpower of 150 employees in the back end and over 1,700 employees in the front end is no small feat. Given that the footwear industry does not attract the best front-end talent, Metro Shoes invests heavily in training. Every month, a manager's meet takes place, where they track, reinforce and share best practices to be implemented across the chain. At Metro Shoes, the business model is developed around one reality – "Most Indians make better entrepreneurs than employees". Hence, it follows a performance linked model that is applied to both internal and external stakeholders. This has seen the company in good stead during boom and recessionary periods both.
A strong believer in the power of technology, Farah has been impressed upon by the quick adoption of new technology whether it was barcodes or a strong MIS system. A customised MIS system to suit the business structure and strategy providing all pertinent information in less than three clicks was developed in consideration to its users (store staff) who are not well versed with technology. The company is now in the process of implementing an ERP across the organisation to move towards highly accelerated growth.
The company's marketing strategy is based on its specific brands and their life- cycle. With Metro Shoes, the recent strategy has been to build top of the mind recall, as a national chain, and remain relevant to all age groups. "We have achieved this with our brand ambassadors Saif and Kareena," says Farah. Since Mochi is targeted towards the youth, its marketing strategy lies in associating with properties like MTV Roadies and Channel V's Indiafest that appeal to the Indian youth."With MSL, we follow tactical price-based advertising strategy to promote its value for money proposition," adds Farah.
Metro sources its products from more than 100 vendors in Mumbai, Agra, Delhi, Kanpur, Chennai and various other cities. Internationally, it sources from China, Malaysia and Brazil. A Vendor Management System that allows its vendors to monitor their stocks, sales, and introductions, has also been enabled by Farah for efficient management of the products.
Also making a collection region specific has been a success strategy for Metro Shoes. The company caters to the regional sensitivity of India: it knows well to stock small sizes in Kolkata and the highest heels in Chandigarh. Warehousing and logistics, which is a major challenge for any entrepreneur in the retail sector, is handled by ease by Metro's in-house staff. 30 per cent of the space in every retail store is entirely dedicated towards storage.
FIT FOR IT
Though most of the expansion for Metro was achieved through internal accruals, the company had a private equity investor who invested three years back. PE major Rakesh Jhunjhunwala currently owns 15 per cent stake in the business. Talking about how it took place, Farah remembers, "At that point in time we were not specifically looking at a financial investment, but rather a strategic investor who would help to get an outsider's perspective." The PE firm forms a part of the advisory board at Metro giving strategic inputs and bringing an urgency to do things.
"They keep opening our eyes as to what's happening around. Otherwise you just tend to look at only your business and your industry. They tell us about the best practices of retailers across the world. So the perspective and the measuring tape changes. They give you a different perspective on your own business. It helps us to identify new things in our businesses. It helps to test new things," asserts Farah.
NEXT MOVE
The major expansion for Metro Shoes started in the last two-three years. "Earlier, we were present in only the major cities like Delhi, Mumbai, Chennai, Bangalore and Kolkata. We always wanted to grow, but never had this aggressive stage. The fact was that real estate opportunities were fewer to come by so when the market started opening up two-three years ago, with the advent of malls, we saw there is a lot of real estate open to us now. In the last 2-3 years we have been growing at 35 per cent. This year also we hope to do a growth of 35 per cent," claims Farah. Metro works on a revenue-sharing model with most of the real estate developers.
The company has aggressive expansion plans to reach to a mark of 400 plus showrooms by March 2014 with a turnover crossing Rs10 billion. Currently, it ended this October at over Rs 275 crore, enjoying a cumulative growth rate of about 35 per cent over last year. And it hopes to end this financial year at over Rs 500 crore.
LIVING THE ENTREPRENEUR DREAM
Having been born in a family of entrepreneurs, Farah has always been taught to dare to dream and learn to excel. This belief truly embodies the spirit of entrepreneurship. As through great vision and excellence, any feat is possible. In her own words "Passion is what brings me to work every single day and drives me to achieve my goals. I believe that true success and happiness can only be achieved if you are passionate about whatever you do."
"We love so much what we do. So it's no longer work. I think that's really important for any entrepreneur to succeed," signs off Farah.