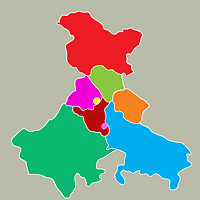 Despite a landlocked region, North India has demonstrated exemplary entrepreneurial traits by successfully overcoming challenges. What makes these eight states and one Union Territory (UT) full of investment opportunities for entrepreneurs to grow and thrive?
From largely an agrarian economy, India's northern region has seen sweeping changes in terms of infrastructure development, manufacturing and services. It has consistently outperformed India's national average in terms of GDP. Although the region has grown significantly in terms of economic growth and foreign investment inflow, the opportunities by the states and UT have not been tapped to their full potential.
Delhi
Despite limited availability of local resources like land, Delhi has emerged as a centre of strategic importance for micro and small businesses such as electronic, light engineering, plastic and textile, which constitute major investment chunk. Moreover, the Industrial Policy for Delhi 2010-2021 aims at infrastructure development through better operation and maintenance of industrial assets. The city has 29 planned industrial areas along with another 22 non-confirming industrial clusters which have been notified for redevelopment. Delhi also has skilled workforce that attracts more investment; the proposed Delhi Skills Mission is likely to help facilitate the up-skilling of the existing workforce for the knowledge-based and high-technology industries.
"Delhi is heading towards more of services and less of manufacturing with focus on knowledge-based industries, healthcare, heritage, tourism, etc. It is a complete city and offers physical infrastructure, which is well-connected and is coupled with good governance. For MSMEs, we have MSME Facilitation Councils that will pave the way for a business friendly environment for MSMEs," says Amit Yadav, Commissioner-cum-Secretary, Industries; Commissioner VAT and CMD, DSIIDC, Government of NCT of Delhi.
Haryana
Being an industrially developed state, Haryana has a strong base in knowledge-industry including IT and biotechnology. From investment perspective, the state has emerged as a manufacturing hub for both large and MSMEs and has a vast pool of manpower for support services. The state already has an effective single-window mechanism in place along with the Industrial and Investment Policy 2011 that encourages manufacturing as the key enabler of state's economic growth. What indicates about Haryana's economic strength is that it grew at 9.9 per cent even during the 2008 recession.
"Haryana is rated among top three states in India on the ease of doing business. The high quality of infrastructure, its proximity to Delhi and in coming years to the west and east corridors will add to its strength. Also, we have created ample land bank for industry to invest in Haryana," says Tarun Bajaj, Managing Director, Haryana State Industrial & Infrastructure Development Corporation.
Moreover, Haryana received Rs 10,153 crore worth investments in 19,876 micro and small units set up in the state from March 2005 to April 2014, one of the highest investments among all Indian states. The Haryana Government has proposed new clusters and parks in electronics, leather, textile and food segments.
Himachal Pradesh
The mountainous state, which has been highly touted as one of the high growing economies of India, has vast natural resources that suit investment in sectors like agriculture, agro-processing, hydroelectric power, pharmaceutical, cement and tourism. The state has seen significant improvement in industrialisation in the last few years and the new industrial areas in Kangra, Una and Solan districts are well equipped to attract SMEs. Around 34,835 industrial units comprising small, medium and large enterprises with around Rs 6,400-crore investment have chosen Himachal Pradesh as their base. 
Labour unrest and strikes, which are among the most erring issues that SMEs face, are negligible in Himachal Pradesh. Its industrial policy aims at the development of infrastructure – vocational education, human resource development, social infrastructure development, housing and power. Moreover, its major focus is to attract investors to set up biotechnology-based industries in the state. The state also offers tax incentives to the IT firms.
Jammu & Kashmir
The 'Paradise on Earth', Jammu & Kashmir boasts of investment opportunity in sectors ranging from tourism, hydro and solar power, organic farming because of favourable climate, apiculture (honey production), micro irrigation to higher educational institutes. The state reportedly has lower power tariff for industrial units at Rs 4.70 per unit as compared to Delhi, Rajasthan, Punjab, Uttar Pradesh and Haryana having tariff above Rs 5.30 per unit. The state also has lower cost of setting up business along with an industrial policy that has set up single-window system across the state with land allocation on lease for 90 years at concessional rates.
The Department of Industrial Policy and Promotion (DIPP), which formulates and implements industrial policies, has even extended a special incentive package to the state. The package offers 100 per cent premium reimbursement under 'Central Comprehensive Insurance Subsidy Scheme' to all industrial units on expansion over the next five years. Since the state has a rich base of skilled weavers and designers of handicraft products, Rs 50 crore was allocated in the Union Budget 2014-15 to start a Pashmina Promotion Programme and development of other crafts.
Punjab
The state of Punjab has grown from just an agrarian economy to a service-based economy where service sector contributes 50 per cent to the $28.7 billion Gross State Domestic Product (GSDP) FY 2014. The Punjab Government has recently announced a new investment policy offering fiscal and policy incentives on VAT, CST, stamp duty, electricity duty and property tax under the Fiscal Incentives for Industrial Promotion 2013. Currently, it is scouting investment in sectors like health and biosciences, electronics and hardware, IT, food processing and agriculture, textiles, light engineering and infrastructure.
To achieve its aggressive investments targets, Punjab has established 'Punjab Bureau of Investment Promotion' aimed at eliminating multiple points of contact and to act as a one-stop-center for all investors. The bureau will be an umbrella agency covering nine different regulatory departments. Business consulting and IT giant Infosys's new campus will come up in Mohali with the investment of around Rs 500 crore. The proposed Amritsar-Kolkata Industrial Corridor, on the lines of Delhi-Mumbai Industrial Corridor, will connect Punjab directly with the proposed Dankuni deep sea port in West Bengal.
"Ludhiana, which is the commercial hub of Punjab, has been ranked as the best place for doing business in the country by the World Bank's Ease of Doing Business Reports 2009 and 2013," says Anirudh Tewari, CEO, Punjab Bureau of Investment Promotion.
Rajasthan
The largest state of India, Rajasthan, enjoys a strategic location advantage as it borders six major states becoming a naturally significant trade and commerce corridor between these states. Famous for its hospitality and tourism, Rajasthan has seen increased influx of investment by top corporate houses, such as Honda Motors, Lafarge, Eicher, Saint Gobain and Bosch. The state offers easy availability of land to meet the requirements of setting up of new industries. The state is a home to two country-specific investment zones, a Japanese zone and a proposed Korean zone.
One of the most significant projects that will make Rajasthan a potential industrial hub is the fact that 39 per cent of the total length of the Delhi Mumbai Industrial Corridor passes through Rajasthan. The corridor is being developed as"Global Manufacturing and Trading Hub". Veenu Gupta, Principal Secretary – Industries and Managing Director, RIICO Ltd, Government of Rajasthan, says, "Rajasthan has emerged as an ideal destination for investments and growth and the fact that 60-per cent area of Rajasthan falls under the Delhi-Mumbai Industrial Corridor Project area is going to be a game-changer. We are the first state in India to have country-specific industrial zone of Japan and Korea where Rs 42.22 billion is likely to be invested in the Japanese Investment Zone."
Some of the sunrise sectors attracting opportunities of investment include solar, auto and auto ancillaries, ceramic and glass, textiles, medical and health and logistics.
Uttar Pradesh
The gradual increase in Uttar Pradesh's per capita income and having largest consumer base of over 200 million people make it as one of the biggest emerging markets for industries. The government has in 2012 approved a new Infrastructure and Industrial Policy 2012 to attain their target of 11.2 per cent industrial growth. The state also has a large pool of skilled, semi-skilled and unskilled workforce, catering to not only knowledge-based sectors but also others.
Similar to Rajasthan, Uttar Pradesh is increasingly gaining industries' attention as almost 57 per cent of the Eastern Dedicated Freight Corridor from Ludhiana in Punjab to Dankuni in West Bengal lies in Uttar Pradesh, which will be completed by 2017-18. Currently, the state boasts of over 150 industrial areas/clusters across industries and a large base of MSMEs, comprising 1.75 lakh units set up during the 11th Five Year Plan.
"Uttar Pradesh has been setting new benchmarks in the field of infrastructure development. It has a growth rate of 7 per cent GDP that accounts for the highest share of consumer expenditure. This calls for high-quality infrastructure development," says Sanjiv Saran, Principal Secretary – Infrastructure and Industrial Development, Government of UP.
Uttarakhand
Carved out of Uttar Pradesh in 2000, Uttarakhand has achieved remarkable economic growth rate of 10 per cent in FY 2014. Due to its keenness to promote investments in the state, the government has provided a host of incentives in the form of exemption from stamp duty, rebate of up to 90 per cent on value added tax, rebate on power tariffs and transport subsidy under the integrated Industrial Promotion Policy 2008.
To facilitate the setting up of new businesses, the state has a single-window contract facility under a two-tier system through the District Industrial Centres (DIC) at the district level and State Industrial Development Corporation of Uttarakhand (SIDCUL) at the state level. The state has vast water resources that can help it become an energy state, conducive for attracting investments.
"Uttarakhand offers tremendous investment opportunities in Hydro Power and Tourism Infrastructure especially ropeways. Also, so far out of an estimated hydro energy potential of 27,000 MW, only 3600 MW has been realised. This offers enormous investment opportunity through joint ventures, small hydro projects and renovation contracts," says Dr Umakant Panwar, Secretary-Tourism & Energy, Government of Uttarakhand.
Chandigarh
The state enjoys the reputation of being the first planned city in India, famous for its architecture and urban planning. Furthermore, the UT that acts as the capital of Haryana and Punjab has also been ranked as the cleanest and greenest city in India. These are some factors that have made the small city a lucrative business destination. The Draft Chandigarh Industrial Policy 2009 plans to create sustainable industry based on promotional avenues for MSMEs.
The city's single-window mechanism offers grant approval related to the industrial sector within 60 days of the documents submission. In case, the applicant fails to receive the approval within the time frame, the plan would be deemed to have been approved. The investment opportunities are highest in the services sector in Chandigarh that had the maximum contribution of 85.01 per cent to its GDP in FY13. Apart from services sector, consumer spending is considerable in automobile and FMCG sectors.
With more than 30 per cent of India's population residing in the northern region, and some of the high income states being part of the region, the potential for market development is certainly high. In true sense, it is just a matter of time for the region to expand exponentially.