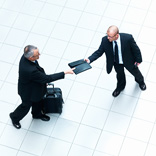 If, one day, you plan to exit your business and transform your equity into cash you will need to prepare for that along the way. You'll need to build value and equity in your company and create an appropriate business exit strategy. Carefully structure your plan to see what liquidity is going to be for you. Here, is an overview of some business exit strategies for you to contemplate and potentially pursue. 
Sale
The most common exit strategy for any business owner is to sell the business to someone else or to some other company. It's a transaction process that can be conducted between two private parties without any hassles of government regulations and oversight that occurs with an IPO. A sale typically results in the seller of the company receiving cash in exchange for the company but the tricky part of any sale is valuing the company. According to Mr. Anand Lunia, CFO, Seed Fund, "Since most small businesses are privately held, the ultimate transaction price in a sale is sometimes more art than science."
Mergers
A merger is when two companies get together, establish a value on each company, and then combine the two to form one bigger company. In most mergers, the company shareholders receive stock in the bigger company, which is presumably worth more than the stock held in each independent company. Therefore, be aware that in mergers, you may not actually receive cash for some time.
IPO
You can also sell your company via the stock market in an initial public offering or IPO. The good news is that you stand the chance to get the biggest payout of any exit strategy but the bad news is that it comes out to be very expensive to obtain an IPO with additional costs of hiring an accountant and a lawyer. In addition, there are a lot of restrictions to achieve liquidity through an IPO, based on the company size, revenues or turnaround and many others. Mr Rahul Jain, CEO, Business Coaching India says, "You cannot control when the IPO markets are strong or weak so it is much harder to plan for an IPO for specific dates."
Buyout
Another way you can achieve liquidity is to get bought-out by someone, who comes in and takes over your business. You'll usually see this happen with small and mid-size businesses that provide professional services such as insurance companies, law practices, and even distribution and manufacturing organisations. A typical buyer would be a team or individual, who is in the same line of work and who will take over your business on the basis of buying out your existing ownership. Mr. Pranay Gupta, Jt CEO at Centre for Innovation, Incubation & Entrepreneurship (CIIE), IIM-Ahmedabad says, "A deal like this is often tied to performance of the business at the time of the buyout and after you leave. Usually, you'll get a better deal if the acquiring company can pay upfront rather than doing a 'leverage buyout' where they leverage the future cash of the business to pay off their debt to you."
Liquidation of assets
If you don't have any debts, you can also achieve liquidity by shutting down your business and selling the assets that you have. Of course, you'll need to find buyers who feel that your assets have value, and you'll have to negotiate a fair price for those assets. The only drawback about this kind of exit strategy is that you usually get the smallest amount of money because you're just selling the raw assets and aligning your buyers with a price they're willing to pay.