Brother, Sister can be Good Business Partners
There are many brothers and sisters who have taken their relationship to the new level by becoming partners in business.
Tags: brother-sister business, brother-sister business partners, Paramjit Kharbanda, Sucheta Goenka, Gaurav Goenka, Citrus Hotels, Mona Lamba, Pali, Monapali
BY Entrepreneur | Aug 22, 2013 comments ( 0 ) |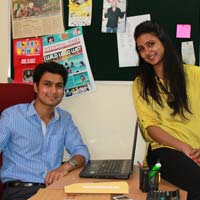 Gaurav Goenka and Sucheta Goenka, are today running the Citrus Hotels. Gaurav has done MSc. in Economics from University of Wales – UK, and Sucheta, has done her FMB from SP Jain University.
Gaurav came up with the concept of Citrus Hotels. Initially, Sucheta was not interested in joining brother's business; but later, Sucheta joined Gaurav and both have spread their business across India.
Similarly, Mona Lamba, Pali and Paramjit Kharbanda, Founders of Monapali, set up their first showroom in Loudon Street in Kolkata.
Paramjit says, "I was a practicing CA and am also a law graduate and she was on a crossroad of her career, not wanting to depend on anything. She did have a gifted talent and I also saw a great deal of partnership in the venture."
Sister has not been the helping hands but also provides good suggestions regarding business deals and proposals. Anand Hiremath and Supriya Hiremath, Director, Manzil Events, are running their business in Bangalore.
Saving Each Other
In the early times, people use to say that brother is always ready to help sister if she is in problem. But sisters also help their brothers in hard times.
Manzil is an event management company, founded in August 2010 by Himanshu Baid and Anand Hiremath. However, in June 2012, Himanshu was required in his family business in Kolkata and he decided to leave the company.
"Our company starting facing a problem after Himanshu left. We were not able to survive as the total work was completely dependent on me. Later 'Supriya' quit her job in Tata Capital and joined me as a partner in the company," says Anand.
Similarly, both Mona and Pali had an inclination towards design and hence their brother, Paramjit Kharbanda decided to sponsor their business venture. He had faith in their creative ability and hence Monapali was born.
"Without them, it would have been very difficult for us in starting this company. It has been their work that helped us in running out such a good brand in the market." says Paramjit Kharbanda.
Sharing Equal Responsibilities
Sisters are not only the equal partners in business, but they also share equal responsibilities with their brothers.
Mona and Pali take care of the design and creative bit of the brand, Paramjit look after the production bit. "Their role has been much more important than me in the business. Due to consistent innovative designs and creativity, our business has been running successful in India."
Supriya has been completely handling over the best vertical of Manzil events that is Sutra Weddings and remaining verticals are handed by Anand.
"We are handling different verticals in the company. Supriya is primarily accountable for Sutra Weddings, while I am primarily accountable for the other verticals. We have set timing for our review meetings and make the important key decisions together," says Anand
Sisters as Blessings
Being a brother sister and partners in business, the biggest advantages that they share is that there are lesser chances of having conflicts.
"We are comfortable with each other and there is trust. The value system is the same so there are lesser conflicts. Generally, they are on the same wavelength so that helps. Having siblings helps the business grow in more ways than one can imagine," says Paramjit Kharbanda.
Anand says, "There are very few places where we face conflicts. As our decisions are for the benefit of the company, we seek to understand each other's perspective first. But when the situations are difficult, our father is the guiding light."
Sister's Marriage: Not a Problem
In several cases, situation comes when the marriage of the sisters results into problem for a brother in the business. A sister might have to leave the business if his husband disagrees to make her continue the business."
Paramjit says, "Marriage cannot be a problem, if the brother-in-law is non-interfering. But if he interferes, then we should try to resolve the issue taking views of both families."
The family values are very strong that will help to get the right way. Sister should also keep a proper balance between the family life and business which would not create this situation," says Anand.
Introducing your sister can prove to be a right decision instead of starting a business with any other outsider. You would have a complete trust over her in the business, and she would also prove to maintain the accountability in the decision making of the business.