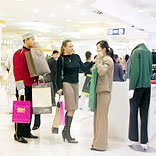 Without doubt the most important goal for every company should be to find customers that one can turn into regular buyers. But keeping such measures in mind,  is it possible for the brands to go on a spree, in search of their elusive buyers?
Beginning the Search
You need to make the business visible both on online and offline media, as these can be categorized as possibly the best way to bring in a new client. The simple logic that applies here is that 'more the people see you; the more likely it is that they will call you when they want to buy.' But to achieve this, you need to target the right audience. No point in engaging to the irrelevant audience with your business as this can only hamper the primary objective of attaining visibility among the customers/buyers.
Hard times ahead
Businesses need to understand that in these uncertain economic times, buyers too are keeping a tight rein on spending. So, unless you have something that is really value-for-money, chances are that you will never be considered a supplier/ seller worth exploring. You need to act proactively to your brand and offer the consumer something that your competitors fail to provide. A buyer is always looking for brands that pamper him in such a delicate manner that, tags of exclusivity, high quality all attract him/her towards the brand instantly. Another good move to make your first-time customer buy from you is by varying your offerings. Since he is a first-time buyer, it will not be possible for you to know the buyer's budget. So make it known that you can cater to buyers of varied budgets. Also try creating urgency in the customer's mind, which can drive a faster buying decision. This is a classical marketing principle and works almost every time.
Shed their inhibitions
The top reason why buyers hesitate to make a purchase is doubt. They wonder if their needs will truly be met once they buy your products. To do away with these doubts, it's imperative for each and every business to answer every query a prospective buyer might have. Failing to do so in a professional manner raises doubts in the mind of the buyer and usually leaves him with no other option than to go to the next seller/ supplier. The current competitive market dynamics demand that a business understands its potential buyer. The mantra to compel customers to buy your products is to show him how your product is capable of meeting his expectations. Unless the doubts are cleared, the brands will always remain under the shadows of its superior competitors. It is imperative that they understand the mindset of the customer/buyer keeps evolving to such an extent that, one cannot keep in check the current realities of the market.
In order to attract buyers to come over and over again, one needs to guarantee the buyers  high-quality products, efficient service, friendly ambience and experience to cherish. Buyers do have a fickle mind, and it is the job of brands to make sure that, they keep themselves in the limelight and necessary brand recall is attained.