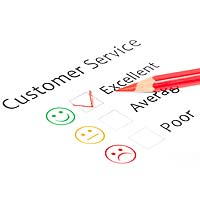 Here are the six ways that result in customer satisfaction at various stages of the entrepreneur's journey.
1. Love Your Product
Most entrepreneurs, who have made it big, are entrepreneurs who were passionate about their product or service. This is the root driver. Not customer satisfaction, not greater revenue, not better margins. All of these are by-products of an entrepreneur's passion for his product. Steve Jobs life-long love affair with his products, led to the creation and revival of Apple. The passion of the founder for his product has to be balanced by market viability, but a product without passion is a recipe for disillusionment. At the end of the day, it is the passion of the founder that rubs off on his team, which then results in customer interaction and satisfaction.
2. Be Faithful
When founders get the first taste of market recognition for their product, they tend to lose their focus. The pure passion, with which they started the enterprise, gets adulterated with the hunger for higher revenue and more profit. Rather than consolidate and create greater depth in their product and services, they tend to seek other areas of growth, often diversifying into related products or other market segments. As a result, the core business suffers and the new venture never really takes off. In the process, the market advantage and customer focus it held earlier is lost, resulting in decline in revenue, quality and brand name.
3. See 'The Whole'
When the organisation and business has grown to a certain scale, the founder makes efforts to organise it. Unfortunately he, like most of us, is not trained to see 'The Whole'. Most management theories break the organisational process into pieces, on the lines of strategy, teamwork, customer service, employee motivation or leadership skills. The owner or founder needs to cultivate a holistic vision, a vision that would enable him to view the entire organisation, and not just one, or a few parts. Fragmented vision, results in a disjointed way of working, and eventually effects customer experience. The founder should know when it is time for him to let go and get professionals to run his business. The challenge then is to find a person who can show him the 'Whole Picture' objectively, from a distance. Unfortunately there are very few consultants who work with the 'Whole System'.
4. Not To Be Penny Wise and Pound Foolish
When the organisation has moved towards market success and greater financial returns, this "cost conscious" nature continues. Quite often this cost consciousness is directed towards raw material procurement and employee salary. As a result, the organisation gradually becomes saddled with poor quality of material and staff strength. As a result the final output is bound to be below standard. The entrepreneur needs to invest wisely in competent people. He or she must set systems in place to check the quality of material used, ensure work processes are followed and eventual customer experience is assessed regularly. It is better make a few unwise investments in people, consultants and setting systems and learn in the bargain, rather than be cost conservative and erode the business gradually.
5. Put Structure Before Systems
This is relevant for entrepreneurs whose business has scaled up to a certain level. As the revenue of the business touches either side of Rs 50 crore, the entrepreneur recognises the need to set up systems. Perhaps he gets a consultant who will design, document and implement Standard Operating Procedures (SOPs). Alternatively, he may repose faith in his company's senior employees to design and implement systems. However, this is never easy, as this entails changes in the "power structure" of the organisation. Moreover this can only work when the founder disciplines himself to work within clearly defined new role boundaries. His focus must no longer be on doing things or getting them done, but the focus must shift to monitoring macro results and building an effective working relationship with the new professional manager(s), who have joined his company, as a result of the re-structuring process.
Processes only work when there is someone in the structure, who ensures that people are held accountable when the set processes are not followed. Eventual responsibility for this lies with the founder. Unfortunately founders by nature find it difficult to follow rules, which is why they need to find a professional manager who is the opposite of them and make this marriage work. This is never easy and requires great self-discipline on the part of the entrepreneur.
6. Break The Myth of Culture
Quite often founders and business leaders talk about culture and values passionately. Their challenge is to ensure those values and culture are imbibed by the whole organisation. "If only people could take responsibility for what they have to do and work with ownership, I would be able to focus on strategy or the big picture." We have heard this statement from many entrepreneurs who have gained some degree of success in their business ventures.
What entrepreneurs fail to notice is that a culture is not a product of telling people what to do, but letting go of the telling, and moving towards setting up systems to monitor the running of the business. In a founder driven company, culture is a direct outcome of the behavior of the owner, most of which is driven by unconscious motives. If the values by which the business is run need to be institutionalised, then policies need to be implemented that reward desirable employee behavior and check behavior that is unwanted. Someone needs to set these policies and monitor them. Quite often this is considered the role of HR. The HR is an illusion in most SMEs, as all power vests with the founder.
Only when the entrepreneur recognises that in order to attain his vision, he can no longer work as an "I" and needs to move to a "We", will there be a real transition towards ownership, fairness and predictable results. All of which then contribute to the ultimate customer experience.
About the author:
Ajay Kalra is the founder of Flow Consulting, an organization development consulting firm and has worked with SMEs across industries.