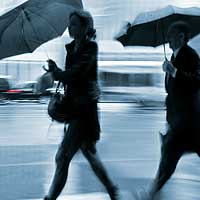 Climate change is defined as a significant and lasting change in the statistical distribution of weather patterns over periods ranging from decades to millions of years. Climate change is caused by factors that include oceanic processes, variations in solar radiation received by Earth, plate tectonics, volcanic eruptions and human-induced alterations of the natural world.
Just like large business, SMEs recognize the link between sound environmental practices, long-term business profit and growth, and a healthy economy. Indian MSME are most vulnerable to the impacts of climate change and environmental degradation as they often lack sufficient infrastructure, access to credit for investments and limited capacities to upgrade production facilities, availability of skilled personnel, limited resources to react on new challenges among others.
Assessing these impacts and the resulting risks and integrating them into their medium and long-term business strategy can offer new business opportunities for SMEs to deliver new innovative products and services that are aligned with environmental trends. It is hence crucial that SMEs are not only realizing the need for climate change strategies but also put them into practice to actually achieve a significant impact to one of the world's biggest challenges. According to a recent survey, SMEs have expressed a strong belief that protecting the environment and growing the economy can go hand in hand. Although SMEs may not have the organizational influence and resources of large enterprise, they are uniquely positioned to implement and inform the development of innovative yet practical approaches to addressing environmental issues.
Risks Involved
The main risks to SME's of climate change are increased costs and loss of revenue. As governments around the world and in India develop and implement plans to address climate change, energy costs are predicted to increase. Other increases may include rising insurance premiums, more expensive raw materials and supplies, and higher production costs, such as for transportation. As the climate changes, there are increasing risks of blackouts and damage to property and inventory from floods and high winds as a result of extreme weather events. In addition, crop failures from drought will affect farmers, and high temperatures will affect workforce productivity.
Another business risk for SMEs associated with climate change is customer preferences. Customers & importers in overseas markets are becoming increasingly aware of the impacts of climate change. In light of this understanding, they may favour businesses that are environmentally sensitive and that help customers reduce costs. Thus, risks can become opportunities for businesses that are addressing climate change.
Time to Adapt and Change
The key learnings while highlighting the climate change management strategies of large companies can serve as a guide to SMEs on how to approach and integrate sustainability and green house gas reduction into their own business. As with large companies, SMEs who take action on climate change will experience cost, competitive and operational benefits.
Moreover, as large industry continues to integrate sustainability into corporate practice, it will recognize that climate change management strategies must include the impact of SMEs along the supply chain.
SMEs that proactively assess and manage the risks and opportunities of climate change will be better equipped to gain access to new markets that emerge from this shift towards sustainability. Working together to raise standards, increase innovation and gain new competitive advantage offers a win-win situation for both big and small companies in the new economy.
What Can SMEs Do?
SMEs can anticipate and adapt to the impacts of climate change on their businesses by assessing their exposure to climate change and taking action to address these impacts. They can, for example, locate away from flood plains and coastal areas, use improved wind-resistant building materials, and develop new products and services that help others adapt to climate change.
SMEs can help mitigate climate change by reducing both the production of greenhouse gases and the consumption of fossil fuel-based energy. For example, greenhouse gas emissions can be reduced by implementing energy conservation measures, such as energy efficient lighting and space heating, incorporating greater recycled content in products and selecting production processes that either emit or use less greenhouse gases.
SMEs can capitalize on climate change as a revenue-generating opportunity by developing technologies, products and services that help others reduce their greenhouse gas emissions and improve their resilience to the effects of climate change. Government and large industry initiatives to reduce emissions will create new markets for such products and services, as will customer preferences for environmentally sensitive businesses. The results for SMEs that take action may include increased customer loyalty, new customers, cost savings and additional sources of revenue. The results of inaction may include increased operating costs, loss of business and even business failure.
Each business is unique and will respond differently to climate change. All SME owners and operators, however, can address climate change as they would any other business opportunity or challenge by setting goals, determining priorities, and then developing and implementing a plan to address the challenge.
So, I can conclude that if SME's can start thinking about climate change as a business opportunity to reduce cost & increase sales, then this will be another step in the direction of SME competitiveness. This will have to be verified in sectors & sub sector of industry verticals. It could also be verified in functional areas of business like logistics, finance, marketing, HR, production, process & premises.
The writer is Founder & Chief Mentor at Cluster Pulse.