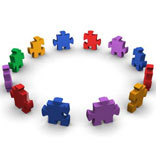 Teaming up essentials for new ventures
Selecting the core team for your new venture is a highly critical start-up activity. Successes and failures are visitors in an entrepreneurial life. What has to stay strong at all times is the team. Before coming to Dos and Don'ts of this task, let us have a quick view of those team characteristics that influence the sustenance, growth and longevity of an enterprise.
Complementary Skill sets
A team that has a mix of skill sets helps to obtain a sense of functional completeness. Varied backgrounds w.r.t education, experience and innate talents (that apply to the functioning of the enterprise) help to gather different perspectives. A team that brainstorms healthily, considering maximum possible perspectives is less likely to take a wrong step than a team that does not. An investor would also be more interested in ventures that have teams with no critical gaps in functioning.
Clear Communication
A team that is comfortable in communicating does a good job of sticking on during the odds. If the team members can develop a quick and crisp way or articulating their views in different situations, it brings in increased efficiencies and saves a lot of embarrassing situations. It always pays to have some ground rules set about sharing critical information well in time and about being prepared to face the outside world together.
Bonding
We already agreed that a new enterprise would have to go through a roller coaster journey in its initial stages. Good bonding within the team comes handy in crisis situations. It is highly recommended that you be friends with your team members. Understanding each others drawbacks, helping to overcome weaknesses, complimenting the performance, taking up extra load to help a member in personal distress, all are important to hold the team together and maintain the entrepreneurial spirit high. A team that bonds well is the team that does well.
Attitude Compatibility
This plays a significant role in team bonding. Never team up with people with whom you face an attitude incompatibility. Variety and complementary nature of a team yield results only as long as the compatibility factor holds. After all the differences in opinions, approaches and thought processes, the members should be able to make place for inputs of other members and have the team efficiency and enterprise as the top priorities. The ideal attitude should be – Enterprise first, individual egos next, (probably last).
Vision Sharing
That the whole of the team shares a common vision is an essential characteristic of a performing team. It is the responsibility of the entrepreneur to articulate the perceived vision to all team members and see to it that there is a consensus. The differing opinions and thoughts can be deliberated upon and time can be spent on arriving at a common vision. But sharing the common vision is necessary at the end of the day as it plays a significant role in determining each member's commitment, approach and performance.
Having said and done about the good team characteristics, below is a humble attempt to capture the step by step process of teaming up the better way.
1) Look out with an open mind to identify your team. Leverage your networks and associations well. Prior knowledge of one's professional back ground is a must before you even consider him/her to reveal your ideas.
2) Meet him/her a couple of times before expressing the complete business idea. Try to have a peek into the future plans and aspirations of the person independently. Make sure he/she has those skill sets that would add value to your proposed enterprise. Try to look a decade ahead and see if he/she can blossom into a true leader in your growing enterprise
3) Reveal the business idea gradually depending upon the reception of the person in question. Do everything to ensure protection of your idea (especially for product related ventures). Verify if you share a common goal w.r.t idea. Be open to modify individual goals if a common goal brings more value.
4) Have an open discussion about expectations from either side. Communicate any significant factor that can affect the functioning of the new enterprise. Be open about all risks and rewards. Ensure commitment from both sides.
5) Having done this with every individual, arrange for team meetings. Ensure the team can cater to all critical functionalities of the new enterprise. Also ensure a comfortable communication between all the team members. Give time for them to get comfortable with each other's approaches
6) Redo the vision sharing task with the team as a whole. Brainstorming in a larger group could bring many unforeseen points into light. Encourage listening and ensure a clear understanding of each others ideas.
7) Note down the alignment between the common goal and personal goals. A deviation can affect the team efficiency and commitment adversely.
8) Be clear about the contribution and reward match for each team member. Do not jump into conclusions about the importance of each role. Deliberate well and make sure every member understands the match and accepts it.
9) Once the team reaches consensus about the risks, rewards and responsibilities, group think on the elaborate business plan. Give the necessary level of autonomy to each team member depending upon his/her strengths and areas of expertise.
10) Monitor the team communication and try to cut down the chances of ego clashes. Re-communicate the enterprise priorities regularly and accommodate relevant changes that can bring value to the enterprise.
Once your team and Business Plan are in place, you can embark on the much aspired entrepreneurial journey. Be sure to keep in mind all what is explained above. Ensure a smoothly running team by timely encouragement and feedback. Don't hesitate to share the rewards. Remember that provided both a and b are positive. Happy teaming up!
About the author: Saiswaroopa Iyer has co-founded Breakthrough Venture Consulting, an organization directed at assisting entrepreneurs and SMEs in their quest for successful enterprising. She holds an MBA from IIT Kharagpur and had brief stints with Infosys Technologies and Aranca Investment research. Sai can be reached at saiswaroopa@bvc.co.in