First restaurant chain in the world to serve the traditional slow cooked Arabic cuisine in a quick-service format. Traditional Arabic cuisine (Mandi) is the third fastest growing cuisine in the world.
The company, which was started in 2012, has expanded aggressively with the current geographical presence in 8 countries. Mandilicious has adopted central kitchen in its business model wherein each central kitchen caters to one casual dining restaurant and 4-5 quick-service restaurants. This methodology ensures faster return on investment.
The company is seeking master and multi-unit franchise partners in India.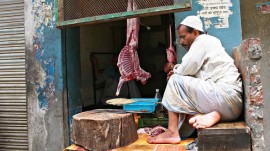 Mar, 31 2017
Shiv Sainiks forcefully shut down...
The men were identified as the members of the local unit of the Shiv Sena, who were demanding that fast food joints and restaurants
SC s liquor ban on highways to leave 90 ...
Cambridge Montessori Pre-School wants to...
As per Cambridge Montessori Preschool and Daycare (CMPS), independent learning, creative learning and excellent communications skills
Reinventing and elevating the dining...
May, 26 2017
The Need For Trust Is Paramount In The...