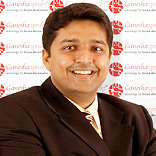 Astrology as a concept has existed since time immemorial, but professionalism was never a part of it until Hemant Arun Pandeet arrived at the scene. He is the MD and CEO of SiddhiVinayak Astrology Services Pvt. Ltd, the company that owns GaneshaSpeaks. He speaks more on the subject in an interview with the Franchise India Media.
Shambhavi Anand (SA): Tell us something about GaneshaSpeaks. What products do you offer?
Hemang Arun Pandeet (HP):  GaneshaSpeaks is a branded astrology service, which is available on the Internet and via telephony. We forecast on all aspects of life, that is, career, business, finance, love, marriage, and property, etc.
(SA): How did you conceive the idea?
(HP):  I was present during an offline consultation done for one of my friend and was shocked to see the lack of professionalism displayed by the astrologer. I knew that a lot of Indians believed in astrology and there was a market, which was already consuming the services that were provided. I also realised that astrologers were brands in themselves and this is where the problem laid as they are as prone to err as any other human being. Hence, I decided to start a branded astrology service where the brand was different from the astrologer and could act as an umbrella under, which a team of astrologers delivered professional service.
(SA): Where did you get the funding from?
(HP):  I got an angel investor to fund the initial effort. He had faith in my business and me hence he invested the money.
(SA): What challenges did you face in this space?
(HP):  The biggest challenge is the limited Internet penetration in India. Also, what worries me is the rapidly changing consumption pattern in the telecom VAS (Value Added Services) scenario.
(SA): What is the worth of the market?
(HP):  A leading business daily had estimated the astrology business to be worth $10 billion, annually, in India. When we consider the entire world, the online business is worth $400-500 million, annually, and the telephonic astrology business is worth $5 billion, annually. However, these are informed guesses since this business is not organised either at the national or the international levels.
(SA): How are you promoting the business?
(HP):  Advertisements to start with, channel partnerships, strategic tie-ups and effective PR are some of the tools that we use to promote the business.
(SA): What is the pricing mechanism?
(HP):  The telecom business follows a per-minute pricing where as the Internet business follows a per-product pricing.
(SA): Are you looking at expanding your offline presence?
(HP):  Indeed, that is exactly where astrology is being consumed the most currently in India.
(SA): What were your roadblocks as a start-up?
(HP):  There were so many of them – cash flow crisis, lack of good quality man power, lack of systems and procedures, etc.
(SA): Do you have any role models?
(HP):  Yes, Dhirubhai Ambani is my role model. The brilliant manner in which he navigated his business from a scratch to the highest levels makes me his admirer.
(SA): Any advice for new entrepreneurs?
(HP):  Ensure that the business has sound fundamentals and handle your finances very carefully.