Business Growth without Funding
No funds for further investment? Still your business can grow. Explore and find out the alternative.
Tags: Business Growth without Funding
BY Entrepreneur | Mar 22, 2010 comments ( 2 ) |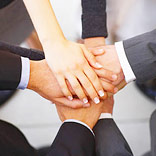 One of the most powerful ways to facilitate business growth is through the application of strategic alliances. These alliances or virtual funding as they are sometimes called, turn out to be extremely beneficial like the infusion of cash into your business, for both short and long period of time. By using strategic alliances, you can avoid borrowing, or bringing outside investors into your business.
Two important strategic alliances are marketing alliances and product alliances. Under a marketing alliance, you and another business exchange customer bases. This allows you to gain access to another business's customers, to whom you can market your products or services. Additionally, you may also earn a royalty or share revenue from the other business' (your alliance partner's) sale of its products or services to your customers.
With a product alliance, you are able to offer other party's products/services to your existing customers, while your alliance partner sells your products or services to its customers. Under this type of alliance, you are able to sell products and services without any additional requirements, such as manufacturing know-how and capabilities, product distribution networks, or increased investment in inventory and storage. All you have to do is divide the sales revenue between your alliance partner and yourself.
The ideal businesses to form an alliance are those that offer products and services that are complementary to your products/services. For example, if your business offers sporting equipment, you could create an alliance with a sports clothing retailer as a way of offering its sports apparel to your business's customers, while the retailer sells your sporting equipment to its customers.
Before you enter into an alliance with another business, you must complete due diligence research and analysis to determine the trustworthiness, capabilities and reputation of any potential alliance partner. Referrals from a business's customers and/or suppliers are good sources of information, along with any credit information, you get an access to. If the potential alliance partner has any existing successful alliances with other businesses, the feedback would be very useful to you in making your decision about this potential alliance partner. Mr. Tejpavan Gandhok, CEO, Lite Bite Foods Pvt. Ltd says, "In order to be successful, an alliance must benefit all members sufficiently to both entice them as well as maintain a strong level of interest and working cooperation throughout the entire term of the alliance."
Finally, before you make a strategic alliance a permanent agreement, you should test your alliance concept with each potential alliance partner. Once you have the results of your tests, you can refine the terms and conditions of the alliance and then finalise all legal documents and operating agreements.
Please add your comment
Hushan Kumar Bisen
April 28, 2010 at 10:22 pm
Very good concept for the new business enterprenurer.
Reply |
meghna laad
April 04, 2010 at 11:42 pm
read this article ....
Reply |