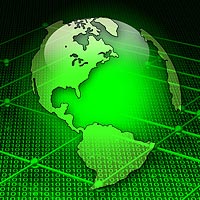 In the today's competitive environment, it is not easy for start-ups in technology world to scale up the ladder, especially in the international market. Despite of the fact that there are a number of problems to be faced in the international market, many Indian start-ups increasingly prefer to go global. Ittiam Systems, Druva Software, Serial Innovations, Mistral Solutions, Tally Solutions and Subex Technologies are few names that are making success stories internationally against all odds. All these start-ups are based in India and offering a variety of online content in digital marketplace globally. Most of them are escalating their physical presence in these markets to win customers' faith and improving their skills as well.
Mistral Solutions is selling high end embedded solutions and hardware engineering design for international players. Explaining more about its business domains Anees Ahmed, Co-founder, CEO, Mistral Solutions, says, "Our products ranges from defense to product engineering services. In product engineering services, we offer product developers end-to-end design and development services from concept to deployment. In defense, we are into building, designing and deploying customised solutions as per the various needs of defense forces." Mistral's headquarters in Bangalore was founded by Rajeev Ramachandra and Anees Ahmed in 1997 to provide technology design services for the embedded space. According to him, in past few years, start-ups have been started focusing more on markets across the borders. Other creditable start-ups in this pursuit includes the team of three start-ups Jaspreet, Milind Borate and Ramani Kothandaraman who started Druva Software in 2008 today recognised worldwide for providing endpoint data protection enterprises. It has key clients in the UK and North America. NASA and Siemens are its main customers that take technology services in the data recovery category. In the same way, Ittiam Systems Private Limited has achieved many milestones in one decade old journey. Based in Bangalore, it is focused on embedded media centric systems. It offers products to world's leading electronics companies. Another start-up SupportBee, founded in 2010, offers help desk software to a number of international clients. Whereas, Instamojo Inc. is selling digital creations of international customers and expanding its footprints gradually.
What makes them to go global and scale there? To answers this question Ahmed says, "In the developed countries, there are plenty of prospects to find customers for entrepreneurs and the markets are very large. Every entrepreneur who has a good idea of technology to fulfill customer needs and market positioning can grow remarkably." When we compare international market with domestic market, the circumstances are different. Sameer Jain, Founder, CEO, Net Solutions, says, "In international market, the customers are less price sensitive and they quickly make decision, this help start-ups to scale fast. Moreover, you paid well while dealing with an international client that makes your profit margin high and drives growth." He has started Net Solutions, a mobile software development company, two decade ago and today is building mobile and Internet solutions for business enterprises and start-ups. During this tenure, the company has led many clients in overseas market and provides them with software solutions. Jain says, "Innovative products with exclusive designs always appeals international clients. They also influenced with high performance and grand quality of products." He advised start-ups to invest more in R&D as this will benefit them by creating strong market demand for their products."
However, for a start-up making clients is not easy. Jain adds, "For a start-up based in India, building client confidence, difference in time zone and communication gap are major challenges to face." But by making little efforts a start-up can easily cope up with these issues. Ahmed says, "When we set up the company 15 years ago, there were many large international players and Indian tech start-ups were only a handful. Getting a foothold in the global organisations was a challenge. To address this issue, we decided to invest in setting up an office in the US, thereby establishing our presence there and inspiring confidence in our customers. For a small company like us, the cost of doing business overseas was a huge cost. But with each successful project, we won customer confidence."
Final Word
Many Indian start-ups prefer to go global as these markets offer them huge scope to grow fast. Moreover, they can run a profitable start-up from any city of India via Internet. "Innovation and change are critical factors that make the entrepreneur successful in technology world," concludes Ahmed.