E-Commerce & D2C Pavilion
Exhibit - Partner. Grow. Expand.
E-commerce has been one of the fastest growing industries and is predicted to make it the world's second biggest market by 2034. E-commerce has transformed the way business is done in India. In 2023, the Indian e-commerce market is predicted to increase by 21.5%, reaching USD 74.8 Billion. India's e-commerce market is expected to reach USD 111 Billion by 2024 and USD 200 Billion by 2026. Much of the growth for the industry has been triggered by an increase in internet and smartphone penetration.
E-COMMERCE

Digital Commerce is the gamechanger for Brands. The tectonic shift in the retail landscape is helping Retail and eCommerce brands to strengthen their core and develop new capabilities in omnichannel, data analytics, and personalization. This has created new opportunities in Retail franchising for companies, who are trying to up the game with Micro-Fulfillment by integrating convenience and value across channels with local franchise partners.

D2C

What makes D2C business a preferred Business Model so much so that even established FMCG brands are gravitating towards it? Higher margins and the opportunity to increase sales quickly are not just the big benefits of the D2C strategy, rather it is going from digital to physical channels that change the game. With the onset of Open Network Digital Commerce (ONDC) Small and Medium, D2C Brands will have massive expansion opportunitie
WHO EXHIBITS
Mega Brands
International retailers, importers, manufacturers, local manufacturers
Brands and local retailers seeking distribution opportunity through Retail, eRetail and D2C
Hyper Marts, MBO's, Retail Real Estate Developers
Futuristic Smart Retail and Omni channel technologies
Payment Solutions
Supply Chain and Logistics Brands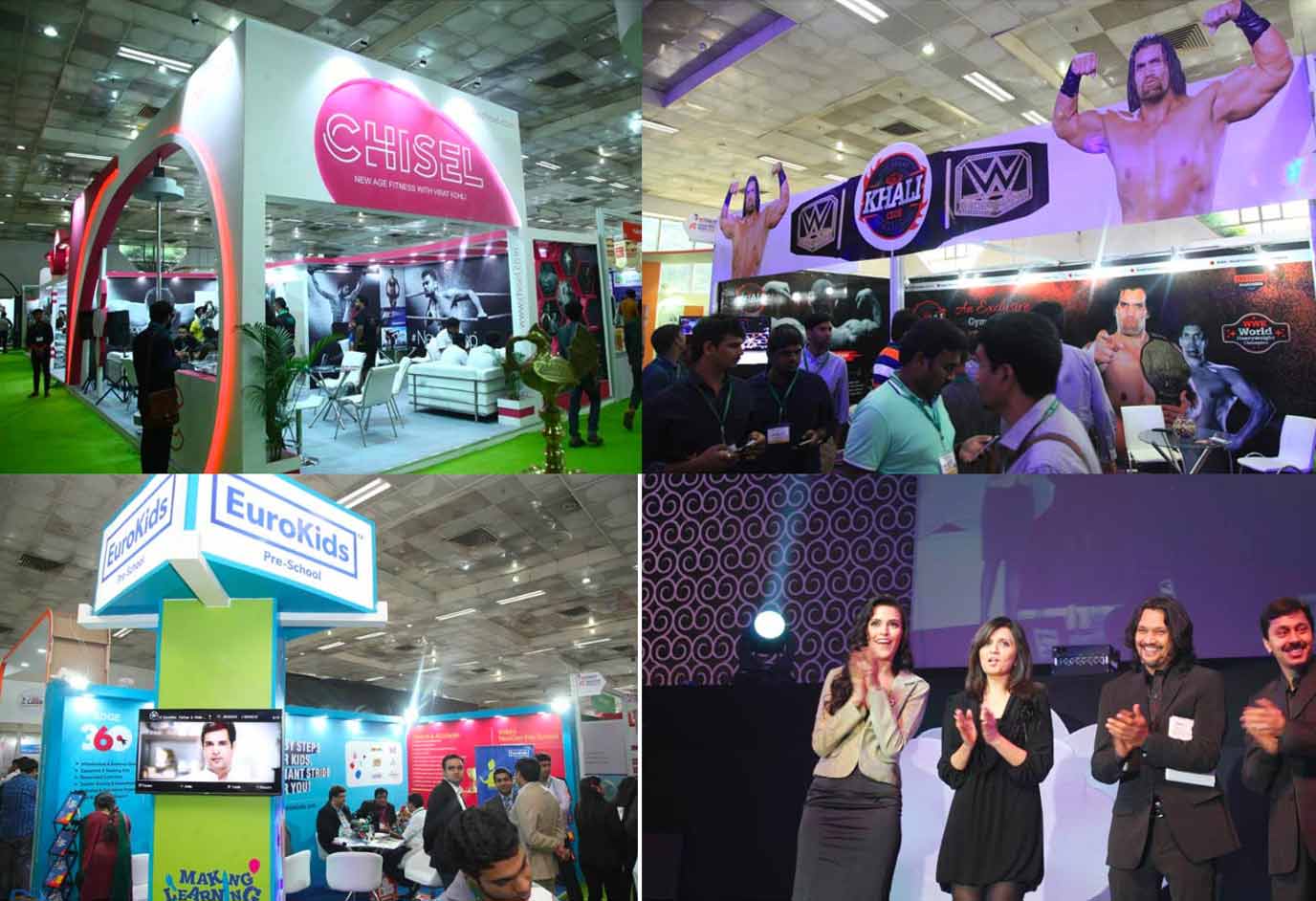 WHO ATTENDS
Key Decision Makers and Investors
Retailers looking for New Brand associations
Top Leadership of Big Retail Real Estate Enterprises
Retail, eRetail & D2C Startup Founders
Retail Community across Management Level
PAVILIONS IN FRANCHISE INDIA 2023
Mega Brands
Beauty, Healthcare & Wellness
Education/Edtech
Speciality Service
Jewellery Franchise

Restaurant, QSR's, Bars & lounge
Food & Bevrages brands/FMCG Brands
Institutional Suppliers
Food delivery co's
Food delivery vehicles

Electric Vehicles Manufacturers
Charging Solution Provider
Battery Management Systems
EV component manufacturers
Connected mobility solutions

Corporate - Fashion and lifestyle, FMCG,Media and Publishing, Automobile, Gaming Brands
Character and Entertainment Brands
Sports - Clubs, Teams, Leagues and Tournaments, Sports celebrity, Sports labels

Food & Agro Products
Beauty & Wellness product manufacturers
Education Products suppliers
Home Supplies
Electronic & Electricals Systems

Private equity/ venture funds
Financial Institutions & Banks for institutional tie-ups & funding
Funding companies which provides financial support to Startups.
MARCOM & HR solution providers
Trade bodies, Legal & tax consultants

Global franchise & retail companies looking for master franchisee or area representatives
Product companies looking to find distributors and dealers in India
International master franchisees looking for a multi-unit franchise partners for expansion
Consulting companies looking to network with Indian Brands

Commercial real estate Developers
Retail real estate consulting companies
Building & Construction product providers
Construction & development companies
Real estate brokerage firms

Mega Brands
International retailers, importers, manufacturers, local manufacturers
brands & local retailers seeking distribution opportunity through Retail, eRetail & D2C
Payment Solutions
Supply chain & Logistics Brands
Our Divisions
In Association With

Associate Partner

Associate Partner

Associate Partner

Supported By

Supported By

Supported By

Supported By

Supported By

Supported By

Supported By

Supported By

Supporting Franchise Association

Organised By

Global Partner

Licensing Consultant

Franchise Consultant

Investment Partner

Global Media Partner

Official Website

Official Magazine

Licensing Digital Partner

Retail Digital Partner

Promotional Partner

Restaurant Digital Partner

Dealer/ Distributor Partner

Business Partner
EXPERIENCE THE WORLD'S LARGEST FRANCHISE & RETAIL SHOW
GET YOUR PASS
X