Exhibit - Partner. Grow. Expand.
Hit a six with Dealer distributor business opportunity. Make an impact with your business skills in the dealer and distribution segment. Come and supply your products to every nook and corner of the Globe
TRADE SHOW 2023

SHOW 2023 A strong marketing network of distributors/stockists/ C&F agents is the foundation of any product company. Appointing them, on the other hand, is a difficult task. To find out who is in the field, a company would have to approach them personally, conduct extensive research, and spend a significant amount of money.Dealer India 2023 will be an excellent platform for networking, acquiring distributors, dealers, C&F agents, Mom-and-Pop retailers, and expanding your marketing channel.

BE MY DEALER 2023

Be My Dealer 2023 will be a platform for product & manufacturing companies that have the vision for having their products and services distributed, and represented in and outside of India. It will be especially useful for Product companies dealing in furniture, furnishings & decoration, beauty & cosmetics, apparel, footwear, telecom/IT, F&B/ FMCG, commercial vehicles & also for services like consulting, insurance, software etc.

ONLINE DISTRIBUTION 2023

India's e-commerce market could outperform more mature markets to rise to prominence the third largest market in with a total of US$ 350 billion before 2030 If you consider yourself to be a producer or exporter & wish to establish your own brand or are you a multibrand distributor and wish to sell online to reach a larger audience, this Pavilion will assist you. Enter the realm of online science distribution, which will be beneficial you grow your company the virtual world's horizon.
WHO EXHIBITS
Food & Agro Products
Beauty & Wellness product manufacturers
Beauty & Wellness product manufacturers
Building & Construction solutions
Education Products suppliers
Home Supplies
Electronic & Electricals Systems
Pharmaceuticals Brands
Security & Protection System Renewable Energy Eco system EV & Auto components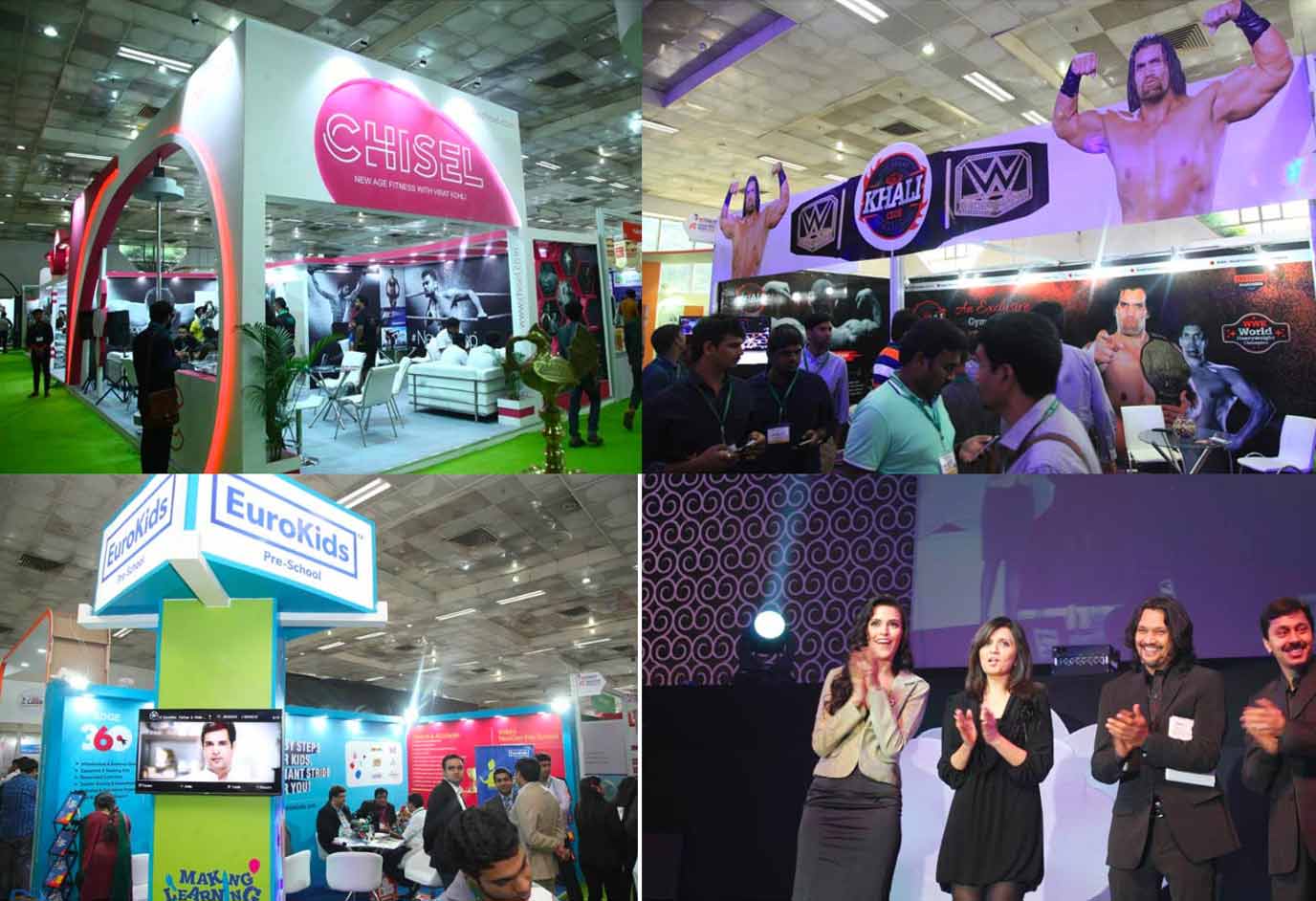 WHO ATTENDS
Key Decision Makers and Investors
Retailers and wholesalers
Investor looking for Distribution opportunity
FMCG Startups
Sales associates or agents
Trading Community & associations
Subscribe To Attend
PAVILIONS IN FRANCHISE INDIA 2023
Mega Brands
Beauty, Healthcare & Wellness
Education/Edtech
Speciality Service
Jewellery Franchise

Restaurant, QSR's, Bars & lounge
Food & Bevrages brands/FMCG Brands
Institutional Suppliers
Food delivery co's
Food delivery vehicles

Electric Vehicles Manufacturers
Charging Solution Provider
Battery Management Systems
EV component manufacturers
Connected mobility solutions

Corporate - Fashion and lifestyle, FMCG,Media and Publishing, Automobile, Gaming Brands
Character and Entertainment Brands
Sports - Clubs, Teams, Leagues and Tournaments, Sports celebrity, Sports labels

Food & Agro Products
Beauty & Wellness product manufacturers
Education Products suppliers
Home Supplies
Electronic & Electricals Systems

Private equity/ venture funds
Financial Institutions & Banks for institutional tie-ups & funding
Funding companies which provides financial support to Startups.
MARCOM & HR solution providers
Trade bodies, Legal & tax consultants

Global franchise & retail companies looking for master franchisee or area representatives
Product companies looking to find distributors and dealers in India
International master franchisees looking for a multi-unit franchise partners for expansion
Consulting companies looking to network with Indian Brands

Commercial real estate Developers
Retail real estate consulting companies
Building & Construction product providers
Construction & development companies
Real estate brokerage firms

Mega Brands
International retailers, importers, manufacturers, local manufacturers
brands & local retailers seeking distribution opportunity through Retail, eRetail & D2C
Payment Solutions
Supply chain & Logistics Brands
Our Divisions
In Association With

Associate Partner

Associate Partner

Associate Partner

Supported By

Supported By

Supported By

Supported By

Supported By

Supported By

Supported By

Supported By

Supporting Franchise Association

Organised By

Global Partner

Licensing Consultant

Franchise Consultant

Investment Partner

Global Media Partner

Official Website

Official Magazine

Licensing Digital Partner

Retail Digital Partner

Promotional Partner

Restaurant Digital Partner

Dealer/ Distributor Partner

Business Partner
EXPERIENCE THE WORLD'S LARGEST FRANCHISE & RETAIL SHOW
GET YOUR PASS
X