Hotline Nos.
09311148342, 9311179840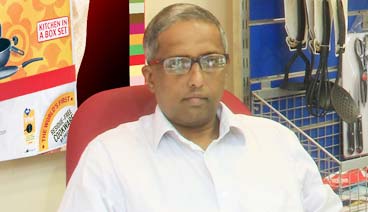 KG George VP-Retail, TTK Prestige
A prestigious professional
A franchise professional to the core, KG George, VP-Retail, TTK Prestige has accomplished more than two decades in retail franchising. In an open dialogue with Beny Sachdeva, he tells in detail about his journey so far and significance of franchising for business growth.

How long have you been a franchise professional? Why did you choose to be a professional in the franchise sector?
I have been doing this from almost last 25 years. I chose to be in this sector as I always wanted to bring about a change in the functioning of retail industry.

The brands you have worked (in terms of years & period) as a franchise professional.
I started my career with Tata Motors. After working with Tata for two years, I moved to TVS Motors and after athree year stint I moved to TTK Prestige. According to you, how franchising has brought about a change? Franchising is a superb model that has brought about a sea change in the business scenario in India. It helps the company to grow with franchisees' investment. Franchising has helped us grow by leaps and bounds we have opened hundreds of stores via franchise model and are still opting for the same for further expansion.

What are the success mantras of franchise business model?
= It's a low-risk option
= Protect the interest of both the parties
= Promising ROI

Are you bullish about the growth of franchising industry in India? If yes, why?
Yes. Franchising in India is still at a nascent stage. There is a lot of potential untapped yet. Prospective entrepreneurs can make their dreams come true through franchise route.

What major hurdles have you faced while building a franchise network and how did you approach the problem (s) and what was the outcome of this approach?
The only challenge I faced in building franchise network was to get TTK brand into retail as earlier the brand was sold only via distributors and dealers. To move the Company to retailing was the biggest hurdle as no one was in the favour of adopting retail franchise business model. The initial two years were tough and gradually we started launching retail outlets almost in all the cities. Today we are at 500 stores and 10 per cent of our franchisees are women. Thus, retail was an essential marketing tool for the brand and not just a business venture.

Whom do you attribute your success to as a franchise professional?
The brand I am working with.

As a franchise professional, what are the major accomplishments/ contributions for which you are most proud of?
Taking the TTK Prestige count to 500 stores.
TO EXHIBIT:
Pan India

09311789271

Hyderabad

09346495513



Mumbai

09320033302




Delhi

08467916517

Ahmedabad

07878937679




Chennai

07305583886

Kolkata

07290037184

Bangalore

09343930200

Pune

08999094404