Hotline Nos.
09814405454, 09023064319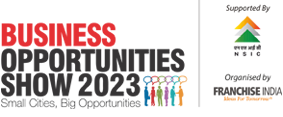 India's No.1 Multi-City Business Opportunities Show
Guwahati Hotel Gateway Grandeur
15th November

Kolkata Hotel The Lalit Great Eastern
17thNovember
Patna Hotel The Panache
20thNovember

Ranchi Hotel Le Lac Sarovar Portico
22nd November
Bhubaneswar Hotel Swosti Premium
24thNovember
About the
show
What is Business Opportunities Show?
Business Opportunities Show (BOS) is a show that conducts exhibitions, one-to-one meetings and discussions, providing a direction towards the unidentified business potential available. It is a show meant for the regions where the brand reach is still developing and an ambition of entrepreneurship is yet only sensed. The show has made a remarkable impact on the lives of the aspirants and brands that have successfully opened their franchisees within their cities. The Business Opportunities Show has got major acceptance in media, and has been covered in almost all leading publications and channels, highlighting the achievements of the show in these cities.

The mission of BOS is to engage the franchise fraternity's attention on enormous potential and the limitless possibilities a region offers. BOS is India's largest circuit of successful & proven events and BEST ATTENDED city centric shows across the country. Created as an ecosystem for like-minded prospective franchisees to communicate with Business concepts and each other on a common platform, BOS directs its focus on creating or improving brand awareness for the franchise organization at local and regional level.
TO EXHIBIT:
Pan India

09311789271

Hyderabad

09346495513



Mumbai

09320033302




Delhi

08467916517

Ahmedabad

07878937679




Chennai

07305583886

Kolkata

07290037184

Bangalore

09343930200

Pune

08999094404