Few years ago skeptics were saying eCommerce won't work in India, but the current market scenario narrates its success story in the form of multiple ventures rapidly hitting headlines.
One such venture is Tvam Naturals, started by a Computer Science Engineer Crisy Vasan, in a bid to offer natural ingredients based personal care products to the consumers.
In an exclusive conversation with WI Bureau, Vasan shared the inception story of Tvam Naturals and disclosed her elaborate expansion plans in the overseas market. Edited excerpt:
What's the inception and conceptualisation saga of Tvam Naturals? What was your inspiration for it?
As I completed my MS in Computer Science and Engineering and then lived and worked in the US for couple of years, I found my true calling in India. The drive to achieve something is what made me start my own venture Tvam in 2007 for the purpose of promoting a natural lifestyle and to provide a comprehensive range of high quality natural beauty products. Tvam means You in Sanskrit and was created for consumers to enjoy nature's purest skin care products. It is a cosmetics company which combines ancient beauty traditions with modern science of skin care. My belief and conviction was that nature has a lot of healthy and beneficial ingredients that Ayurvedic science had formulated centuries ago, I strive to raise awareness about these beneficial ingredients to India and the world through my brand Tvam and every product is formulated with unique techniques and rich ingredients that enrich your skin. I realised the power of Ayurveda after I myself benefited from an Ayurvedic treatment. Thereafter, I started my quest to come up with products and developed a range of hair, face and body care products using natural ingredients and with approved Ayurvedic formulation. However, in contemporary, textures that are new to the Indian market inspired my brand Tvam to create a desire to lead a natural lifestyle.
Share the product categories that bring you high revenue?
Tvam Natural has products in the segment of face, body and hair care with approved Ayurvedic formulations. The face category products include face washes, packs, creams, lotions, aloe vera gels, toner, lip balm and scrubs, while the body category includes shower gels, body lotions, body butters, massage oils, body polisher and scrub, foot cream and anti-cellulite oil. The hair category offers shampoos, conditioners, hair oils, hair tonic and hair colours along with pure henna and hair treatment packs. The category that generates the highest revenue for us is that of hair products.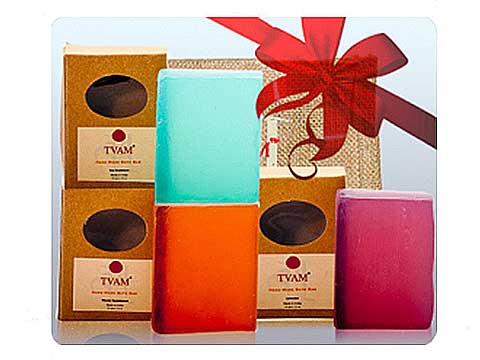 How is your format different from the other existing herbal product brands in the Indian wellness industry?
Tvam has developed a wide range of products in the 3 categories with over 47 different products and the USP is Natural Ayurveda with Aromatherapy. We have developed this range after careful market study and keeping Indian preferences and requirements in mind. Ayurvedic formulations are carefully adhered to by Ayurvedic doctors and lab-tested products. We do not carry any animal-testing nor do we use any animal products (except beeswax). Our manufacturing setup is certified as GMP (Good Manufacturing Practice) site and we're very particular about quality control and cleanliness.
How are you planning to take this format to the other markets? What challenges did you face in positioning your brand in Indian personal care product space?
We are carefully selecting distributors across major international markets and we have just appointed a distributor in the USA. The main challenge I faced was to introduce a premium range to a price sensitive market. We had to educate the customers about the benefits of natural products and how we are different from other existing brands.

Is it a boot strapped venture or you raised funds?
Tvam is a boot strapped company. We launched Tvam in a small room and conducted many exhibitions. Later we started online sales on our website www.tvamnaturals.com and as the business grew, we were approached by many e-commerce sites. Although many venture capital companies have approached us, but we've opted not to take any outside funding.
What are your growth plans and investments you are looking to make in your current business?
We would like to double our growth every year in India as well as in international markets. To do this, we need to invest in making our brand more popular, expand our sales and marketing activities, continue to improve and refresh our packaging and labeling to keep up the appeal. We are also investing in IT projects to improve the productivity of our operations.

Which new markets are you targeting for expansion? What kind of business opportunities do you witness in these locations?
We are looking at the UAE and European markets. Tvam had recently participated in the Middle East Beauty Expo in Dubai in May 2016 and got a very good response.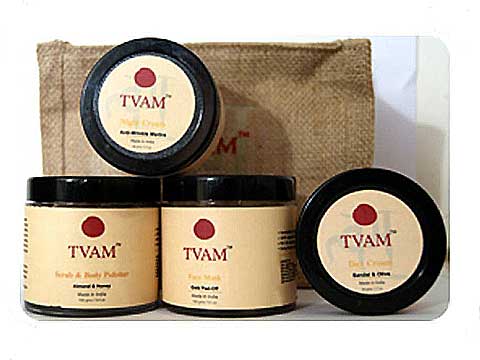 How does your revenue model look like? Any plans to foray into the market with new products?
Our revenue comes mostly from e-commerce and two thirds comes from retail and spas in resorts. We are looking into the men's range of products too.

How much year-on-year growth is the brand seeing in the Indian beauty and wellness industry?
We see a year-on-year growth of 20 per cent in the Indian beauty and wellness industry.

Which is the biggest distribution market for your products and with how much percentage of annual growth?
North and South India with 25 per cent to 30 per cent of growth annually.
Elaborate the retail presence of your brand? Why don't you expand the reach of your products in the untouched regions? How are you planning to grow your business otherwise?
Since it is a premium brand, we are selective about the type of stores we sell through. Tvam is sold at the moment in some organic stores in Chennai and Mysore and in Skin Clinic chain across India. Tvam is available for sale on tvamnaturals.com and various other popular
e-commerce sites like Flipkart, Amazon, Jabong, Homeshop18, Snapdeal, Natural Mantra, Craftsvilla, Purplle.com, Greenngood, Big Basket, Fabbag and many more. We have a new marketing plan to expand and grow our business in different cities of India. This year we are also looking at big corporates to make a mark into corporate gifting.