Ancient practice of Yoga and Ayurveda has been the two most significant assets of India's cultural heritage. If harnessed effectively, could create tremendous value for communities and the economy. Realising the realm of Yoga, social entrepreneurs and investors are taking this asset to the corporate setup.
"Yoga is really interesting. We have a movement which we can promote through this fantastic Yoga day, having 78 countries pledging together to mark International Yoga Day. What New York did today is phenomenal. Their entire build is projected as Yoga Asanas. We're just trying to conduct Yoga Asanas. We should not do Yoga as one day thing. It should be a continuous practice. It should be a pledge, a lifestyle, a preaching," said Sarvesh Shashi, CEO, Zorba.
Sector watch
Indian Wellness Industry is growing and offering promising business opportunity. The yoga and wellness industry in India is measured at Rs490 billion and is speculated to grow by 20 per cent in the next five years.
Globally, Yoga and wellness segment has turned into one of the most revenue generating businesses, and it is a $3.2trillion industry across the globe at present. The ancient practice of Yoga, which was generated in India, is one of the most practiced physical and mental workout in overseas and it witnessed a $6billion increase in last fiscal.
Where the opportunity lies?
Unfortunately, there is not much awareness in the country about Yoga business. People conceive only spas, salons and Ayurveda centres as a part of the wellness industry and see potential for trade in it.
Commercial space: A commercial yoga space too is a part of the wellness industry, provided it creates that peaceful ambience and reflects the wellness aura. In overseas market, there are ample of brands and companies which offer studio development and ambiance creation in corporates for Yoga. Outside India, the yoga industry is dominated by Millennials, and their interest in the art of mindfulness has carried this ancient form into the public consciousness in a big way.
Apparel: Thanks to Millennials, regularly doing yoga has gone from being the less-than-usual hobby of your more spiritual friends to becoming something entirely normal, popular, and approved by most as a great form of exercise. Retail items like yoga pants and yoga leggings have become such a big deal—often being worn outside the house as much as they are inside the studio- that retail companies are now selling entire 'athleisure' product lines.
Strange as it sounds, the millennial interest in yoga has turned it into a $27 billion industry. Between yoga classes, yoga clothing, and more, yoga has become a huge draw to many Millennials looking for a way to unwind, de-stress and get some exercise at the same time.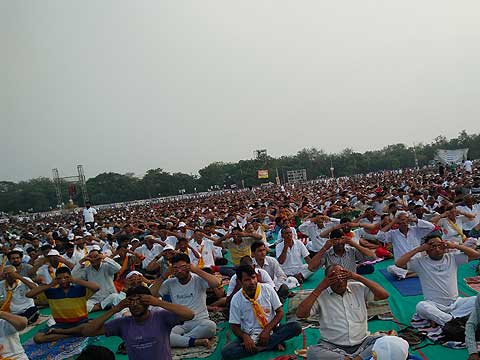 Workplace wellness programme: One would figure that yoga would be an activity confined to before-or-after-work an hours, but there has been an interesting move toward the integration of yoga into the workplace. Today, HR of big corporates has established a yoga studio in corporate offices at the suggestion of millennial co-workers and has since found that the integration of yoga into the workday has improved the morale of his millennial employees.
Odd as this sounds, it actually makes a lot of sense considering Millennials desire a healthy work-life balance—yoga is all about balance of body and mind- and flexible scheduling.
Bottom Line
Millennials are a stressed out generation, with almost half reporting that they feel nervous due to stress at least monthly. When it comes to handling stress, Millennials are more likely to meditate or do yoga than prior generations. Considering that they care so much about staying healthy, it makes sense that they'd sometimes rather do a meditative activity than funnel a beer.
This interest in staying healthy is shaking up the fitness industry, and yoga is one part of that puzzle. In addition, it seems like health-conscious Millennials often prefer to network over yoga and cycling than the booze parties of previous generations. This will likely to build a much efficient business opportunity in the future for Yoga, and it will be interesting to watch as it happens.
Picture curtesy: Vipin Wadhwa