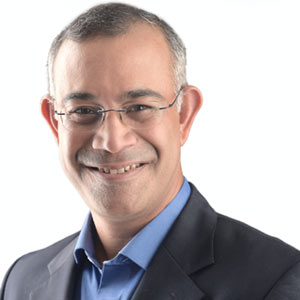 Sridhar Laxman
Founder & Executive Coach (PCC-ICF), Lucid Minds Coaching
Sridhar Laxman is the Founder and Executive Coach at Lucid Minds Coaching. He is a Professional Certified Coach with the International Coach Federation, Certified Deep Transformational Coach from the Center for Transformational Coaching, Certified in Hogan Personality Assessments and has finished his Master Certified Coach program (Awaiting credentials from ICF).

Sridhar has also completed the Positive Psychology Specialisation course by Dr Martin Seligman and the University of Pennsylvania from Coursera and a course in The Neuroscience of Change from Embright Institute.

In these 10 years, he has spent over 3000 hours in coaching clients on areas spanning empowering leadership, executive presence, emotional intelligence, mindfulness, strategic thinking, people management, influencing stakeholders, effective decision making, impactful communication, and stress/conflict management.

Sridhar has also helped them address disempowering behaviours, limiting beliefs, fears, and unhealthy stress, thereby freeing them to give their best to the world.

As an Executive Coach, he has supported leaders in Australia, Canada, Dubai, Finland, Germany, India, Kenya, Qatar, Singapore, South Korea, and the USA.

His clients work for firms like Abbott, Accenture, Aconex, Amazon, Amcor, Arcadis, AstraZeneca, AIG, British Petroleum, Cisco, CA, Crompton, Dell, Deloitte, E&Y, Federal-Mogul, Flipkart, GEA, Goldman Sachs, Honeywell, HP, H & M, IBM, Intuit, Informatica, IQVia, Jungleegames, KPMG, Master Card, Mckinsey, Mercedes-Benz, Microfocus, Microsoft, Myntra, Philips, PWC, Quicken, RedBus, SAP, Sapient, Shell, Titan, UPS, Viteos, Volvo, Walmart and Zeta.

Before starting his coaching practice, Sridhar has spent 20 successful years at Schneider Electric, HP, APC, Lintas, Ogilvy and The Times of India. Sridhar's interests include fitness, meditation, listening to blues, jazz and reading books on the mind-body connection.

Educating underprivileged children and making the planet greener are other causes dear to his heart.