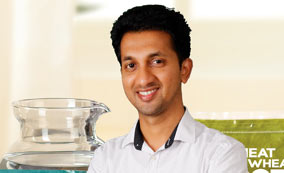 P.C. Musthafa
CEO & Co-founder, iD Fresh Food (India) Pvt. Ltd.
Born in a remote village in Kerala to a coolie dad, Musthafa PC was a school dropout who later did his Engineering in Computer Science from NIT Calicut & MBA from IIM- Bangalore
During his childhood, breakfast was a luxury & three-time meal was a dream. He co- founded iD Fresh Food in 2006 with his cousins and currently employs 1500+ youngsters from rural India and is feeding millions with healthy idli and dosas and other fresh, preservative-free products on a daily basis.
Inspired by traditional Indian values iD promotes authentic Indian foods w hich are fresh, 100% natural and preservative-free. Today iD is a 1000cr brand.
PC is driving the passion of all the five co-founders in building a unicorn fresh food company.
PC has been lauded with many prestigious awards like India Today Make in India award, JCI National Award, Vocational Excellence Award and Entrepreneur India Award among others. He is part of Indian Philanthropy Initiative & also works very closely with DIAV for the welfare of Army Martyr's kins. He is also part of Prime Minister's "Champions of Change" team with a vision to build a new India by 2022. His idea of traffic system automation is part of "new India synopsis"