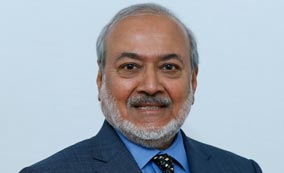 Habil Khorakiwala
Founder Chairman - Wockhardt Group
A Visionary Entrepreneur, Business Mentor & Industry Leader, Dr. Habil Khorakiwalahas and continues to don numerous hats in his professional lifeof five decades while keeping his scientific temper of a young learner intact.An alumnus of Purdue University and Harvard Business School, Dr. Khorakiwala with his mantra of 'Vision to Execution', successfully led Wockhardt from a very early stage organization to, first, a major Indian Pharmaceutical company and then a global organization with strong presence in key global economies like USA and EU. Championing the concept of Change Management, Dr. Khorakiwala architected the evolution of multi-cultured and multi-ethnic organization in various spheres to bring the best permutations to create a thinking organization empowered by a multifaceted research and development at its core.His astute thought leadership and vision led to further diversification of Wockhardt into one of the finest Super Speciality Hospital group in the country. Amidst this continual business transformation, corporate social responsibility (CSR) was always close to his heart.To ensurethis becomes more than just an exponent, he constituted Wockhardt Foundation, an organization with a structured and completely dedicated approach to societal needs.
Not only the Wockhardt Group but the wider industry also benefitted immensely from his leadership and thoughtful approach. He was the President of FICCI (Federation of Indian Chambers of Commerce & Industry), the largest & oldest apex business organisation in India, during 2006-07 and Indian Pharmaceutical Alliance. As President - FICCI, Dr. Khorakiwala shared India's business and economic dynamics with many Presidents, Prime Ministers and Heads-of-State of various countries. Currently he continues to be the Chairman of FICCI Lifesciences Council.
For one who lives such a fulfilling life, awards and accolades are no strangers and Dr. Khorakiwala isn't an exception here. His alma mater Purdue University, bestowed the prestigious title of 'Distinguished Alumnus' for significant contribution to the Profession of Pharmacy and honoured him with their highest recognition, the 'Honorary Doctorate' in 2010. He is the only non-American and the first Indian in 125 year history of Pharmacy School of the University to be awarded the Honorary Doctorate.He has received the Shiromani Vikas Award for his 'Outstanding and Inspiring Contribution towards National Development' at the hands of Mother Teresa (1992);He was awarded - the 'Entrepreneur of the Year' award by Ernst and Young (2004) and again by UK Trade and Investment (2008); 'Lifetime Achievement Award' at Pharma Excellence Awards by Indian Express Group (2006) and by Frost and Sullivan (2012). Under his tutelage, Wockhardt Group has also been conferred with numerous honours including the highly prestigious "Great Places to Work" awards wherein it received the Best company award in the Healthcare segment and an overall a top 100 finish in 2015; Wockhardt Hospital was conferred 'Dream Company To Work For' title by the World HRD Congress and Wockhardt Foundation was awarded 'Best Community Development Award for Mobile 1000' by World CSR Congress. He has conferred with the prestigious Degree of Doctorate in Literature (Honoris Causa) by the Kalinga Institute of Industrial Technology (KIIT) University, Bhubaneswar (Nov. 2016) for his magnanimous vision, genius and outstanding philanthropy.