India holds an important place in the global education industry. The country has more than 1.4 million schools with over 227 million students enrolled and more than 36,000 higher education institutes. India has one of the largest higher education systems in the world.
With both parents working these days, visiting the school or institute to pay fee seems a big hassle. Parents are required to stand in long queue which causes disturbance and discomfort. Similarly, banks and schools also face problems of managing long queues, cheque bounce etc. Edupreneurs like FeeOnTime plan to reduce this inconvenience by letting guardians pay fee directly via their app from the comfort of their home. Also, the dissonance caused to school authority arising out of high number of parents visiting on the last day to pay fee is also reduced.
In an interview with Education Biz, Pankaj Dadu, Founder & CEO of FeeOnTime shares with us how this app is going to make the whole process much simpler for parents and school authorities simultaneously. Here are a few excerpts from the interview:
Tell us about FeeOnTime. What is the USP of FeeOnTime?
FeeOnTime, India's largest online platform for educational fee payments, is owned and operated by Astro e-Ventures Pvt. Ltd., a part of ASTRO GROUP in business since 1988. We are pleased to introduce ourselves as India's #1 fee payment platform. FeeOnTime empowers parents and students to pay fees online in just 60 seconds from anywhere to any Educational Institution like school, college or any coaching institution in a secure and convenient manner through Netbanking, Debit card, Credit card, Wallet, IMPS, EMI, Cash or Cheque and avail number of additional benefits such as free coupons, discounts on tuition fees, admission fees, stationary, uniforms, cashbacks etc.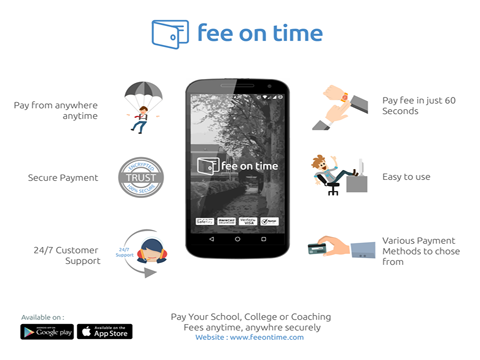 What led to the inception of FeeOnTime in India? How has FeeOnTime grown from the day of its inception?
Astro Group has been offering wide range of business and financial solutions including financial planning, investment & insurance advisory, tax and corporate consultancy services under one roof. Through intensive audits of various educational institutions originated the solution for accelerating and streamlining the process of collecting fee payments which was seen facing lot of issues at the schools, colleges and coaching centres like reconciliation issues, cash/cheque handling problems, delays in payments, etc. and with parents and students like inconvenience of standing in long queues, geographical limitation, etc. FeeOnTime has been rapidly growing since inception as it has well been accepted as a convenience tool and a smart and easy way of making fee payments. It has over 4000 educational institutes listed on the platform with fee collections of over INR 2 Cr over a short span of time. It has over 3000 users who are transacting online in this secure and convenient environment.
Was it self-funded or did you raise funding? Please elaborate.
Like any other startup, FeeOnTime had to deal with the initial challenges of funding and since inception it has been self-funded. We have invested mostly in the technology development, marketing and operations. Now, FeeOnTime is looking for raising funds for expansion of operations PAN India.
Highlight the challenges faced by the brand. How did FeeOnTime tackle them?
Every new innovation has initial problems of acceptance due to lack of awareness and credibility. FeeOnTime has been appreciated for its convenience and technological move but has taken some time to implement due to these challenges. FeeOnTime has well demonstrated the key deliverables and quality of services to its customers and over the period has established the answers. The growing engagements and numbers have helped in keeping pace.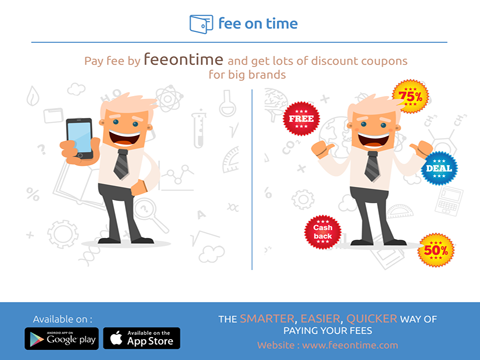 How is FeeOnTime bringing about a change in the fee paying procedure in India?
It is a complete revolution in educational fee payment system in India. Traditionally, the accepted modes of fee payments have always been cash, demand draft, cheque which come along with issues like standing in long queues, cheque bounces, etc. But with the evolution of FeeOnTime which favours online fee payments through modes like Netbanking, Debit card, Credit card, Wallet, IMPS, EMI, etc. and post demonetization, the scenario is seeing a rapid change in the way fee is paid thereby solving fee payment issues and establishing an all new procedure of paying fee digitally.
How big is the e-learning industry in India? How have people accepted the idea of learning online?
EDU-FEES market in India is a dominant part of the overall education market and is an estimated $40-50 bn opportunity. Size of Education Market in India by 2017 is estimated at $133 bn. With this huge scope, e-payments of fees is the future and certainly evolving amongst the masses and shall keep growing in India.
Many institutions are benefitting from expansion via franchising? What is your opinion on franchising?
Franchising is definitely a key tool to expansion and FeeOnTime has also been considering the model for PAN India operations. Though a strong quality check of deliverables and services is required, it is worth the deliberation.
Highlight your expansion plans.
As an online platform, we plan to expand our reach to all Educational Institutions PAN India including Schools, Colleges, Coaching Centers, Home Tutors, etc. and further add host of features and valuable services related to the field. Over 65 per cent of parents in India spend more than 50 per cent of their take home pay on education related fees of their children, according to an Assocham survey. We want all students/parents to be able to avail fee financing options to fund the education. We are working in this direction.
How important is technology in education? Do you think the future of India's education industry lies in EdTech? Elaborate.
Technology in the current times has become an indispensible mechanism for almost all sectors. Similarly, technology in education is the future and the gradual transition has already initiated over the years. From online courses to software solutions for various verticals and modules of education management, technology is adding value by boosting efficiency, minimizing costs and enabling organized systems for education. FeeOnTime is on track with such technology to offer fee payment solutions to the sector. Though EdTech has been encountering lot of challenges in India, with time it seems to settle with education industry to gain.
Share some details about your tie-ups with educational institutions.
FeeOnTime has always been accepted positively as a solution amongst educational institutions though the implementation required a transition from their old system which has at times created delays due to change in mindset for the same. The procedure for empanelment and activation post KYC validation used to be 15 days which has now been streamlined by us to 24 hours for an institution. We have been successful in adding Institutions like JBM Global School, Darshan Education Foundation, The Elisabeth Gauba School, and many more. Our engagement with reputed institutions like Sehwag Cricket Academy has further strengthened our belief in this revolutionary change in the way fee payments are done today.
Where do you see FeeOnTime in the next 5 years.
FeeOnTime is seen as a comprehensive fee payment solution for all Educational Institutions in every nook and corner of the country as well with international operations serving institutions across the globe.
Thus, with such creative and innovative ideas, India is set to witness a huge surge in edupreneurship in the years to come.