Gone are those days when classroom training was restricted to textbook learning, teachers using the blackboard to explain things and students writing notes. Technology is not all about playing games online or watching animated videos etc. The benefits of technology depend on the way children, parents and teachers choose to use it to enhance learning. When used well for educational purposes, the latest technologies can help create opportunities for more active and meaningful learning experiences. Classroom teaching has become more and more interactive nowadays with the use of digital methods such as PPTs, video presentations, e-learning methods, practical demos, online training and other digital methods or platforms. With kids – They need to be taught Basic, Challenger & Accelerators! How they can use internet apart from playing games to garner knowledge. Now days there are online lessons through which kids can individually learn multiple activities. They need to be cyber safe online with multiple dangerous threats and at the same time be productive & constructive!
Digital literacy is one component which makes a child responsible for how they can utilise technology to interact with the world around them, what are the new knowledge gaining areas that they can be well-versed with etc. Also there are so many online websites that have competitions, which are knowledge gaining platforms for kids where they can compete as well as learn intellectually. There are multiple benefits of digital learning in transforming a child's life like: Motor Skills, Decision Making, Visual Learning, Cultural Awareness, Improved Academic Performanceand Inventiveness etc. This makes learning Interactive.
When learning internet programs, kids understand and innovate with the digital world they inhabit. Today's children are born into a technology-based society and learn how to access the internet at a very early age. As parents, it's our responsibility to talk to them about the pros and cons of Internet, teach them safe Internet habits, and use strategies to help them do so safely. Now days there are online lessons through which kids can individually learn multiple activities. Additionally coding is also proving to be a magic of technology among kids. Today's students are able to use the internet to research and find text sources, videos, pod casts and presentations related to anything they would like to learn about. Schools should connect classrooms for students and teachers, should have affordable and faster access to information, teaching and learning resources etc.
Learning is inherently a social activity and rather than trying to ban children from joining online networks, we should encourage them to learn safe. Digital literacy is here to stay and if we are serious about taking advantage of the potential benefits of digital learning, then we need to appropriately resource our schools and teachers.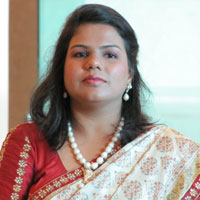 This article has been authored by Ms Vidushi Daga, CEO & Co-Founder, CloneFutura Education