The fitness industry is growing at a CAGR of 25 per cent. However, this sector's biggest challenge is that it remains highly unorganised. There are fitness centres being run by individuals who have no experience of fitness and there's a huge chunk of trainers who are not certified. With clients becoming more well read, players in the industry are seeing this chunk as a threat to the industry and are, therefore, going for relaunches and re-brandings, the recent case being that of Reebok Crossfit Gurgaon. The fitness box came afresh with a new studio, a new location, a new owner, new equipment and more.
In conversation with wellnessindia.com, Himanshu Bathla, head coach and co-founder, Reebok Crossfit Gurgaon, said, "The previous version of the studio was under a retired Army man. But in this industry you need the owner of the gym to be a certified and experienced trainer too, to make sure certified staff is coming to your gym." Here are excerpts from the exclusive interview:
Reasons for the shutdown and relaunch
In the old facility, we had a floor that couldn't be segmented. The other problem was that I wasn't being able to have classes running simultaneously for different level of people. There was also not much flexibility in terms of timings as we were in a sports complex. I figured that we needed flexibility for people who work late. There was also no flexibility for me to train people personally because not everyone can train in a group. These were the things that I figured that we needed a different facility for. In terms of location, the locality also wasn't very reachable. That facility was going into losses and these were not the only issues. The rest rooms there were also not up to the mark.
I also wanted to add Yoga as I think it complements Crossfit perfectly. There is also a section of people that is not able to practice CrossFit. To cater to that section, I wanted CrossFit. So, I do not want to restrict my clients to the younger ones, but the moms and dads too.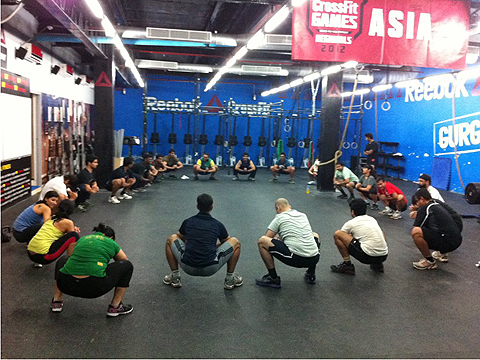 Has the re-branding worked?
It has worked for sure. The response has been way better than what it used to be. People were scared and probably unaware of the lighter versions of CrossFit. We've introduced newer lighter versions of CrossFit that everyone can practice.
I've also increased my team members. Earlier when this brand was being taken care of someone else, there used to be one coach during one session. In a market like Gurgaon, where people are really unfit and are looking out for more options, you can't have just one coach managing one whole session. Earlier there was a team of two or three coaches, now we have nine coaches.
Therefore, in terms of business, the relaunch has worked for us. In terms of numbers, we have more clients now. Reebok CrossFit Gurgaon is a brand that I can hear of everywhere now.
Support from Reebok
The trust that people have in Reebok as a brand is helping me the most. Secondly, they keep organizing events where celebs come and that helps us by giving us a push. They give us merchandise when we organize contests. In fact, the equipment at Reebok CrossFit Gurgaon has originally been sponsored by Reebok. Reebok helps us to the extent it can whether it is in terms of providing equipment or giving kits to coaches or anything else.
Getting the Reebok brand
I've been working with Reebok as a coach. And they are continuously on the lookout for coaches like us who can promote their philosophy 'Fitness is life'. So, they don't ask for any money in return for getting the brand. They want me to organise certain events in return which I do.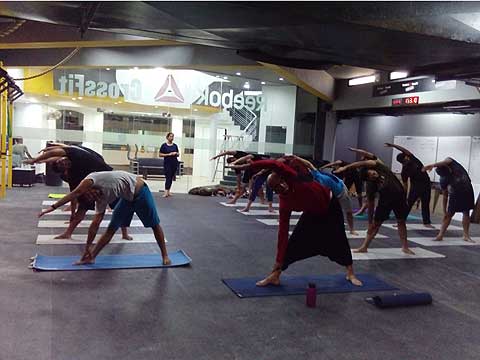 Fighting the challenges of an unorganised fitness industry
This is the biggest problem with most of the gyms these days. It's not about the gym, at the end, it's about the trainer. Gyms these days have no criteria. They don't invest because the clients never ask them about the certifications of their trainers. We at CrossFit are particular about it. You cannot coach in a CrossFit facility if you have a CrossFit L1 certificate. We also have a process here of keeping the coaches under a three-month internship and then making them permanent.
Breaking the gym mania – a challenge
I still can't figure this one thing. It's difficult to sustain as people have a mindset of a gym that is machines, cardio and stuff. And CrossFit is nothing like that. It is nothing about running on a treadmill. It's difficult to explain. But thankfully, in Gurgaon particularly, with a more informed consumer base, we don't face too many issues. As for marketing, we rely on events, social media marketing and word of mouth publicity.
The importance of an owner from the industry
The older version of Reebok CrossFit Gurgaon wasn't doing well and was running into huge losses. I had to cover some of these losses. The reason for this downfall was that the previous owner didn't belong to CrossFit. He was a Retired Major. Then the non-experienced owners tend to hire the wrong people. And not just the owner, the coaches we needed must also be well-versed with CrossFit and more importantly, certified.
The average fee
We charge Rs 5,000 per month from the clients including service tax. And I've been earning profits.
The investment and ROI
The investment was about Rs 10 lakh for recovering the losses and then Rs 20 lakh on getting proper facilities. But then, a CrossFit box (box is what a CrossFit studio is called) demands regular upgradation, so the investment is ongoing. As for the ROI, it'll take time to recover that. I'll earn something like a little over Rs 1.5 lakhs per month. But the game is going to turn and I will make profits.
Current presence and expansion plans
We currently have 2 boxes in Gurgaon, one in Sector 14 and the other in DLF Phase 1. I'm open to the idea of franchising. But I want someone from the CrossFit industry to do it. I want a professional certified person to take the business of Reebok CrossFit Gurgaon ahead. Money is not the prerequisite for me. The prerequisite for me is getting a franchisee from the industry, a trained one. Also, before taking a call, I'll have to consult and take permissions from Reebok and CrossFit separately. So, I need someone certified to convince Reebok and CrossFit to help me give away the franchise. I need a head coach for that.