In order to undertake skill development programs under the Pradhan Mantri Kaushal Vikas Yojana (PMKVY) scheme to far flung areas of the country, Centum Learning in association with Bihar Mahadalit Vikas Mission (BMVM) is training 1840 candidates in the beauty and wellness space.
Aiming to ensure a secured future for candidates who enrolled under various job roles of Beauty & Wellness, Centum Learning has proactively tied up with industry giants like Lakmé, Naturals and Urban Clap, to offer placements to the skilled professionals.
"Additionally, we have strategic partnership with Godrej Consumer Products Limited in the area of Knowledge and Technical expertise, under Go Green Funds supporting Salon Program," informed Sanjeev Duggal, CEO and MD, Centum Learning, in an exclusive conversation with WI Bureau. Here is the edited excerpts:
Extended government support
Government plays an important role in building the skilling eco-space. As a regulator, assessor and certification authority, the Beauty & Wellness Sector Skill Council (B&WSSC) had developed National Occupational Standards (NOS) for various job roles in the beauty and wellness domain. These standards are ratified by a Qualifications Registration Committee (QRC) constituted by the National Skill Development Corporation (NSDC). Centum Learning will undertake all training programs based on these NOS. By 2023, the SSC aims to accredit 390 Training organizations, train 2,200 trainers and provide certification to an almost 1.67 Million (16.7 Lac) workforce.
To motivate young women further, the reward amount for the beauty and wellness sector under the PMKVY has been increased to Rs10,000 for which training is provided on higher levels of the National Skills Qualification Framework (NSQF). Beauty and Wellness arena is just one of the two sectors, while the other being Healthcare, where the reward amount under the PMKVY has been revised.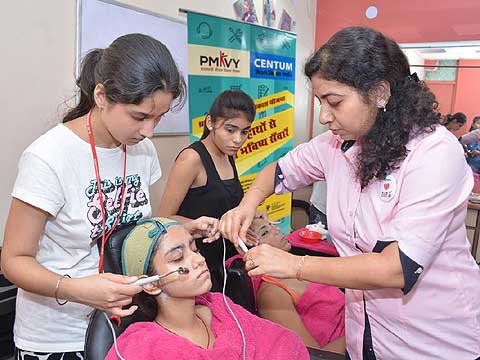 Budget allocated
The wellness industry in India is worth Rs1 trillion, with a compounded annual growth rate of 15-17 per cent, from about Rs 70,000 crore in 2012, with a likely shortage of 600,000 skilled personnel by 2016. Previously, FICCI-PwC report had forecasted that the number of people employed in the Wellness space could potentially almost treble from over 1 million lakh in 2011 to 3 million by 2015.
Performance of Centum Learning
Centum Learning encourages needy and underprivileged young men and women to pursue skill development courses in the growing beauty and wellness domain to take advantage of the enormous career opportunities opening up in this sphere.
Revolutionizing steps
India has the highest acceptance and demand for beauty and wellness services. There is faster growth of organized players leading to standardization of services, advent of international players entrenched in tier I and II cities. In order to capitalize on this, vocational training, skill development and quality education has been made available to youth in the remote and rural areas of India. The game changer has been the industry-academia-government linkage that has created work-ready human capital. Some of the strategic steps that Centum Learning has taken include tie-ups with Lakmé, Naturals and Urban Clap.
Mobilization is a major area of concern, In order to counter this, Centum Learning launched a massive outreach programme. The pilot for the outreach campaign was executed in Bihar, with a 2.24 million subscriber base who were targeted as part of this campaign. Interested candidates were mapped to one of the 136 counseling centers set up by Centum Learning in 38 districts of Bihar. In less than a week of launch, 3,87,408 candidates were profiled and over 40,000 candidates across 38 districts in Bihar were enrolled under various skilling programmes. These multi-skill centers offer courses for sales associates, computer operators, medical sales representatives, mobile repair engineers, helper-plumber etc. besides beauticians, hair stylists.
Current geographical presence
In India, we have 964 Centum Skill Development Centers. In addition to this, we have global presence as well, where we have expanded our footprint across India, Nepal and 18 countries in Africa with domain expertise across 21 industry verticals and over 1350 training and development specialists.