Sephora – a brand which not just brought innovation to the Indian beauty palette, but has also revolutionised the market by hitting the right chord of millennials. The company is known for its high-quality range of cosmetics and other beauty products.
In an exclusive interaction with WI Bureau, Vivek Bali, Business Director Sephora India, shared some intriguing facts about the brand and its market presence in India. Edited excerpt:
What's your target audience and how are you planning to get them?
Primarily, Sephora is a young brand and therefore, our core target group is 18 to 40, and how do we get into this primarily is that, we have a very strong launch campaign of a store. It starts with the digital media where we have our own Sephora Facebook, Twitter and Instagram handle and already have enough followers on it. So, we'll localise the campaign of informing the customer that there is a new store opening at the following location on the following day. We also have to create the buzz, what we also do is that we go on a hunt for a Sephora girl of that city online and they respond with their portfolio showcasing their best looks and then we pick the best five on the Facebook. That's how we invite them.We also have a lot of branding in the mall we're setting up at. Talking about Sephora, telling people that Sephora is the place where beauty beats, that's our preferred image so people can remember the brand. We also have a Sephora dance troupe which comes and performs in the store and at the end of the performance, they tell the customers about the store opening. Then we also announce certain offers like first 100-200 customers getting some percentage off on visiting the store on our social media pages. That message goes on for about a week or ten days of the opening. Therefore, on the day of the opening, we have enough footfall in the store. With the strength of the brand, we also ensure that we open stores generally on the main floor of the mall, so that, it is easily accessible to the customers walking across. Obviously, there's a PR activity that happens with a lot of beauty bloggers, media magazines, so we also talk about showcasing our products in the magazines.
You guys are actually creating a buzz all over social media. Why is there some delay in bringing online presence in the Indian market?
I think it's equally important for us to understand that the beauty business, especially with make-up and say fragrances also, is about trying the product, matching it to your skin and buying it. This is not possible online. It is possible online that if you know a particular shade that you want and if it's available there, you can buy it. But when you launch new products, you need to come and try it before you buy it. No matter what we do online, you will never get the same feeling that you get in a store when you come and try it. Online, primarily will be an information media for us where we will represent what is there in the store, online for customers to see, select, know that this is available at the store. If there is a promotion in the store, it's available online also, so customers know that a particular promotion is happening. If there is a theme in the store, the customers know that this is the theme when they look at it online. When we come online, we'll give them the option of buying online, reserving the product at a particular store that's nearby, or we can also get it delivered. But I feel that in the beauty side of the business in e-commerce, 85-90 per cent of sales will still happen at the store, not online.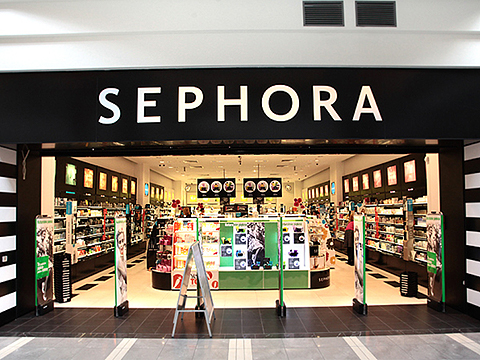 What according to you was the market scenario when Sephora entered Indian and what's the current market scenario the cosmetics industry?
I've been in the Indian market for close to 25 years now, and the scenario is very simple. We had to go to the stores to buy products, to experience the products. But what was happening in the past was way different in terms of educating the customer about how to use the products, its benefits, which was not communicated properly earlier. We tried a lot, we educated our beauty advisors, but in the other companies where I worked previously and all the other companies operating in this space, they didn't do the same and that's why the Indian woman couldn't get enough knowledge and started going to beauty parlours. Therefore, the beauty parlour business is booming. However, today, what Sephora does is, it brings you that firsthand experience of using a product, its benefits, you can spend as much time in our store as you want and it's an environment that makes the women indulge in our products. Therefore, they feel comfortable learning, trying and then buying and that's the change happened in the past few years. That's what Sephora brought on to the table for the Indian customer.
How much business does a cosmetic brand like Sephora do business? How do you differentiate the percentage-wise business in terms of selling the professional rates to the salons and studios and to the customers directly?
Sephora primarily does not sell to anybody else. It sells only through its own stores. We don't sell to salons etc.
But professionals prefer to use brands, which are the reason they charge big bucks for services. Do you think consumers at the moment are getting more educated that they prefer to do it themselves rather than going to the professional salons.
Today, if you look at the Indian market, it's going through a transition. The transition is that if I look at 10 years back, there were very few women who used to come into the workforce. Within these 10 years, the number has gone up and they are working. When they're working, they're earning and so, they have more money to spend and they want to look better. The buying power of the women has gone up and they have suddenly started looking glamorous. Then what's happening is that they're also moving up the ladder in the corporate sector. So, as they move up the ladder, they also graduate inj terms of which product to use. If I started with Elle18 and then I moved to Lakme, and then now is the time for me to take the bigger jump because I'm earning better, then I graduate to other products. So, India is a market which starts with very value products, then mass products and then premium products. So, more and more people enter the market with the value products, then they graduate to mass, and then to premium. That's what's happening in India right now.
But don't you think international brands brought much more class to the Indian cosmetics industry?
I wouldn't say that. ButI would say for sure is that one of the brands which I personally like in India is Lakme because that's the brand that understood the Indian woman very well in terms of her complexions, likes and dislikes and therefore, created a range for the Indian woman. So, it's not that there's a dearth of knowledge in India. Lakme understood that very well. But what I'm saying is people aspire to move to more expensive brands. And therefore that's what's happening in India right now with the power to spend, they are now graduating to different brands. But still, Lakme continues to be a market leader in India.
How many stores are you planning to open in this fiscal and which particular locations preferably?
If I look at India, we are definitely targeting the top 15 cities of India. The metro cities are the bigger ones – Delhi, Mumbai, Bengaluru, Chennai, Kolkata – they will be at the top. Then would be Pune, Chandigarh, Hyderabad, peripheries of NCR, places like Jaipur, Ahmedabad, Surat over a period of about 4-5 years. By that time, other cities will be ready to receive us and then we'll cover them. In the first five years, we're looking at about 50 stores and in this year, we'll be opening about 7 stores.
What would be the immediate next move from this point?
Mall of India, Noida is the next one, followed by Chennai, followed by a couple of stores in Mumbai, then Kolkata, Chandigarh and Hyderabad.
Stores today are an extension in the sense that they provide experience to the customer. And your story has actually made this thought a big success. How do you think is the contribution of store experience in the business of Sephora?
That's the most important part of our business and our campaign is a 360 degree campaign to build the brand and it starts with giving the customer a great shopping experience on all beauty categories and related activities. The second part of the strategy is that my beauty advisors are fully trained in terms of how to use the products, how to advise the customer, how to do a shade match and how to promote the different kind of looks that we carry. So our beauty advisors are trained on a regular basis by our training department. The third part is in terms of products and brand selections, we have a very powerful brand portfolio, exclusive brands which nobody else carries. Currently we have almost 23 exclusive brands in our store.
What's your growth secret? How would you expand online and physically and monetary opportunities?
The Indian market is growing at about 18 per cent compounded annually for the past 5 years. We're growing faster than that. So, we will continue to grow at that pace by launching new brands, launching new products, providing better services, plus also there is a geographical expansion.
You are a leading international beauty brand. What franchise model is adopted to own a global brand franchise?
We don't franchise. It's our own stores.
Any views about growing global beauty fashion industry and Indian beauty industry as well?
With the overwhelming response that Sephora is getting in all the cities, in our segment which is premium and above, we should be actually leading to the growth of the beauty industry in that segment. We will probably be the people who would lead the growth of the beauty industry in the premium segment.
Lakme often comes up with events like Fashion Week etc, why doesn't Sephora come up with something like that?
Sephora will get associated with all beauty events that happen and we will probably start owning something which is our own. These are good platforms to introduce the range to people, to introduce your brands and build that awareness.
Some brands also bring celebrities to endorse their brands.
Sephora generally doesn't have a face. We talk more about our brand and makeup, and the innovation in the brand and therefore, we don't generally endorse that way.
Comment on your terms of India business reached with Arvind brand and challenges pertaining to the expansion.
We can't talk about terms, they are confidential. Being part of Arvind Lifestyle, which is a very strong retail company in India is a big advantage to our brand. They have very strong market presence, almost about 25 brands, and, therefore, Arvind is an important part of the retail development in India. They actually contribute in terms of growing the retail business in India. Therefore, when Sephora is also part of the portfolio, it becomes even stronger in the retail market.