It has become a trend to go green as the times are changing and so is the taste of the consumers. It is only those brands that are going to make it big who have no fine print details attached to their 'Green' label. In a conversation with Wellness India, Dr Blossom Kochhar and Samantha Kochhar lay down a number of points that make them stand tall in the Green beauty products category.
What made you venture into a green salon business?
Dr Blossom- I am into aromatherapy and I believe that whatever you put on your face, you should be able to eat it and if you can eat it, you can definitely put it on your face as it will get absorbed easily. I think that everything should be natural. In aromatherapy, we can't use any artificial fragrance, colours etc. There are no parabens, benzenes or any other harmful substance. Everything is natural as ever. When we walk into a salon, there are chemicals in every product for hair, skin and other body parts. So, I thought of coming up with a green salon where everything is environmentally friendly. I think everybody should go back to the environment and use products that are safe and free from harsh chemicals.
Samantha- When we were doing consumer studies on the brand, there was a number of consumers who wanted to buy the products. The other thing that came through was that we wanted to experience the Blossom Kochhar philosophy. Dr Kochhar has been a legend in the beauty industry and people have grown up reading her articles on how to do and what to do for their skin, hair care and body care. That is when we, as a brand, along with Dr Kochhar decided maybe it's time because now India is ready. There have been a number of chain salons that we would like to expand and create brand spots. So, the franchise salon is a brand spot. It is a place where people can buy the products, experience the philosophy that we as a brand believe in and also experience signature treatments that Dr Kochhar and the team has created for the customers.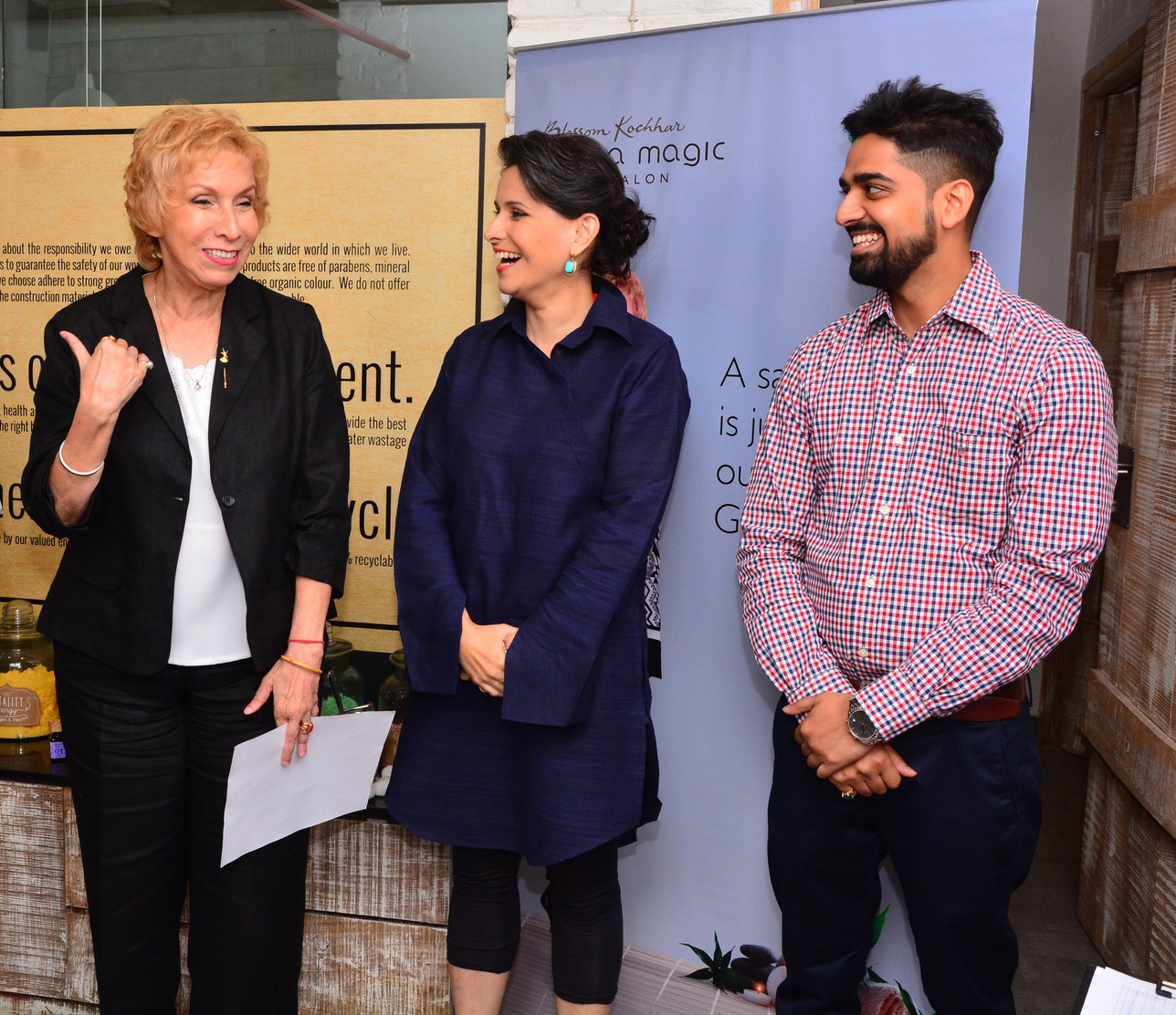 What can the consumers expect from your all green salon services and products?
Dr Blossom- We have products that are natural. Aromatherapy is used a lot as we use pure essential oils and they work on body, mind and soul. If we look at the other essentials of the salon- the water, lightings, surroundings- everything is environmentally friendly and free from chemicals.
Samantha- When we will be doing hair care services, there will be a lot of aromatherapy products that will be used that have been conceptualised and made by Dr Kochhar. 90% of the products that are used here are from our brand. The rest are products that we don't make, like hair colours, so we have partnered for that. Every treatment has a lot of aromatherapy. As Dr Kochhar has been explaining that aromatherapy is a mind, body and soul synergy which creates healing internally. As she says often that beauty comes from within, aromatherapy brings it out to the skin and the customers get a synergetic experience from it.
With so many brands coming up with the same concept of going green or organic, how does your brand stand out?
Dr Blossom-Our brand is also aromatherapy based and that is something that makes it stand out. The environment services and products make us distinguishable from the rest.
Samantha- Almost six years ago, when I took the position of Managing Director, I was researching on the same thing that everyone is turning green. Since it is aromatherapy; one cannot use many of the chemicals as there will be a reaction and things can go wrong in the product. We are one brand that has no false promises associated with its products. We are a very simple, down to basics brand and that has been the concept. So, when it is that everyone's turning green now, we have been green for the past 30 years in our products. We have brought them out now as India is maturing and the public demands them.
What do you think about the future of the Indian beauty industry?
Dr Blossom- I think the Indian beauty industry has got a great future. We were growing at a 20% earlier but now we are moving ahead with 30%. With all these skills, we are going to get people to look after the customers and there is a great future for the cosmetics market as well. I think this sector has never been organised but now I feel that there is a kind of organisation coming in here and it has got a very bright future.
Samantha- The beauty industry is a growing industry. As Dr Kochhar mentioned that there is standardisation that is taking place which is very important. She has been active as an iconic figure in the hair and beauty industry and has been working with the ministry for it. I am very proud that our brand is a part of this whole process to bring out the change in the industry and to stabilize it for the future. Yes, the industry is growing but I hope we grow in the right way.
Kindly explain your franchise model and its details.
Samantha- in the franchise model, we have three levels. We have singular ladies salon which often only caters to women in smaller towns. We have also got the Unisex salon which has just been launched. The third level we have got is the spa where we offer Blossom Kochhar Aroma Magic therapies. These three levels have different prices at which people can take them. Dr Kochhar believes in empowering women and people with a good concept and showing them the right way. That is where the idea of franchising salons comes in.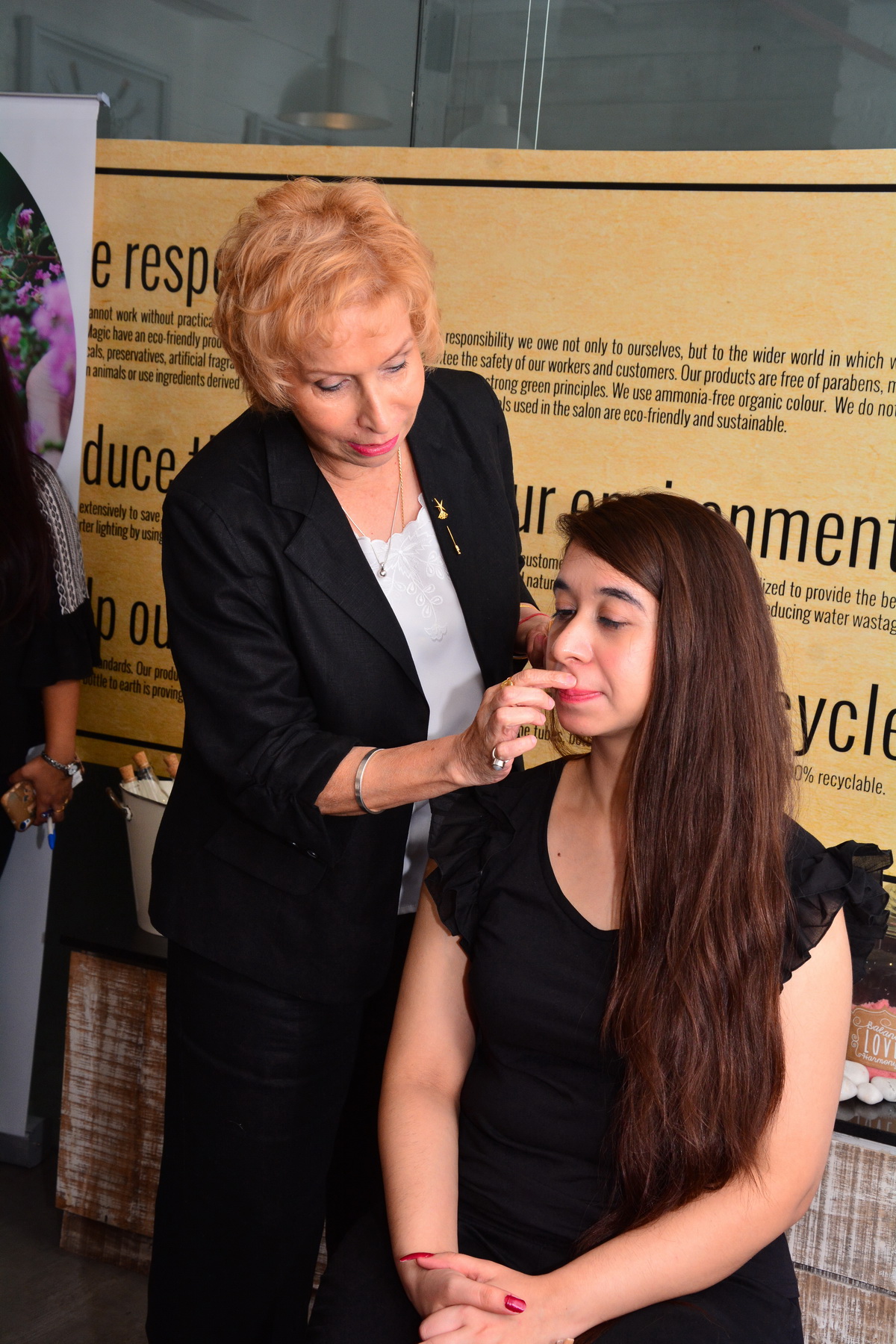 Will franchising be a lucrative idea for the wellness brands in future?
Dr Blossom- Franchising is very important to us because it is the next way to grow. I really feel that it is a personalised business and you have to look after your clients. If I want to open 100 salons, I cannot be everywhere but when I open my brand to franchising and the franchiser thinks like you, wants to give your brand the best and is not with you just to make money, they become your partners. They are definitely going to take your brand forward. So, I think that franchising is the way ahead and is really important.
Samantha- Being the second generation, I've seen my parents going through a lot of struggle in order to establish the brand. I've also seen that the market dynamics have changed. What used to happen 20 years ago is not the same now as Indian is changing. The whole economic structure has changed in India. So with the changing times and India becoming more globalised, I think there is a very strong move towards franchising. When a person takes a franchise, they have the brand standing at the back of them and it empowers the person as a good amount of legwork is already been done by the brand. The partners that join us are as much responsible for the success of the brand as they are for the failure of the brand because we are partners together in this whole process.
What are your expansion plans?
Dr Blossom- We do want to expand all over India and go forward with it in a really big way. I think that there is enough space for everyone to do well and we need to go into this.
Samantha- At this point, we are moving towards Bangalore and into the South of India. I have noticed that in the franchising world, a brand like ours becomes very centric like North India centric or South India centric. Blossom Kochhar, as a brand, is pan-India. From Jammu and Kashmir to Kanyakumari, our products are available. The brand is not going to be concentrating only on a zone and at this point, we have certain figures which was not so when we started. When you are moving pan- India, you need to have your facts right and as a brand, we are known for the credibility. So, we do have a pan-India plan and now we will pick up speed.