Wellness industry, earlier which was not looked at or remained untouched for several years, today is shaping better and is becoming a need for every individual. The concept of rigid beauty and wellness etiquette is no more a part of our culture. The industry is expanding with several wellness centers sprouting across cities catering to individual needs, be it spa and salon services, or consulting clients on services they must opt for. The perceptions are changing; people now are becoming more conscious about how they feel, both internally and externally. They are changing lifestyle patterns and are making conscious efforts to keep themselves healthy.
Top four trends booming wellness industry in 2017
Wellness industry is one of key business segment which is growing as per the projected 15 % CAGR. The reasons are as follows :
Wellness as a necessity
Gone are those days, when spa/ salon services were considered as a luxury. Last year, the industry has witnessed a positive change from a consumer perspective. The awareness and growth levels have increased so tremendously that now apart from the elite class, even the middle class wants to avail services. They are even willing to spend money as demonetisation had very little to no impact on the overall business and Industry. Just the percentage of transaction in cash has come down from 38% to under 9%, but the same percentage has gone up in the card business. With the progress in time, wellness as a concept has taken up a multi-dimensional definition, encompassing the individual's desire for one's own well-being. We now observe a "Me Time "as a priory in most people's calendar.
A boom in Men's grooming
Indian men are finally coming out of the closet when it comes to having a daily grooming regime. The demand for men's grooming market has seen a rise because of increased consciousness of their looks, epically in the urban middle class population. With men's hair trends constantly evolving from season to season, men are now actively looking for products and services that will serve their own specific purposes. In 2016, there was a surge in men heading to salons and spa's for various grooming services. There is a paradigm shift of sorts in men's overall perception of grooming and self-care. While many may still seem tasks like shaving and getting a haircut regularly as a chore, there is a growing sect of people who not only take pride in maintaining their appearance, but also enjoy these tasks as pleasurable leisurely activities they are more than willing to splash money on.
Rollout of Wellness apps
Disrupted technology is the new normal. As a trend, we see many wellness centers coming up with their personalised applications, which can be easily downloaded on the customer's mobile for their convenience. They no longer have to call or wait for booking an appointment. They are just a click away. The app is very easy to use and saves lot of time, for example - The app also has a list of services which the customer can choose from along with the price tag.
Some wellness apps also have embedded tips for customers which actually spares them from investing money on trainers or consultants.
A bright lookout at wellness careers
Many youngsters have started pursuing a career in the upcoming fields of wellness such as Zumba, kickboxing , makeup and styling. Aspirants are carving a big pathway for themselves in the wellness field, epically the younger generation who are passionate and excel in dancing choose a career as zumba, fitness freaks have kickboxing center and even men and women who have a good hand in hairstyling and make up have their own spa and salon studios. From the consumer perspective, the demand has increased tremendously and the scope for such aspirants to grow simultaneity also rises.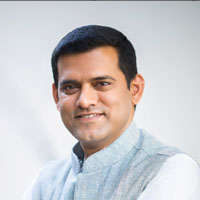 This article has been authored by Ritesh Mastipuram , Founder and MD, O2 Spa