Keeping customer satisfaction as the prime focus, owners of Substance salon and studio, Karan Sehgal and Akash Bhasin, forayed into the salon industry after getting influenced with the annual convention of Indian Salon & Wellness Congress 2016 in Gurgaon.
About the founders
Backed with a strong professional background of a private banker with handful experience in real estate, Sehgal has passion to get into a business space where pampering consumers would be the utmost priority for the staff.
His idea was backed by his friend and co-founder, Bhasin, who also had a strong career in Capital markets.
Together, the duo conceptualised this exclusive salon cum studio with elegant architecture to suffice the multiple grooming needs of the consumers at one-stop-shop.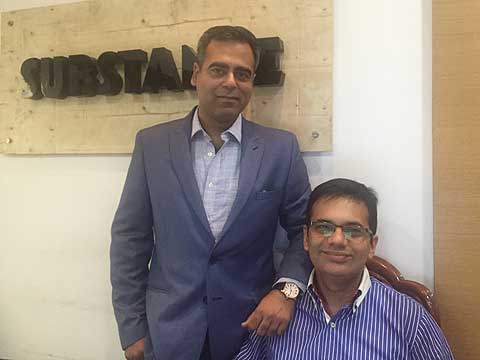 Design concept
Spread in an elaborate area of approx 2,500 sqft, the Substance Salon and Studio has a revolutionary trio concept, which is a combo of unisex salon, hair replacement centre and the body spa (day spa).
Elaborating on the same, Sehgal explained, "The spa area is designed around a central void for the maximum utilisation of space available. Wooden finishes with artificial dim lights have been used to make the area look rich and interesting. While the black colour tiles are used on the flooring to add richness and contrast with wooden work. Gray long wall (Micro topping) Pine Wood Table with low lights have been designed to create interest at the reception area. Central void is used as waiting area, to avoid long waiting at the reception. Private Rooms with highest privacy are provided for all personal care and treatment."
The salon area is designed in two separate sections attached with a waiting area in between. Front section is mainly men's section, designated for cutting and grooming. While the back section is designed specifically for women, offering manicure and separate shampoo wash station.
Interestingly, the women area will be covered by frosted glass in phase II as per design. In all section, designing is done in a way that it provides a feeling of personal space to the consumers.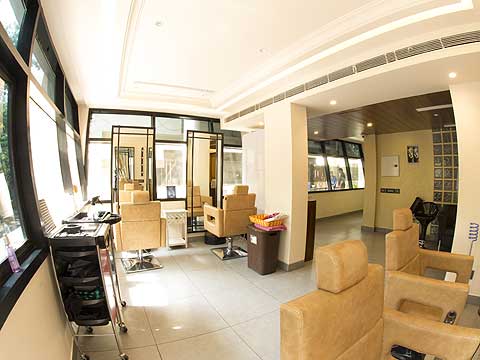 Capital invested
"An initial investment of close to Rs. 1 crore was made for this full scale outfit on its design specs, interiors and infrastructure. An additional Rs. 20 Lakh was spent on materials and furnishings," informed Sehgal.
Architecture and design
The master mind behind the architecture was Pushpendra Gupta while the credit for its serene interiors goes to leading designer Rachna Mann, Gurgaon.
Equipped with comfortable furniture and massage beds in leatherette finish, the salon section has designer mirrors, installed in front of each salon chair, finished in black colour, to break the monotony and incorporate the black and white theme, as per the logo of the company.
"In Salon, we have made it as one identity with lot of natural light and the waiting area in between makes it more interesting for the client. While in SPA, a private room with inside waiting is provided to ensure privacy. Wooden surfaces with low light is used in SPA to make it look rich while in Salon black/ white theme is provided to make the space lively," added Sehgal.
Sufficient Day lighting is allowed in salon area with ample arrangement of lighting for night as well, to fulfil the day and night requirements in the salon. Cove lighting is provided on the ceiling to give a dramatic look to the salon. LED lights are also provided in the salon to ensure sufficient lighting for face treatments. In the spa area, windows are covered with wooden blinds to block the vision and daylight from outside and to ensure privacy of the guests. Following the spa requisites, artificial dim lights are provided to make it rich, and high illumination lights are also provided in each room for specific treatments.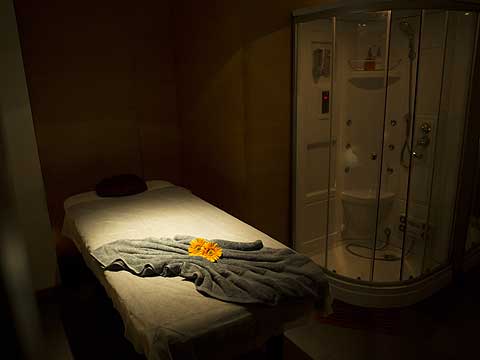 Services and staff
Not just specifically focussed on design and interior, the spalon offers a wide range of specialised services like hair solutions, beauty, make-up, skin care treatments at its large format and full-scale outlet in Vasant Kunj, New Delhi.
With only seasoned staff on board, well worked policies and processes, Substance aspires to be the largest organised players in the highly unorganised salon industry of India. The spalon has also recruited Guest Relations Managers from the beauty, wellness and hospitality background, personally engage with each client to advice the right product and services, also to ensure client re-visit in the salon.
The collaborative character of the design and quality services results in developing a contemporary concept into a known brand. This is the accurate time to invest into study specific architectures beyond the conventional perspectives of locality and modernism in salon business. As a salon means a gathering space for emerging ideas or criticism, it is the dynamic and innovative practices that are based on a collaborative sprit ensures success of a salon venture.