The running sector in India has seen a boom in the past few years and the growing numbers of marathons are a witness. India now sees more than 350 marathons, big and small, organised each year. While it's big business for running shoemakers and apparel brands and the likes of Reebok and Nike, it's also a huge market for those organising these marathons.
Tapping this market right and in a unique manner is Rahul Verghese, Founder and CEO, Running and Living Infotainment. Wellness India caught up with him to know more about Running and Living that he started with the purpose of organising marathons and make more and more people run in communities, in 2008. An alumni of IIM, Ahmedabad and having worked with firms like Nestle, HUL and Motorola, Rahul Verghese has been putting in all his marketing experience into the success of Running and Living. Here are excerpts from the exclusive interview with him:
The Inception
Running and Living was born out of 25 years of my marketing experience with the likes of Unilever, Nestle, Motorola in India and in different parts of the world, and a newly-found passion for running. I got into running quite by accident when we were posted in Chicago in 2001. I started running long distance and found it to be something that give you a high, something that boosts your self confidence and does all sorts of things apart from the wellness and fitness part that's a given.
I started reading about it and meeting a couple of people, and I travelled a lot. I used to run whenever I was out travelling and I would meet tons of people of different nationalities and talk to them while we were running and meeting up. I would hear lots of stories about how running had changed their lives. The bottom-line was that running gets you to be much more positive and much more self confident. So, when I got posted back to India, I thought it would be nice to do something with running and see if it could be some sort of a business.
The Entrepreneurial journey
I tried a couple of things as part of Running and Living itself. I tried different sorts of formats and finally decided to start Running and Living, which was focused around building communities of people to get started into running. Thereby, I looked at getting them supercharged, engaged in different aspects of whatever is required today, like you may be a photographer or sociologist, but how do we do something that is sustainable to the society in the larger scheme of things. I found that when you're into running, you're in a very positive frame of mind. Therefore it's a good way to get people together to see the best side of others, to make long term relationships and also get together for social good. That was from a consumer's standpoint.
The business model
We wanted that it would be something that we would like to build into a marketing platform over time and try to get brands interested in engaging with these consumers who have an active lifestyle, supercharged, very positive, and mostly corporate, because that is the kind of crowd we generally get. That's what I wanted to do.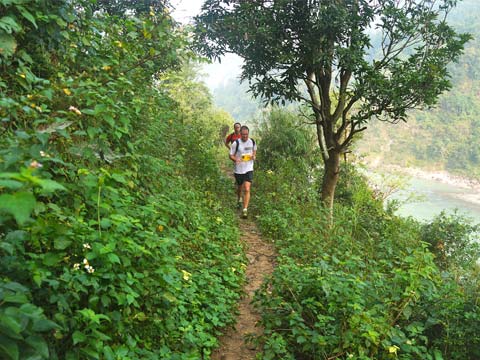 I did not want to do the larger events which are nice and great events. But they've got a different sort of a purpose. We decided that we'll do smaller runs with about 500-1000 people where you can get to know each other and network.
Running and living was started with a vision to get 200 million people to get inspired to run and unleash their potential. We experimented with a large format initially. We went and met up with the Athletic federation of India. But then we realised that was the wrong way to go as that was all about how much money each party could make out of that one run. I wanted to be super efficient at delivery. We realised that instead of doing four runs with 50,000 people, we'd like to do 500 runs with 1,000 people each and go with a totally different business model.
The runs
We started doing offbeat runs at offbeat locations which would get people to travel and therefore, spend two-three days with your family as well as making new connections. We usually go to places like Shimla, Corbett, the Himalayas, Sikkim, and such places. But we also go to offbeat locations during crazy summers like a run in the Aravallis during the month of July.
Then we get brands suited to each run, there may be a brand that is fun, so it comes with us for a fun run, a rugged brand comes with us for these crazy season runs. We do runs on the Formula One race track and get some car or tyre brands to associate with us or have companies whose employees can be part of the run for team building etc. That's how we really started.
So, according to the location now, there are some runs that are money spinners, then there are others that are not. As for the fee, the least expensive fee for a 5km run is around Rs 500. The most expensive fee for a full marathon run that we organise goes up to about Rs 7,000. We also do a lot of community runs that are free, but we find they are not very exciting with people.
The step by step approach
The first stage was just putting out content on running. So, we did content like why should I run, where should I run, weight loss and fitness runs etc. So, we focused on putting information out there and started writing articles in different media vehicles like the Times of India, Hindustan times etc and started getting them translated into different languages to reach out to at least 10-15 million people potentially. Then we set up a website also around this and started getting running schedules there. After this we started getting emails from people saying things like we've changed their lives. We understood that this has made a significant contribution to people's lives.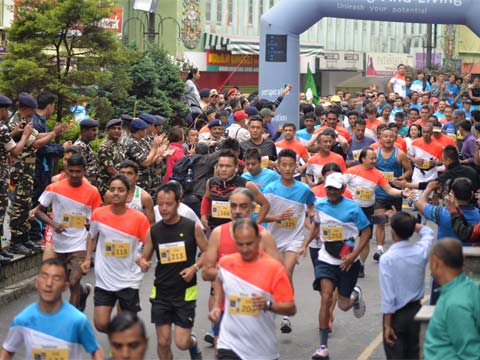 Then we started looking at how do we reach out to more and more of the corporate. That's the crowd I understood and I could empathise with their lifestyles. I thought they would probably relate to a person like me as I'm not an athlete, I'm one of them but now also into running. Then I thought if I can start at 40, anyone can do it. We tried to make it as simple as possible to start.
We did things like workshops or talks with corporate, in colleges, with governments, defence etc.
The next step was to go to a few companies and say we'd like to organise some runs and ask if they would like to partner with us. They'd put in some token fee as they'd initially have doubts about my experience of organising runs. Then I decided to just start off with organising some runs and went to the DC, the police and got permissions for our first ever run in Gurgaon in May, 2008. At that time, we would just distribute leaflets at gyms or RWAs.
Investment, profits and ROI
There was no physical investment really, but an opportunity lost of a good salary. Some people rented out an office place. There was a net outflow, but no inflow. There were no runs, but just content. Then we started getting partners to make sure the cost of operations are being met. We got brands like Reebok giving away some coupons or T-shirts etc., some trainers, some gyms, some media partners, some hotels as our hydration or breakfast partners. Initially, there were no profits.
Then we started looking at three types of organisations: operational partners like Reebok, Nike, or gyms, the media to help in amplifications and third, the marketing partners like car companies, banks, imaging companies and anyone who was not selling a low unit value item as they needed more people. So, FMCG was out of the question. So we targeted Samsung, Nokia, Indus Ind Bank etc. There were even real estate firms. Our significant investors/partners include Renault, Coca Cola. We made it clear to Coca Cola that though we won't get more than 1,000 people to run, we can get the city engaged and cheer for those running, thereby, increasing the footfall.
As for the turnover, we're getting over a crore at the moment every year.
Challenges faced
I find that a lot of marketing guys have become short-term oriented sales guys. The importance of marketing as a function has really declined and become much more subservient. My platform is more of a brand building and networking platform, more than a sales platform. I was initially disappointed with the kind of energy and responses. I figured that very few guys were interested in something that was path-breaking. Therefore, one would go to people who were heads of companies or one who's come in from an overseas assignment.
Expansion Plans – the e-commerce biz
We get income from a few different areas. The runs and sponsorships are primary. Then there is apparel and running gear that we sell online on our website runningandliving.com. In fact, we are on the lookout for someone who can run our e-commerce business as a standalone business. We are getting our own products made, and not looking at getting other brands.
Going International
We are focusing at India for now. But we have done recce in Kuala Lumpur, Singapore and Hong Kong. We are restricted around these three international locations for now.
Other collaborations
We keep doing things for Airtel Delhi Half Marathon like training programmes for Airtel, training programmes for runners of the ADHM. We have a stall at ADHM every year where we sell our running gear. We also give people advice on running there. We even do tie-ups with the likes of Reebok Running Squads.
Rahul Verghese started Running and Living when he was 40 years of age. He faced challenges, overcame them and is now earning crores by organising marathons. In fact, looking at the market, he is also open to the idea of getting Running and Living's e-commerce as a separate entity. He's recently also written a book called running and Living to get people to run and to make running a full-fledged industry.