India's wellness industry can go beyond Rs 2.5 lakh crores and even has the potential to be the best in the world, feels Paritosh Ladhani, Joint Managing Director, Radisson Blu Agra. However, he feels that North India needs to get the much deserved attention when it comes to wellness tourism.
Radisson Blu Agra is doing just that with its wellness property, Alive Spa, expanding and making it world class. Wellness India spoke to Ladhani on the services, the USPs and the expansion plans of Radisson Blu for its wellness property. Here are excerpts from the interview where he talks about the luxuries of Alive Spa, the road to becoming Number 1, his breakthrough plans for the spa and India's wellness industry as a whole.
Tell us about Alive Spa.
Alive Spa is on the second floor of Radisson Blue Agra, very visible to the guests. It covers an area of 6,000 square feet. It completes the entire wellness zone. We've got four treatments rooms including two western therapy rooms, one Ayurveda and one couple therapy room. All treatment rooms are a single contained unit in itself with a shower and steam area in every room separately, unlike any other spa that has a shower facility outside the treatment room. We have given the facility to our guests making it very private. When I used to go to the spas, this was one thing which I didn't like. So I told my interior architecture team to make sure that the shower and steam room are inside every room. It involved investments, but our guests are thoroughly satisfied. The couple treatment room has a private Jacuzzi. We do a lot of romantic packages where a couple can have a great time. It ranges from 120-200 minutes of therapy, and it's quite a hit. In terms of treatments, we have all the basic treatments which you'll find at any good spa.
Then we have a salon that covers about 800 square feet of the area. There we have services ranging from hairdo, makeup, manicures etc. We also take bridal makeup packages for complete styling makeovers. We don't just have guests, but a lot of locals are our regular customers.
The Health Club, since I'm also a gym freak, I make sure that we have the best of machines. We have all kinds of machines. Most of the guests have told us that they've used gyms across the world, we have the maximum number of machines for all body parts. That's a huge compliment. We also offer yoga and taichi classes for our guests in the winters. We have a unique thing, we have the Taj khema that is right next to the Taj Mahal which is a nice tila, where we do a lot of lunches and dinners for our special guests, and in the mornings, we also offer them yoga classes. So, our guests can actually practice Yoga facing the Taj. It looks absolutely majestic.
What is the USP of Alive Spa?
We specialise in the consultancy of the guests before they actually go for the therapy. We have a trained consultant who will let you know what kind of treatment your body actually requires. It's not just a formality but a deep study. This is one of the USPs.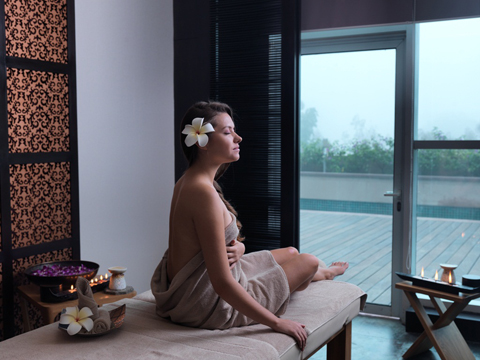 Our masseurs are pretty god and our rooms are also pretty big. We have got a lot of good feedback from our guests and now what we are doing is that we are expanding the area because we have some area, which is outside the spa, which I'm planning to expand and add another 2-3 treatment rooms within a tent. That would be another USP because we are competing directly with one of the best spas in the country, which is the Kaya Spa at Mughal Sheraton. We have to make sure we raise the standard of our spa because most of our guests will compare us with Mughal.
What is the size of the staff dedicated to the wellness properties of Radisson Blu Agra?
We have a team of about 11 people – 6 of them are the masseurs, two are stylists for makeup and beauty treatments, then we have the spa manager who is also the consultant for the therapies. There are also two people in the health club.
Tell us about the pricing of different services at Alive Spa.
I won't call our pricing competitive if you compare it to the stand-alone spas in the city. But we are very competitive if you compare us with the spa treatments being offered at 5-star hotels. In fact I can't think of any other spa that's better than us, apart from Mughal and Amar Vilas. If you compare our prices with them, we are pretty competitive. Our spa treatment starts at Rs 3,000.
So, how long before you become Number 1?
I think another year or so. As of now the entry to the spa goes through the gym. We've got a nice terrace area that connects to the hotel, so we plan to have a separate entry to the spa. So, the moment you get inside, wellness has to begin from the entry itself. Our landscape consultant, Ms Savita, is the best consultant in India right now. She's doing consultancy for Four Seasons and Six Senses Spa.
We are targeting being Number 1, considering the limitations of rooms we have got. Mughal has about eight rooms, we have about four rooms. However, if you see the revenue per room, we'll be number 1 in the next 1-1.5 years for sure.
What is the revenue per room as of now?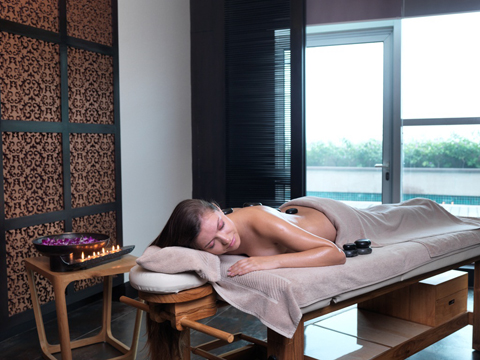 The revenue per room right now, based on an yearly basis, it's about Rs 20 lakhs per room. This would not only double, but with our expansion plans, this can go up to 2.5 times in a year. That is the target that I've given to my room with our luxury collection rooms coming up. We're also coming up with an infinity pool which is facing the Taj.
In fact, we as a group are also in touch with the Six Senses team with some more projects. I'm personally very much interested in India's wellness industry. It's actually growing at a very rapid rate.
Where do you source your products from for Alive Spa?
We are in partnership with one of the wellness firms of the country. They do all the sourcing for us. They currently have about 25 spas. They are providing us the technical support as well as the products. We are bound by contract not to name them.
Any marketing activities that you do for your wellness properties specifically?
Our endeavour would be to market the hotel as a luxury collection hotel with a view of the Taj. Our 6,000 square feet of wellness is going up to 8,000 square feet. Once we are done, then we can attract guests highlighting that with luxury services, we take care of their wellness as well.
I'm in touch with the governments of Himachal Pradesh and Uttarakhand. We've had a meeting with them and we've asked them to promote wellness tourism in North India. If they can support us in creating more wellness centres without compromising with the environmental issues, which they rightly have pointed out to us, we are proposing to set up wellness centres that are of world class standards. While it takes time, the country is improving by leaps and bounds. The current regime is actually listening to you. But these laws will take time to be changed. But I think the future looks extremely promising and if Thailand is the wellness centre of the world, India is going to be the second best wellness centre of the world.
What do you think about India's wellness industry as of now and where do you see it five years from now?
Wellness Industry is more that Rs 1 lakh crore right now. The growth is in excess of 15 to 17 per cent. So, I'm sure that in 5 years' time, if we continue with this growth, we'd be reaching a market size of more than Rs 2.5 lakh crores. We can become the biggest wellness industry in the world. The only issue is that if we don't act right now, all the wellness industry will move to the south. I think we have beautiful locales in North India as well. There are people who are interested in investing in North India as well if the government supports us. I think that will happen very soon.