The Indian market has, in the recent past, welcomed new ways of keeping a tab over health and wellness. Inception of wellness technology and apps has opened adequate avenues of opportunities for tech-junkies and innovators to tap the untouched horizons of business existing in the Industry.
Betting big on the same, a group of MICA, Ahmedabad alumni - Rishabh Tickoo, Shitiz Dogra and Saikat Bagchi along with Mannat Wadhera of Great Lakes Institute of Management, Chennai, FIRST EAT was conceptualised in November 2015.
First Eat has introduced a new trend of serving the residents of Gurgaon with a core preposition of 'knowing what to eat' for all through a robust tech enabled mobile app. The startup aims to bridge the gap between 'You, Knowledge of Nutrients intake and Availability of the Meal you need', by acting as an interface between the user, an expert panel of Nutritionists and availability of freshly prepared recommended meals for health.
"It's pretty simple yet an extraordinary fact that our health pivots on eating right. Yet we all invest more on reactive services and curative measures, but often take for granted the most basic and easiest proactive approach of eating right - that can potentially eliminate any need of curative approach for our health. Information and knowledge hold the key towards better health planning, and this is the paradigm shift in people's approach that we are trying to facilitate," shared Saikat Bagchi, Co-Founder, First Eat.
Present market position
Currently operational in Gurgaon only, with an average of 200 daily meals and 90 daily running subscriptions of Nutritionist recommended diet plans, First Eat has nearly 8000 app downloads on Android and iOS, and an active user base touching 5000.
Elaborating on the same, One of the Co-founders Rishabh Tickoo said, "We are aiming for a strong Month-over-Month growth in our current geography right now and by 2020 we hope to be closer to realising our business vision and create more opportunities for the business on the way."
With a staggering repeat rate of 67 per cent, the startup has aggressive expansion plans in other regions of Delhi/NCR.
"We are currently focusing on strengthening our operations within Gurgaon and building a scalable model which can be adapted to the needs of different markets. We are also concentrating on building awareness through the online medium which has an inherent advantage of scalability. According to the IAMAI, mobile internet penetration in rural India is growing at close to 58 per cent year-on-year," he added further.
Reportedly, the food delivery market in India is worth $ 1.6 billion, growing at 30 per cent a year. However, less than two per cent of the orders are placed online, which means, there is immense scope for business here if provided with adequate facilities and aggressive promotion.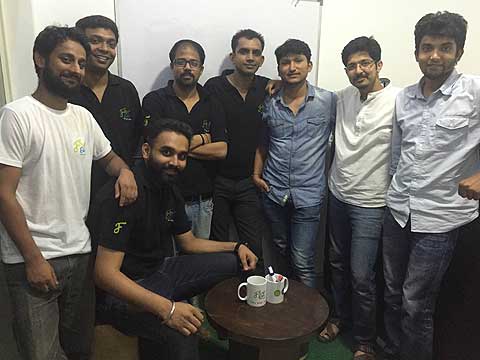 Funding anecdote
The bootstrapped venture was established initially with the savings of the four, later they bagged $200K to strengthen technology backend and building an efficient and robust kitchen operations process, with scalability factors included in it.
"We share a very healthy relationship with our investor(s) and value their expert guidance and support in moving towards the vision of the business. The funds we raised were done in exchange for certain percentage of stake in the company," informed Tickoo, by opting not to disclose the exact figures.
Consumer behaviour outreach
First Eat's business ideology aimed at increasing the overall health index of the country. In order to attain this, the startup provides free information about the meals and diet plans. They also decide on consumer's requirement by analysing their food consumption power and other parameters like age and gender, which also help them curate a goal specific meal plan.
"We are willing to serve to anyone who can download our mobile app. Right now, the only limitation we have is geographical limitation of our operations. Thus, we are focusing on the hyper-local market for increasing traction. We are alongside building a strong operations process, so that we can scale that up for opening new geographies, and more people," he added further.
Pricing strategy & profit margin
At present, the startup has moderately priced its offerings, keeping in mind the genuine affordability of the consumers.
"We believe that pricing should depend on this concept. Wastage reduction, time-resource optimisation and efficient work culture are a few things which help us keep the costs in check. Affordability has to be an option, when health and nutrition are focused on. With high customer retention rate and through a general tendency of multiple items per ticket, we have been able to remain unit positive," informed Tickoo.
Marketing & future plans
First Eat is currently building a scalable model which can be adapted to the needs of different markets. The startup is also concentrating on building awareness through the online medium which has an inherent advantage of scalability.
"Yes, we are ultimately harnessing robust technology to enhance the user experience and amplify the reach as well using digital mediums. Currently we are an app only player, but soon we'll be going live with web enabled e-commerce website as well for much seamless experience for our target consumers. Digital marketing and our current technology platform have incredible synergy and help us in mapping out consumer behavior and formulate strategies accordingly," said the co-founder.
As smartphone penetration and disposable incomes are on a rise and inclination towards proactive wellness is also shooting up, the startup has hit the right chord at the right time.