The Internet of Things (IoT) is making inroads into the healthcare sector. The growing interface between IoT and healthcare presents immense opportunities for improving patient experience and outcomes. Multi-sensory networks for monitoring, mapping and diagnosis can not only reduce uncertainties and future risks, but also make healthcare more affordable and patient friendly.
The global Internet of Things (IoT) healthcare market is projected to grow from USD 41.22 Bn in 2017 to USD 158.07 Billion by 2022, at a CAGR of 30.8 percent. These are impressive figures and they reveal the extent to which IoT is getting entrenched in this crucial vertical. But beyond these numbers lies a story of how IoT is bringing about a transformation in the way pharma products are being consumed.
Better patient outcomes
With reduced production and better transit management practices, pharma companies can offer vital drugs at reduced prices to customers. Patient feedback can also be managed better as also the supply-demand balance.
Beyond these immediate benefits, the pharma sector can also rely on the Internet of Things to gather insights across the value chain to streamline it. An investment in IoT opens the door for all stakeholders to benefit. From bringing drugs of higher quality into the market faster to ensuring safer transport of drugs and better feedback monitoring, IoT is turning into a vital ally for pharma companies.

Personalized treatment
IoT can create immense business value for healthcare entities by personalizing patient experience. A treatment solution customized and targeted to the unique needs of individual patients can be designed and delivered using IoT. This includes all levels of diagnosis, monitoring and services such as exercise advice and/or dietary inputs.
Imagine a scenario where the doctor doesn't have to come every few hours or at regular intervals to monitor a patient. An IoT stream coming from devices can deliver data to a portal which could be accessed by the doctor to study the health of a patient. Such a data stream can also study the efficacy of drugs and dosage being administered while providing information on the side effects, if any.
Ensuring adherence
According to a study by the World Health Organization in 2003, 50% of medicines are not taken as directed. Non-adherence to the prescribed drug dosage could cause loss of life, reduce treatment impact and results in losses to the industry as a whole. Through unique sensor embedded bottles that could inform patients, doctors or family members in case a patient has taken excess dosage or less than the prescribed dosage, adherence to medication can be ensured.
Patient safety and privacy
Being non-invasive, through remote health management, patients can stay safe in their homes. Tele-health can provide alerts and inform doctors if any parameter goes beyond or below the prescribed threshold. Doctors can also be consulted via teleconference or tele-presence bots and data sets stored on the cloud readily redeemed in the middle of a consultation.
Evidence-based decision making can be enabled by creating a pool of patient information. Which might include offline records as well as consultation information, genome records and clinical research data. This will go a long way in contextualizing healthcare.
Storing patient information in a decentralized and encrypted manner will help prevent loss of data in instances of ransomware attacks of the type we saw recently.
So far so good but what about privacy concerns? In order to strengthen the relationship between IoT and pharma, we need to work towards evolving better strategies and patient interaction and data management models that improve patient privacy. Patient consent can be taken in case there is scope for data to be extracted that could be of value to the sector as a whole. The patient could be given incentives for this.
Conclusion
These are just a few instances of IoT essaying a role in transforming traditional healthcare practices. With the deployment of more smart devices, there is a huge opportunity waiting to be tapped. Through improved preemptive diagnosis and enhanced patient experience,IoT opens doors for newer healthcare models to be operationalized. This will reduce costs and lead to the availability of better healthcare options for the masses.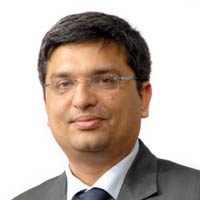 This article has been authored by Dr. Rishi Bhatnagar, President, Aeris Communications, India and Chairman, IET -IoT Panel, India