Blossom Kochhar Aroma magic the nature inspired brand, skin care and beauty brand has announced launch of its first standalone kiosk in Mumbai at R City Mall. With this, the brand has increased its national presence to three exclusive standalone kiosks.
The brand's work is a thoughtful balance and harmony of substance and style, nature and science, people and spirit.
Commenting on the same, Dr. Blossom Kochhar, Chairperson, Blossom Kochhar Aroma Magic said, "We have designed the kiosk in a way which will visually entice the consumers. Along with that, we have also emphasized on minimizing the impact on the environment and in not compromising on the quality and quantity of natural resources, today or tomorrow. This is an important market for us and we are looking forward to engaging the savvy consumers in the city with a host of exciting new products and events in the upcoming months."
The R City Mall location in Mumbai is on the ground floor and will offer the complete Blossom Kochhar Aroma Magic product portfolio. The brand endeavours to bring to their customers superior products, following the rules of Aromatherapy and guarantee the best quality product while respecting people and environment.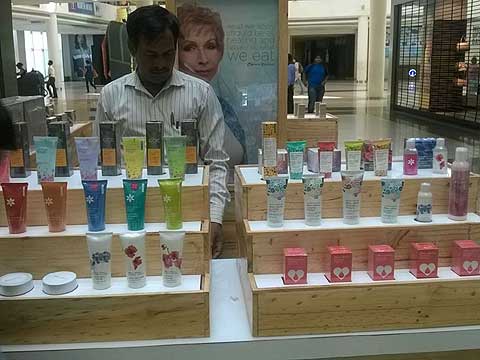 Blossom Kochhar Aroma Magic is also planning, projecting and procuring brand shop in India's leading malls.
"The brand has been a forerunner in natural skincare with the brand focusing on using nature derived ingredients only since last 24 years," noted Kochhar.
The kiosk will showcase all the eminent nature derived products from the brand. In the spirit of being the change the brand wants to see in this world and in the beauty and wellness industry, Blossom Kochhar Aroma Magic has decided to launch environmentally conscious kiosks in India.
The Mumbai kiosk endorses the brand's green mission of being responsible and reducing the stress on the environment. The interiors of Blossom Kochhar Aroma Magic kiosk are carefully done, keeping the brand's ethos in mind.
The kiosk is exclusively designed keeping in mind the brand vision of going green. The interiors are made of pine wood, adding a tangent to natural dimension & entire look and feel of kiosk revolves around the theme - go green, go natural.