Recently, Mark Zuckerberg, the Co-founder and CEO of leading social media channel Facebook, made headlines across the globe for donating 99 per cent of Facebook shares worth over $45 billion to charity.
Reacting to it, India's business tycoon Ratan Tata had said, "Philanthropy or giving is something that comes within you and you obviously create another motivation when you mandate that."
If we talk about Corporate Social Responsibility (CSR), which was made mandatory by the government for companies above certain threshold to spend at least 2 per cent of profits, it's the wellness industry which came forward in full support of the federal government's yet another initiative.
"CSR in India is all about making positive impact on the community. We need to understand the democratic importance of CSR in India. CSR gives an opportunity to contribute in people's progress. It should be measured on its long-term commitment, sustainable impact and addressing the challenges of the community. CSR should not be measured on the size of the amount spent. I strongly recommend that FMCG companies should spend more and more on education related CSR projects. I believe that educated people will create a strong volume for wellness market," said Rusen Kumar, Founder and Editor, India CSR (www.indiacsr.in), Country's Largest CSR Newswire.
With utmost attention and participation, be it Digital India Initiative, Startup India, AYUSH promotions or even CSR activities, the wellness industry has always turned in full force to accomplish the vision of Prime Minister Narendra Modi. In this context, here's a look at what the bigwigs of the wellness industry are doing when it comes to CSR.
THE TATA GROUP'S ROLE
As we talk about the CSR projects initiated by wellness industry biggies, Tata Group is leading the chart.
In August'16, Tata Global Beverages and Tata Trusts has partnered with Smile Train, the international children's cleft charity, to raise awareness and extend support for cleft lip and palate repair and comprehensive cleft care.
Elaborating on the same, Ajoy Misra, MD & CEO of Tata Global Beverages said, "Tata Global Beverages' vision is to create magical beverage moments, and a smile on a child's face is certainly magical. Through this partnership with Smile Train, we hope to positively impact many thousands of children and bring alive Tata Global Beverages' ethos of giving back to community."
Significantly, Over 170,000 children across developing world, out of which, 26,000 in India alone, are born with cleft lip or palate every year. Most cannot afford the surgery and face social isolation.
However, Smile Train's sustainable model provides training, funding and resources to empower local doctors in 85+ developing countries to provide 100 per cent free cleft repair surgery and comprehensive cleft care in their own communities. Tata Global Beverages and Tata Trusts are together contributing $1 million to Smile Train.
"The barriers created by untreated cleft lip and palate have major consequences on a child's health. Through this partnership with Smile Train, we hope to play a catalytic role in improving health outcomes," said R Venkataramanan, Managing Trustee, Tata Trusts.
In India, Tata Global Beverages will further build upon this partnership via its Gaon Chalo (visit village) initiative to spread awareness about cleft lip and palate repair. This will help the initiative reach nearly 60 per cent of the rural population.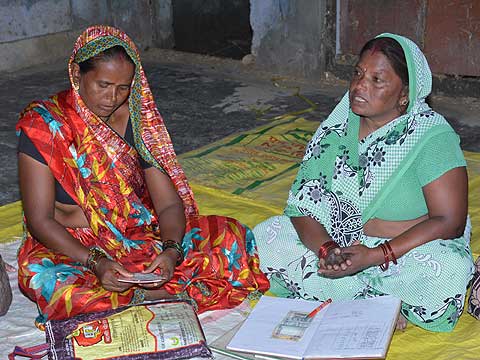 DABUR INDIA INITIATIVE
The Burman family led Dabur Group supports the principles of inclusive growth and equitable development through its CSR initiatives and also through its core business.
"We leverage our business activities as well as our CSR activities to deliver on our commitment to sustainable development. Our community development initiatives include innovative projects that foster sustainable growth in four key areas of Eradicating Hunger, Poverty and Malnutrition, Promoting Preventive Healthcare, Promoting Bio-Diversity and Providing Vocational Skills Training. In addition, we also support programmes in the areas of Education and Women Empowerment," unravelled A Sudhakar, Head-CSR and Global Talent, Dabur India Ltd.
Among others, Dabur Group has been working towards constructing toilets in rural households and schools, organising Health Camps in various villages across India, running non-formal education centres for underprivileged children, operating livelihood training centres to empower rural women. The FMCG major also runs awareness campaigns on health, oral hygiene, etc.
Nevertheless, through Sustainable Development Society (SUNDESH), a voluntary non-profit organisation registered under the Society Registration Act 1860, Dabur endeavours to help build self-reliant communities.
Long before the CSR regulations came into force, Dabur has been engaged in community development initiatives since 1994. Today, Dabur Group's development initiatives cover nearly 23 states across the country. However, a bulk of initiatives related to Sanitation, Education and Women Empowerment are concentrated in Uttar Pradesh, Uttarakhand and Himachal Pradesh.
HAMDARD LABORATORIES PROJECT
Staying true to its passion and commitment of healthcare, Hamdard Laboratories ploughs back a significant chunk of its profits into charity and CSR. A testimony to this is the Jamia Hamdard University, one of the most respected and reputed universities in the fields of Pharmacy and Unani Medicine.
With initiatives like Hamdard Education Society and Business Employment Bureau, Hamdard is supporting education for girls and preparing economically weaker sections for self sustained employment. There's even the Ghalib Academy to promote Urdu Literature across various platforms. All this, to make the society a better place for its people.
"Being a responsible business, Hamdard Laboratories contributes around 85 per cent of the profit in CSR activities like running hospitals and a university, while balance 15 per cent is ploughed back into the business. We are aiming to clock sales of Rs. 1,000 crore in next three years on the back of growth from existing products, new launches and extension of its heritage brands as Rooh Afza and Safi," said Mansoor Ali, Chief Sales and Marketing Officer, Hamdard Laboratories India.
Hamdard is on a transformational phase with an image makeover to attract the young generation. The company is planning to foray into new segments like cosmetics, while it is looking to set up Greenfield plant for its new products.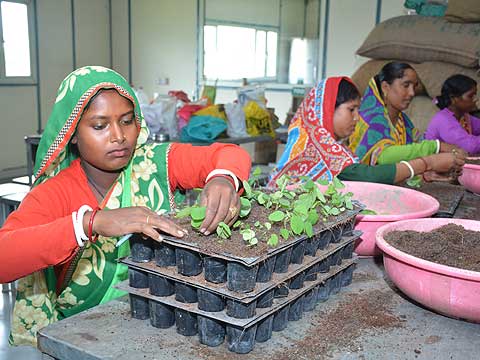 THE BODY SHOP
Joining the wellness business leaders is The Body Shop India which works with organisations and NGOs at local levels. Some of the key projects handled by the brand under CSR projects include Stop Violence in Home, Stop Sex Trafficking of Woman and Young Children, Animal Cruelty Free campaigns and ongoing Support Her education.
"The Body Shop India recognises and embraces its commitment to the communities in which it operates. Aligning ourselves to the global campaigns, we also sell the charity products in market. Previously, we have sold Gurana Lip Butter, Bag for Life, Dragon Fruit Lip Butter, Stop Sex Trafficking Hand Cream and the most recent one is The Change Hand Cream," informed Savita Kaushik Dhami, Head - Marketing, Digital and CSR, The Body Shop India.
Nevertheless, as part of its commitment 'Enrich Not Exploit' to protect and enrich the world we live in, The Body Shop is building Bio-Bridges. It will restore wildlife corridors within damaged landscapes that help endangered species reconnect, enabling them and local communities to thrive. The brand has aimed to regenerate 75 million sq mt (over 18,500 acres) of forest across the globe and protect it from exploitation, poaching and unsustainable harvesting by 2020.
The playful campaign raises awareness around the challenges the monkeys and other endangered species face in living safely and finding a mate. Every customer transaction in The Body Shop's stores in 65 countries and online will directly support the project by restoring and protecting one square meter of habitat in the forest.
Most essentially, the brand has been running a continuous employee volunteering program for the last 5 years named AASHA (hope) under which all the company employees are provided 2days of paid leave for volunteering services of their choice with local communities and NGOs. The program started 6 years ago and last year, the company have invested about 5000 hours and aims to increase it in current fiscal.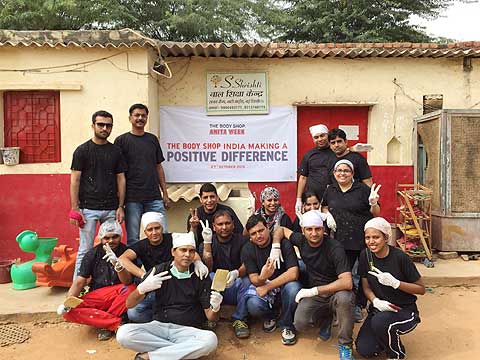 With about Rs. 6,300 crore in 2014-15, the implementation of mandatory corporate social responsibility spending, under the Companies Act, 2013, has unleashed a wave of spending on social sector programmes which turned out to be a big brand building strategy for organisations. Whatever the ground reality be, the CSR spends by big corporates are betting big on changing lives, if the resources are used appropriately. At the same time, they are also making sure these brands stay visible in the arena.
Image curtesy: Top four- Dabur India; Bottom one- The Body Shop