"Let further increase the use of technology in our daily lives and use technology to bring a positive difference in our society," tweeted Indian Prime Minister Narendra Modi to mark the National Technology day.An avid user of technology himself, PM Modi has always encouraged usage of technology. And, in fitness space, technology has tuned into the soul of the business.
Off late, in Indian fitness space, hi-tech wearable gadgets and fitness products have created a separate entity.
"Fitness and healthcare is going to be one of the biggest industries, otherwise, the cost of living will become so high for everyone if they don't take care of themselves and people are realising it. Today, 80 per cent of the diseases in the world today is related to lifestyle and that is why these fitness bands are becoming quintessential so that people can keep a track of their daily health graphs," said Abhishek Sharma, CMO, GOQii.
Significantly, the wearable sensors market is expected to increase to US$299.46 million by 2018 at a CAGR of 45.08 per cent in over a period of 2014-2020 in global arena. Asia Pacific region is expected to show the highest growth rate due to the presence of developing countries.
India has shown a humongous bend towards wearable technologies and this has happened in no time. Indian start-ups have taken this fragmented industry with a storm and many new technology innovations have been done around the same. From navigation shoes, to track-able ornaments, and from fitness bands to solar backpacks, we have them all.
Growth driving factors
In a country that churns out 1.5 million engineers every year and with such a strong bend towards technology and data analytics, it's quite obvious that businesses will gravitate towards wearable technology.
Another reason being same as that of other categories and that is 'everything that starts in the West happens here soon'. Silicon Valley accelerated the wave of wearable technologies by funding many such companies in the recent past.
Personal devices will lead to more personal and intimate data, and the mantra was very well caught by entrepreneurs across the world. The kind of data these personal devices are going to provide will become a huge repository for data mining and big data analytics.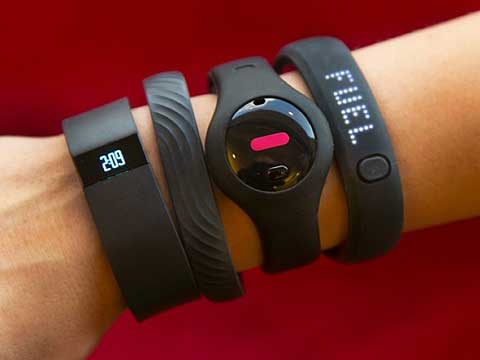 Case study
A case in point is Pramoud Rao, Promoter and Managing Director of leading electronic security company, Zicom Group, who lost nearly 14 kg since last Thanksgiving Day when he bought the Fitbit Flex for US$100 during his trip to the US.
The device tracks daily steps you take, distance covered, calories burned, your sleeping pattern (over slept or under slept) and its LEDs light up as you reach towards your daily fitness goal.
"I have been a fitness freak since I was 42. The purpose of using the Fitbit band is to monitor what I am doing on a daily basis; otherwise checking your BP or workout in the gym are only ways to check your fitness, which are quite ad hoc. But with this band, you don't have to worry about all that because it calculates your weight loss, BP etc, and through that data, you can do your analysis to be fitter," says Rao. The fact that one can measure his daily progress encouraged Rao to influence his core team members to use Fitbit.
Similarly, former competitive Squash player Sahil Vora, who run facility management company SILA and recently expanded it to home services space as Mr Homecare, also uses Jawbone UP not only to track the amount of calories burnt, but also his sleeping pattern.
"It tells you how many hours of deep sleep you had at night, whether you are under slept or over slept and whether your body is well rested," informed Vora.
Future forecast
According to the PR newswire findings, the Global wearable sensors market is expected to increase to $299.46 million by 2018 at a CAGR of 45.08 per cent over the period 2014-2020.
With all eyes pointing at wearable industry, the competition here is going to be HUGE! All businesses will have to have a game plan in place to act on the competitive opportunities, while taking note of the challenges too. Wearable is not just a product, but an alcove in the digital market.