Bearing a long glowing heritage of cosmetics and skin care products being used since decades, nowadays it appears like a booming economy in India, which would be the largest cosmetic consuming country in the next few decades. Perusing analysis given by Confederation of Indian Industries, the total Indian skin care and cosmetics industry stands at US$ 950 million with a CAGR of 20 per cent. In an industry widely spread, OMORFEE has tapped the market with a touch of nature, selling natural products, which are pure and love the skin in every way. WellnessIndia caught up with Naman Adlakha, Director, OMORFEE, to know more about the venture.
What was the speculation behind the launch of OMORFEE?
Rather than speculation, I would call it the vision of M/s Bioruns Private Limited. Bioruns launched its organic skincare brand, called OMORFEE. OMORFEE was launched with the thought to create awareness for pure organic skin care products, not just in India but also around the globe. We aim to provide world class, authentic, certified and the purest organic skin care products, in a very different, eco-friendly and beautiful natural Bamboo Packaging.
Tell us about what Bioruns does. Also, share details about your business model.
To begin with, Bioruns Private Limited has initiated its journey with the inception of its organic skincare brand, OMORFEE. Presently, our entire focus is on national and international marketing of OMORFEE. We are into online sales and digital marketing, to spread awareness about the brand. At later stages, we plan to have stores for our customers' ease and maintaining relations in a better way.
Tell us about the journey of OMORFEE; put some light on the company as well.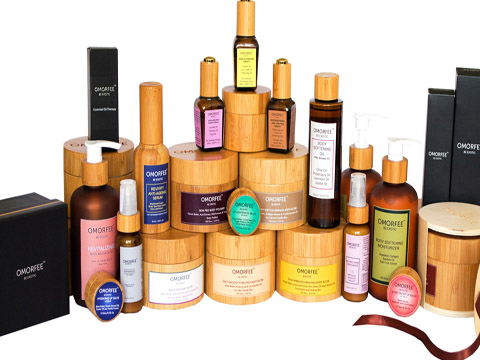 OMORFEE came in its nascence in the year 2014. The motto of OMORFEE is described in three words, which are 'purity, quality and efficacy'. The same thought was the idea behind the creation of 'OMORFEE'. Moreover, our company strives strictly to adhere to its principle. Our excellent products and the bamboo packaging are loved by all and we have lot of loyal consumers, which looks quite promising. We have even exhibited in few high-end exhibitions, which has given widespread popularity to the brand.
How challenging is the wellness and beauty sector in the country? Share the challenges you faced so far.
The challenges are humongous! The first challenge that we face is enlightening the people with the knowledge of organic skin care products. In addition, that how different is pure organic skin care products from the mundane 'natural' skin care products that the market is flooded with. It becomes a task to make people understand how to judge a high quality skin-care product and not just get beguiled by terms like 'natural', 'ayurvedic' etc. Making them understand the importance of quality ingredients, which eventually ends up making a quality product is necessary. Explaining the consumers the reasons as to why they should choose our products over others, becomes the main challenge.
What makes OMORFEE peerless? (USP)
It is the promise of OMORFEE products, living up to its claim of being pure, safe and devoid of deleterious chemicals. We believe in maintaining the transparency of our products with our customers. Most of all, our internationally accepted products and natural bamboo packaging stands us apart from any other skin care brand.
What has been the heyday-moment for OMORFEE?
We have just begun our journey, so there does not come the question of attaining its heyday. However, I personally feel that the moment an organization feels that it has reached its heyday, the zeal and the intense hunger of growth comes to a standstill. Therefore, there cannot be a heyday for a company, if its vision is really to soar high!
What are the products and services offered by OMORFEE to the costumers?
Presently, OMORFEE body care products, which we are catering to our esteemed customers. Our range comprises of body butters, body lotions, body oils, body scrub, lip care products, hand lotions, beard oil, toners, facial range and pure essential oil therapies, which are made with purely natural and international certified organic ingredients only.
Have you found your angel investors yet? If yes, how are you planning to utilise it?
We are still a self-funded firm. OMORFEE skin care range is already in market and is getting astonishing feedback. We will be looking for Venture capitalists, in the near future to attain constant growth and making OMORFEE a sought after organic skin care brand for each individual around the globe.
What are your expansion plans? Do you plan to step a foot on foreign soil?
We have already been sampling in many of the European countries and very soon, you shall see OMORFEE around the globe. Our quality products with beautiful natural bamboo packaging is being loved and cherished by all.
Being the 7th largest country on the planet, how do you tackle with the distribution process?
For now, OMORFEE is only available online. However, in near future we plan to open up stores all over India to achieve harmonised system. We would like to reach, each and every citizen of India and make them understand concept behind OMORFEE Organic Skin Care range.
To conclude, feel free to share anything about OMORFEE that people would love to hear.
At OMORFEE, we do not compromise on our products. We have made use of precious and rare herbal extracts along with an amalgamation of certified organic ingredients, without any adulteration or incorporation of any chemical. We have taken care to keep the packaging eco-friendly, by packing our products in natural bamboo jars! No parabens, paraffins, glycols, alcohols, silicones, PEG, synthetic colors, synthetic fragrance or mineral oils are used in any recipe.
We at OMORFEE have started a small initiative from our end to help the nature restore its sanctity. It is called "You Buy, We Plant". We all must be able to comprehend and accept the fact that it is we who depend on the nature. It is never the other way round! We are sustaining at the love and mercy of our 'Mother Nature'. Therefore, it is our foremost duty to give back a small shard of love that we imbibe from our nature. We, at OMORFEE, have pledged that with every purchase of our product, we would plant a sapling. This way it is the least we can contribute to our environment.