Even as the fitness industry of India is unorganised, it is growing at a CAGR of 16-18 per cent YOY. Leaders in the industry say that a more professional approach is needed to make this market organised and the transformation has already begun.
In an interview with Wellness India, Vikram Aditya Bhatia, Managing Director, Fitness First, India, says, "As more and more players with the right focus on service get into it, the industry will start getting organised. We're where the fashion industry was in 1990."
Fitness First was conceptualised and started in England in 1993. It is present as a premium fitness brand in 17 countries across the world. Having entered the Indian market in 2008, it is now among the top 5 fitness brands of the country. However, it is unlike the fitness clubs who look at aggressive expansion. Fitness First, as Bhatia tells us, is very clear about the markets it want to grow in, in a very phased manner. "We're not a one-club business per city or per area. So we're now taking that up to 7-8 in Delhi. We're taking a 2-club count in Mumbai to 4. That is more important for us right now rather than going to different cities," says Bhatia.
Here are excerpts from the candid yet insightful interview where Bhatia talks about the Indian fitness industry, brand Fitness First, demonetisation and more.
Global Presence
FF as a brand I think is present in 17 odd countries having been conceptualised and started in England in 1993. It was the first real non-franchised owner-driven business that went global with a fairly strong business in Germany, Australia and Asia (in six countries in Asia). We're in many countries in the Middle East. From the business perspective, it's a non-franchise driven business, and that's been fairly successful. If you see, as a brand it has been around now for more than 20 years and survived many different changing trends and economic cycles. The markets that we dominate are really our international markets. And, we only choose to stay in the markets where we are the real leaders rather than just one of the contender brands.
Getting Fitness First to India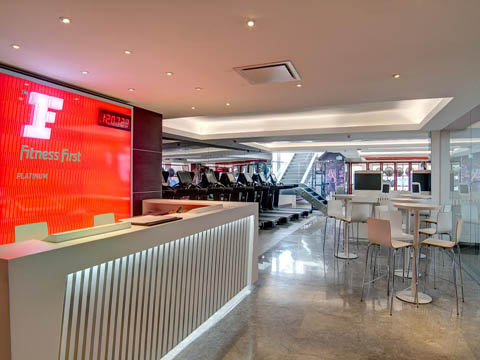 We started our first club in India in Delhi and Mumbai in June 2008. The fitness industry in India is really not an organised industry nor does it have the development or the infrastructure that you could really talk about it being an industry that is developed and you come here to aggregate demand. We realised that because of discretionary spend, growing income levels, the population, the emerging metros, there is very clearly an opportunity to promote fitness and make it a part of people's lifestyle. So if today you want to open a business in Australia, there you're aggregating very well educated demand. Here we're aggregating curiosity and interest in fitness. While that is a big opportunity, it is also a huge challenge because people say they don't know if they need it. So we saw that and took that challenge on. We came here in 2008 with two clubs in Delhi and Mumbai and we were able to introduce the best of class at that time and the newest formats of exercise through our clubs to the people that we engaged with.
We have seven clubs now between Delhi and Mumbai with three more opening in the next six months in Delhi and Mumbai itself.
Plans for other cities
We had two clubs in Bangalore, we operated them for five years each and then we closed them simply because the real estate involved in the manner that wasn't conducive for our clubs. At the end of the day we are growing in many markets and the capital is very limited. So, how do you allocate capital to the best priority and also to the best return on investment. So if you have Re 1, you can't spend it at ten places. Our business model is such that we want to give you multiple sites rather than one club. We're not a one-club business per city or per area. So we're now taking that up to 7-8 in Delhi. We're taking a 2-club count in Mumbai to 4. That is more important for us right now rather than going to different cities.
We will be touching metros, but for 2017, the plan is just for Delhi and Mumbai. We want to get to 9-10 clubs in Delhi before I get one in the other areas of North India. We've already framed our plans in Bangalore for 2018 with 2-3 clubs, but nothing in 2017.
Organising the Indian fitness industry
For a fitness business today, there's no barrier to entry accept if you have a location and if you have some capital. The first mistake people make is that because of that it's just about equipment. It's actually about a product, a service proposition and a lifestyle. You cannot stop people from opening clubs. The industry is completely unorganised or underorganised in some ways because there is lack of capital. Today you don't see a lot of multi-site chain operators. You see a lot of franchise businesses which are driven by entrepreneurs who are extremely passionate, but again their passion brought them into the business, they will not be able to attract their capital and there's very little capital available to them. This results in them going into a very cash and carry kind of approach, which then hurts the industry. One very good indication of the industry is what was the income level of a trainer in 2008 and what is it today. It hasn't changed much unfortunately.
A majority of clubs today don't open with a philosophy of 'let me introduce new people to the fitness industry'. The size of the pie is not increasing. Everybody's business model somewhere is about 'that club is near where I want to work with. If their pricing point is so much, let me go cheaper', rather than saying 'this is who I am, this is my product, this is my service proposition, this is my philosophy and let me get started'. Like you see in F&B business, somewhere that's happening with some brands, but not with the organised players. Today if you see a Costa, a CCD or a Barista, they all are very clear of what their cappuccino means, they're not competing each other at price. They're not undercutting each other with a change in price every three months nor are they saying '50 per cent off now'. That is not happening in the fitness industry.
Cutting through competition
As I said again, no product is here for everybody. You have to be very clearly able to identify the segment you address, the service that they require, you need to continue to evolve in that. Yes, they might leave for going for a Pilates class to another club until and unless you are one of those customers who are going to make Pilates the only workout for the rest of your life, you also might come back for other forms of exercise. We at an average in each club, conduct 90 classes a week, of 17-18 different kinds of classes per club. The right customer who has a core focus and the variety focus. Every format of exercise is very credible in providing you results. Variety is something good. There are days when you just want to walk. You might not be able to do that in a studio that's just about Pilates. Yes, people move around. But if you're core to who you are and what you are offering, you can't offer one thing as a club. As a studio you can choose to offer one thing. As a club, you have to offer variety and you have to be good at that.
Flexibility of the brand
We've completely moulded our product for the Indian market. Every market has its own lifestyle journey of the consumer. We're in a very early stage of that lifestyle consumer journey in India and specially in the macro, micro markets we're operating in. Our product is very tailored to where we're going. What we've decided and have done in Nehru Place in Delhi is very different from what we've done in South Extension. Each market has its own USP of demand.
Do you think the fitness industry of India both in terms of products and services needs some sort of regulations?
It's over-regulated actually. There's health licences, music licences.
But do you think that a gym not getting these licences is really taken seriously by the law?
No. But please understand, a lot of laws are very difficult to implement in India because there's a huge deficit in the enforcement agencies. The challenge is just about the fitness industry.
The demonetisation effect
Oh yes, demonetisation has affected the industry and very much so. Not us, because our revenue streams and our payment methods are not at all dependant on cash. Less than 15 per cent of our members pay for their services in cash. But majority of the clubs and some that we've spoken to in the last few days, they're 90 per cent dependant on cash payments. Not that they don't pay taxes, it's just that they have members who join them choose to pay in that instrument. We are affected, but not to the extent as everybody else. It's too early to tell you what the effect is. Why, because it's only happened on November 9. Till you don't go through one or two months, you don't know whether people's discretionary wallets will change. We need to see what are they going to drop first – going to a restaurant, bar, or fitness.
USP of Fitness First
The USP for us really is that we have a very clearly defines service proposition. We very clearly have a variety. We don't have everything. We have a few things that we've agreed to in our service proposition and we're very good at that. We're providing a certain fitness philosophy, which is more about movement based training. We're not a weight-lifter's gym, we very clearly have that as one aspect of our USP. Underpinning that is that we have a lot of investment made in people. So we actually have a lot of qualified trained staff, which helps in completing that entire focus variety with a lot of excellence with experts involved in it. That is our USP.
The second, of course, our facilities are premium, our location is A grade. When you sum it up, we're very clearly a very premium brand.
Recruiting certified manpower
Certification is misunderstood in India. One is a participation certificate, the other is a qualification certificate and the third is an ongoing qualification certificate. Everybody in India is an internationally certified trainer. But that's not the case. We have people who have participation certificates, who have qualification certifications and ongoing. But underpinning that really is that we clearly make sure that all have them have been through post-physical education qualification, a foundation course with us, which lasts close to about eight weeks in a formal practical environment in our club.
How big is the business of Fitness First in India right now?
We today have seven clubs, close to about 9,000 members. We're going to be adding another close to 5,000 members in the next one year. We have two price points in India right now – one is at Rs 4500 a month and the other is at Rs 6,000 a month. Both are very clearly associated with the products offered and the location.
Fitness First in 2020
We would be adding about 5-6 clubs a year starting from 2017. We should, by the end of 2020, be a 30-club business between three cities of Delhi, Mumbai and Bangalore. We would have by then opened up at least two more markets where we will be at 2-3 clubs each. We would have also looked at a master franchise for three cities.
Criteria for master franchisee
The first criteria is somebody who has good exposure to managing lifestyle businesses, access to quality real estate in their micro-markets, demonstrated ability to raise capital and somebody who very clearly has passion for fitness.
We have been approached for franchising in the past three years. We're learning from a lot of franchised businesses in India as to what not to do. We've got a successful model. In 2005, we started our first Master Franchise in the Middle East, today it's a $150 million business which has been converted into a fully-owned business by a local big business house in the Middle East and it's got 50-odd clubs of the size and scale of Fitness First. We have been to create a franchise model of a club from 10,000 to 50,000 sq ft. We have had some good learnings.
Fitness industry improving in the next 2-3 years?
Yes, it's constantly improving. What is happening right now is that even if you see the most advanced fitness market like the US, it is organised because of a large scale achieved by a few or a lot of players. If you look at the organising bodies that have created a common platform for equipment manufacturers and operators, is because of an individual scale achieved there. We're still very small. As more and more players with the right focus on service get into it, it'll start getting organised. We're where the fashion industry was in 1990.