Creation of a brilliant architect Sanjyt Syngh, the premium franchise outlet of Gold's Gym has been spread in a huge space of about 12,000 sq ft. The design ethos of Gold's Gym, Gurgaon aims to provide a cohesively relaxed, luxurious experience to the fitness enthusiasts in a scientific space layout.
"Gold's gym sits pretty atop Gurgaon's Gold Souk mall, a strategically located shopping complex, flanked by upscale neighbourhoods, corporate office and apartment complexes, promising the well-heeled clientele the gym targets. Designing this gym, part of a known chain, to make it stand out as a concept fitness facility attracting fitness lovers, mall-visitors-turned-customers made for an interesting proposition. Spread across the luxurious 12000 sq. ft. expanse of the mall's entire third floor, this gym cuts through the trend of cramped fitness studios, and offered the freedom of space to design innovatively making it a luxe experience for Gurgaon's largely cosmopolitan population," explained Syngh.
Its execution entailed highlighting expanse, while seamlessly integrating different sections. Say for instance, the studios are separated from each other and also from training areas, to minimise distractions like walk-ins, music etc,. Intuitive planning placed entrances to the gym - linked to the parking and health café - leading to a spacious reception channelizing traffic from different directions.
Strategic path from reception, towards cardio area, re-directs members to locker room, on the way to which, they walk on a mood-lifting running track design.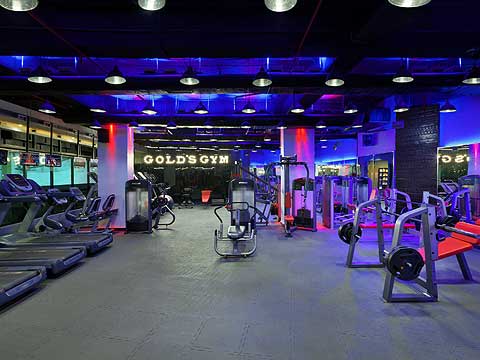 In an exclusive conversation with WI Bureau, Ashish Gupta, Director at Gold's Gym shared intricate details of its design interior.
What kind of GYM furniture being used in the property.
Making this Gold's Gym offer an international feel and customised workout experience were factors driving the choice of equipment, which are cutting-edge and cater to the varied needs of its existing members [20-40 years] and target audience [18-60 years]. Populated with world-class machines, spinning studio, GX studio, this fitness facility is designed to provide its members a full-body experience addressing their functional, strength and cardio needs. Everything has been handpicked and spatially arranged to fit in with the range of workout methods, across regular and specialized group trainings, while a cable crossover caters to all members during peak hours.
How many therapy rooms, reflexology stations are available in the GYM?
We have it with two spacious lockers rooms equipped with all amenities. Further, we have a Special BMI room, which enables clients to monitor their progress at regular intervals. In total, we have 50 reflexology machines, apart from group ex and spinning studio.
What kind of lights among day light, artificial dim light, chandeliers etc. being used to enlighten the GYM?
Our main focus was to give members a different ambience to workout in, which not only motivates them but also helps them shed inhibitions. Hence, we used blue and red lights on the floor along with basic LED bulbs to add a classy effect.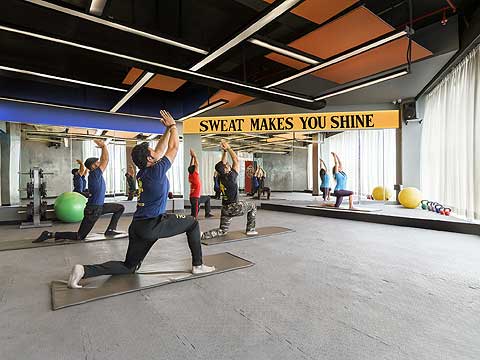 Share the details of GYM flooring in terms of mosaic, wooden, tiles or stone floor etc.
Flooring of gym area comprise of 22mm interlocking padded flooring, which cushions the floor and let members use free weights with less noise. Our locker room is covered with sand blasted Indian black pearl marble. Reception and cafe have been laid out with tiles imported from Italy.
Share details of products used in the GYM for: Haircare; Skincare; Hygiene care; make-up (for salons); bathrobes; pedicure-manicure etc. (please mention brands for each category).
We use Fiama di Wills by ITC for our hand wash and body wash.
Final take
"Having such a huge space on a single floor is itself unique. The idea was to create a gym which leaves an impact from the moment you enter it. Hence a story was created to keep the member engrossed- from a super luxurious cafe and reception going to a semi-rugged floor and ending with a complete garage look locker rooms! The maintenance of such a design is not very high. The only elements which require regular maintenance are locker rooms due to use of water on a daily basis," noted Gupta.