The whole world is striving to create a digital presence and the beauty industry is certainly no exception. Cosmetic manufacturers and retailers are busy building their online channels for the tech-savvy generation who prefer to shop everything online.
For the generation X today, technology is not an extra element in life. They use technology in all aspects from working, socialising, paying bills to shopping. According to a study by Deloitte, after sharp increases year over year in 2014 and 2015, the digital influence factor is cooling off, growing only 14 per cent last year after sustaining multiple years of greater than 30 per cent growth. As a matter of fact, close to 22 per cent millennials and 78 per cent non-millennials are using digital devices throughout their shopping spree. The consumers are turning to the use of mobile devices more often during the shopping voyage. Besides shopping, the usage of mobile also allows consumers to share their experiences, whether good or bad, with other consumers on the internet. People share views on social media channels namely Facebook, Twitter, Pinterest and others which influences potential consumer's purchase decisions.
In the world of cosmetics and make-up, consumers will choose a premium cosmetic product by the virtue of the brand name even though they might get the same quality and finesse in a product by an easy on the pocket brand. Simply put, brand name plays a major role than touch-and-feel of the product. In light of this, cosmetic retailers across the globe have realised that digital has reshaped consumer behaviour and shopping trends forever now and, therefore, their strategies revolve around the appearance of the product.
Online shoppers have to primarily like the 'look' of the product which has given rise to innovative packaging in the skincare and cosmetic industry. According to a recent report released by Research and Markets, the global cosmetic packaging industry market was worth $24.3 billion in 2014 and is projected to reach $31.4 billion by 2020, with an annual growth rate of 4.3 per cent. Retailers package products using choicer green alternatives, incorporating natural or colourless closures while keeping the charm constant. Interactive identification methods such as quick response codes, advanced barcode technology, and near-field communication (NFC) labels are being used in packaging to actively engage consumers with the brand.
To make the most of this digital wave, cosmetic retailers should embrace the innate capabilities of their digital touchpoints and integrate with such platforms where their customers are already interacting rather than trying to build new platforms all by themselves. The brick-and-mortar retailers face challenging competition from e-commerce players; yet traditional retailers need not give up on the battle for growth.
About the author: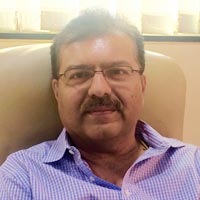 Irfan Menon is the Director at Olivia Cosmetics. In his current position, he looks into production, marketing, conceptualisation, consumer satisfaction and other core company operations. Olivia being a family business, Mr. Menon was associated with the company from the beginning. He has an experience of over 30 years and has earned the trustworthiness of trade partners, consumers and employees which is evident in the growth of the business to such commendable heights. Irfan Menon has completed his post graduation in Accountancy and likes to read and travel to new places.