Soon after Baba Ramdev's Patanjali Ayurveda has introduced new Sishu (baby) Care brand, FMCG major Hindustan Unilever (HUL) also floats a new range of baby care products under its much trusted Dove beauty brand.
Despite the huge number of children born in the India every year, the baby care segment has not been tapped to its potential yet, suggested industry experts.
"As of 2015, the size of Indian baby care industry - both online and offline was put together at about Rs.1 lakh crore ($15-17 billion). This is expected to exceed $20-22 billion by the end of 2017," said Aditya Pathak, Business Analyst, RedSeer Consulting.
Thus, biggies like HUL aimed to challenge the dominance of existing top players like Johnson&Johnson (J&J) in the Rs. 4,000 crore market.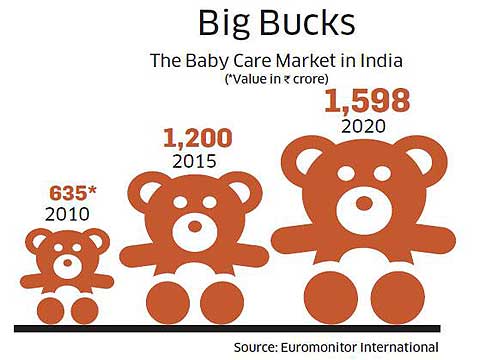 Commenting on the same, Prabha Narasimhan, Vice President Skincare - Hindustan Unilever, said, "We are excited to bring Baby Dove to India after a highly successful launch in Brazil. Our aim is to go beyond mildness and ensure that the lost moisture is replenished. Thereby providing superior care, we strongly feel that the Baby Dove campaign resonates with moms globally, and we have set out to reassure moms that they know what's best for their child."
Developed for babies with normal to dry skin, the Dove Baby range includes the Baby Dove Rich Moisture Baby Bar, Baby Lotion, Diaper Rash Cream and Baby Wipes along with a Sensitive Moisture Baby Bar to take extra care of babies with sensitive skin.
Dermatologist tested and paediatrician approved, Baby Dove contains two ranges with products formulated with cleansers and moisturisers that uniquely replenish essential nutrients and are hypoallergenic and pH-neutral for all babies' skin types.
Baby Dove is available on Modern Trade, General Trade and Chemist channels apart from Ecommerce portals and all the products are moderately priced between Rs.27 to Rs.210.
Reportedly, Dove is the fastest-growing brand in HUL's portfolio of personal care products, having raised its revenues to Rs 1,500 crores from Rs 100 crores in 2007. The company has been selling diapers under Kotex and Huggies brands since 1995.