Arjun, a marketing professional from Axis Bank started his fitness regimen in a leading gym chain to remain in shape. However, this new guy in the city faced numerous issues in extending the fitness regimen in the gym.
Firstly, it was hard to find the well equipped place for workout, than one has to cut down on petty expenses to allocate good budget for expensive gym, time constraint was another big factor creating havoc in his daily workout. Last, but not least, the guy had to pay for trainers' support also as part of the gym package to get extra attention from the instructor.
Overall, Arjun ended up bearing big cost for his fitness regimen. One day, his office colleague introduced a fitness app to him that offered multiple fitness regimen and nutrition guide to Arjun that too in a meager monthly subscription. The marketing professional turned fit in couple of months, without hurting his pocket.
Like Arjun, millennials in India are taking online fitness over brick & mortar gyms to shed heavy price workouts.
Online vs offline fitness
As the country been swept away in fitness regimen, tech startups with innovative online fitness discovery platforms are giving tough competition to their brick-and-mortar counterparts.
Betting big on customer engagement with everything from curated fitness regimens to cross-gym usage facility, fitness startups are ready with flexible workout regimen, which the millennials find handy and cheap.
Technology driven platforms like Fitpass, Fitternity, FitCircle, HealthifyMe and FeetApart have developed a whole new space for fitness freaks to explore, that too in much affordable cost.
Commenting on the same, Tushar Vashisht, Co-Founder and CEO, HealthifyMe noted, "We are on a mission to Healthify India. Together, we will help our customers eat better, get fitter and fight lifestyle issues effectively."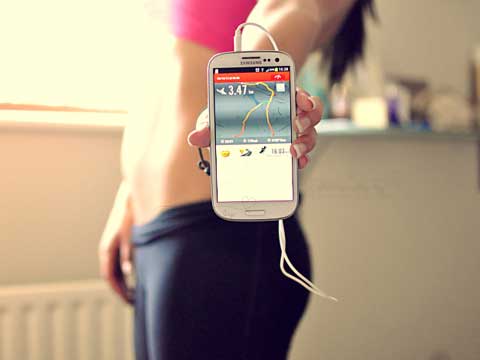 Market scenario
Currently pegged at USD 2.4 billion, Indian fitness industry is slated to grow at a CAGR of 25 per cent and over 60 per cent of the industry is driven by fitness services.
Commenting on the same, Akshay Verma, Founder, Fitpass said, "India wants to get fit. But there are impediments in the form of price, fixed schedules and long-term contracts. We use technology to remove market inefficiencies and make fitness accessible."
Similarly, Neha Motwani, Founder and CEO, Fitternity.com informed, "The potential for this segment is amplified with the focus on preventive healthcare. With over 65 million diabetics, over 75 million pre-diabetics, 30 per cent of tier I city people are suffering from heart disease, over 25 per cent of tier II city citizens at risk of heart disease and blood pressure problems and 1 out of 6 adolescents in the country being overweight. Thus, we foresee an inflection point in a couple of years for adopting fitness across the country and we are poised to be the largest player in the segment."
In fact, chat-based health and fitness company FitCircle's team of nutritionists and health advisors offer personalised advice for free. They also customise regimens for corporates.
In fact, another startup FitCircle has recently tied-up with health and insurance brokers Aon, MediManage, Evexia and others to improve employee health and engagement.
Overview
Significantly, these fitness platforms are not just capturing bigger market share in Indian fitness industry, but they are also gaining adequate attention of investors who are happily backing them with good amount of money.
"The world is moving to smart devices and through these strategic investments we are ensuring that our consumers enjoy services that enrich their experience. We believe that India's preventive healthcare needs transformation technologies. With our investment in HealthifyMe, we aim to create a technology platform to address the consumers' wellness needs," Rahul Sharma, Co-Founder, Micromax which has made a strategic investment in HealthifyMe digital fitness provider.
Clearly, for these online fitness service providers, health and Profit for all is the new mantra of fitness.