Gone are the days when only the taste of the food was the focus. These days it is about the entire experience around the food. In order to give a complete sensology experience i.e. touching all senses, molecular plays a vital role.
From the diners' perspective, molecular gastronomy came in vogue because suddenly Indian food was not being served in a curry bowl with a dollop of butter on top/fresh coriander/'rogan' oil. Indian food had a fancy avatar. Meats were being cooked in 'sous vide' machines and traditional gravies were being replaced by foam.  In the kitchen, molecular gastronomy provided an opportunity to let the imagination go wild and give a new perspective to traditional dishes. So now, a chaat could be served as a sphere on a spoon, keeping the flavours intact.
Molecular gastronomy became popular because these kinds of techniques were in vogue a decade ago the dishes which came out from these techniques were very unique, like having a fruit sphere made from juice, or a curd bubble made from normal curd with the help of chemicals. 
So, what really is a Molecular food?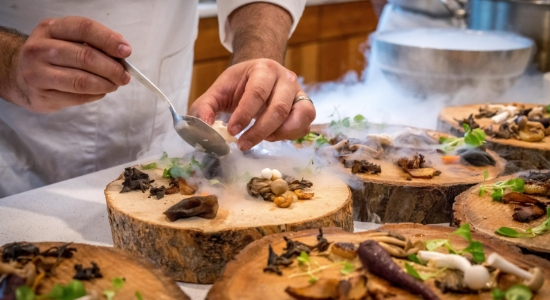 Says Ankur Chawla, a passionate entrepreneur, sommelier and an author with domain and expertise in food and beverages, "To begin with, it is something that looks phenomenal and which can be enhanced a lot in terms of taste as well using molecular gastronomy techniques. Something that looks like an apple but tastes like an orange is the simplest way to explain the surprise element. From creating a simple B52 shot into caviars using Spherification (the most common these days) or using "Mint Air" on a Chicken Tikka rather than serving it with mint chutney elevates the experience. Using the right technique with the balanced and innovative thought process one can create magic. For instance 'Sous Vide' meats can give a perfect balance of taste, tenderness while retaining the juices in the meat. It completely depends on how one uses the technique and how much does one pushes it. 
"I strongly believe it is the flavour that wins at the end but there is so much more, that one looks out for," he adds. 
Also Read: Is Traditional Indian Food Overshadowing Molecular Gastronomy
Telling us a little more about it is Vaibhav Bhargava, Corporate Chef, Yuvi hospitality, Molecule Air n Bar and The Drunken Botanist, "There was a lot of drama and smoke that came out during these preparations and that made the customer excited about what was really happening! And, that's why suddenly it has become a popular thing. There are many restaurants which have been incorporating these techniques in some way in their menus but Molecular Air n Bar was the only restaurant, which was based entirely on this theme. It was a concept of Manish Sharma's three years ago and at that time Molecular Gastronomy was trending in a big way. It was a new concept among bars for which Gurugram is famous for; cool ambience with machine guns and chemistry on a glass wall." 
"The food which was offered when the restaurant was launched was based on molecular gastronomy techniques and fusion food. Today, however, the food is very different in terms of its flavours and trying to revive our old classics with our signature twists." 
'Gimmicky Food'? How Chefs Lose Focus on Flavours and Taste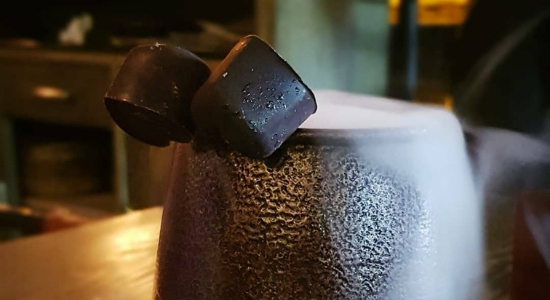 According to Chef Dheeraj Dargan, Executive Chef, Comorin, "It did gain popularity at the beginning across all spectrum of diners, but as restaurants mushroomed all across the country 'specialising' in molecular food, it started to be perceived as '"Gimmicky Food". As it is said, half knowledge is worse than ignorance, in pursuit of molecular food, a lot of chefs lost focus on the flavour and taste. Food had become "Instagramable commodity'. Today's serious diners are looking for interesting dishes, new flavours and unique combinations." 
Speaking about the techniques used and whether as a concept molecular food is completely out, Chef Dargan feels that "The so-called 'chemicals' are actually not chemicals. They are of biological origin and in a purified form, which increases their potency levels. The raw materials are either extracted from marine, plant, animal or microbial. All the ingredients used are as per stringent international food regulations. Diners need to be educated in this context, as a lack of proper information leads to wrong beliefs in their minds. Molecular food, if done by a trained chef, is completely safe for consumption." 
The Concept is in Vogue Again!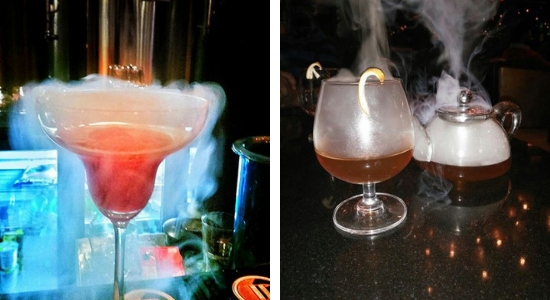 Pic Credit: Molecule Air Bar
Even Ankur Chawla feels that the concept, still, isn't totally out and in fact, may be getting back into vogue again. "I don't think it is going to phase out completely but as I mentioned the right techniques will definitely stay. Subtle use of molecular elements which enhances the taste and presentations of the dish or the drink will stay back. It attracts people of all ages, especially the millennial who love experimenting and are always looking for experiences beyond just tasty food. In facts, these days with the master chefs' competitions and star chefs around, it is expected out of them to push the boundaries and molecular plays a big role here. However, I won't deny the fact that people definitely prefer more real food than molecular." 
Chef Vaibhav Bhargava says, "When it comes to experimentation, we all know about our limitations and it's the same case with food when something becomes too often at every place, the craze of that things goes out and the same thing happened with the molecular gastronomy." 
Many chefs who were not trained in these techniques were also trying to make their mark because of which customers have had a bad impression about the food and the techniques used to make them. "The use of chemicals also rendered it unhealthy and today's consumer is well-travelled and far more health conscious. The result is that these days molecular food is completely out of fashion and only a few people are still using this technique in some of their dishes," says Chef Vaibhav. 
Restaurants Serving Molecular Food Must Follow These Tips 
Since molecular food is mostly out, restaurants need to reposition themselves according to new tastes. Some will continue to use acceptable norms of molecular techniques and ingredients because it looks great and has a great appeal when it comes to a light taste of a bubble or a foam and things like that. When asked about his plans, Manish Sharma says, "As a brand, we are now growing and focussing more on the good, sincere food and bring new innovative dishes to our customers. We always change the menu every four months and bring something new that would make the experience memorable at every single visit. To do reposition ourselves, we are focusing on a lot of marketing activities as well as on food menus where we are trying to revive the old dishes and bring back traditional grains, which were used earlier in regular cooking, but are now getting extinct slowly."
According to Dheeraj, "The biggest challenge in doing molecular food is the project cost of the kitchen. To truly achieve molecular food to the level of Fat Duck or Alinea, the equipment required cost a bomb. The number of chefs required in the kitchen to do molecular food increases manifold as compared to a traditional kitchen. The icing on the cake is the ingredient cost. Since all the ingredients are imported, by the time they reach the chef, their cost had multiplied by ten. All of this leads to a low return on investments and hence restaurants end up in losses." 
Ankur adds here, "It isn't completely out of style but elements of the same can be seen in a lot of food and beverage outlets. However, I won't deny the fact that people definitely prefer more real food than molecular. I strongly believe that one has to be super-skilled to use Molecular in the right way and one's understanding of the same has to be very strong. Not so long ago, Molecular became a trend and almost everyone started to test his hands on Molecular food, not realizing that chefs or mixologists have gone through a lot of training, learning and hard works before they started dishing out some of the outstanding gastronomical creations." 
For many of these reasons, there has been a slight shift in India from the Molecular trend and as Chef Dheeraj nicely sums it up, "Diners in India are not very experimental yet as compared to their counterparts in the western world. Molecular food ended up as just a phase and not a revolution in India at least."