No season for drinking this light, frothy beverage
Gone are the days when beer was only a drink for the summers. The age of the uber cool is in and beer by the mug and beer cocktails are something people now like to consume all year round. The reasons are more than one though. It's not just the people want to look or seem 'cool' but it's now about what you truly like to drink, rather than what one should be drinking at a particular time or weather. With the mushrooming of microbreweries across Delhi/NCR, new entrants like Hite and many other imported beers, and a booming social life, there's a lot more to this beverage that meets the eye.
Whether people are enjoying a pint at the local bar or sharing cans at a house party, beer is a very social drink. Today, more and more choices are available in this ever growing marketing that consumers can pick from, whether it is men or women. People are becoming more conscious of their choice and prefer drinks with low alcohol content.  With so many different flavours of beer out there, there is something for everyone! 
Indeed, a chilled pint is just perfect to spread that all round warmth and cheer!! 
Also Read: Home-Grown Concepts Impress Consumers, Says Fruzzante Founder Priyanka Save
Changing Trends and Tastes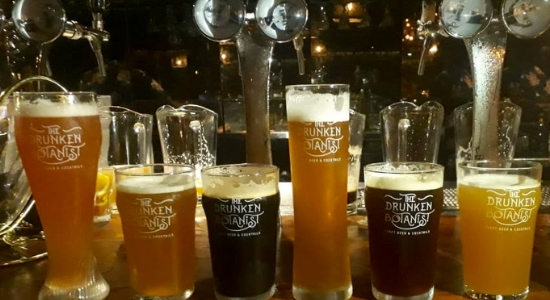 With more and more people becoming global citizens, people now know what they want to drink and they are far more aware of flavours today than they ever were. 
Speaking to Restaurant India, Pradeep Gidwani, the owner of the Pint Room and the ex-co-founder of The Beer Café, says, "Ten years ago, one could only get standard, lager style beers in India. Today it is fantastic to see the availability of wheat beers, Dunkel Weiss beers, Trappist beers, amber ales, stouts etc. From about 20 to 200 brands now the consumers have a wide variety. This has led to experimentation and the Indian palate is evolving. A few years ago who would have thought that sushi can sell in India, similarly the Indian palate for bitter, beers is evolving. We are getting more mature with our tastes. Women are trying new styles of beers." 
Must Read: Healthy Alcohol, Premium Rose - The 2019 Alco-Bev Trends To Watch Out For In India
Sudhanshu Tyagi, Brew Master at Prankster, says, "Craft beer shoppers choose according to a wide variety of factors, from complex flavour profiles to alcohol content.  Recently, a new trend has caught on: choosing beers by the season. Craft beer lovers are more aware than ever of which brewery is bringing out which product. They know of the regular seasonal beers as well. Generally, beers are light and refreshing; winter beers are often dark and complex; and other seasonal brews are driven by seasonal ingredients, which typically become available during different times of the year.
With more and more people becoming global citizens, people now know what they want to drink and they are far more aware of flavours today than they ever were. 
Nishant Grover, Head Brewer at Molecule and Drunken Botanist, feels that as a food technologist-cum-brewer, it gives him an open mindset about different combinations of the brew.  As Nishant says, "It's true that people's tastes are changing. With the upcoming trend of craft beers, people are getting more and more in the beer and the complex experience around it. There are so many flavours to be discovered in this wonderful drink. 
Seasons for Beer – Common Misconceptions 
As per, Pradeep Gidwani, "In Europe with minus temperatures, beer still accounts for over 70% of all alcohol consumption and it is good to see the same beginning to happen in India. People drink beers in winters. It is a casual every day meet up drink rather than just a beverage to have on warm winter days. Clearly, we see that at The Pint Room, where winters are our best months."
"Another common misconception is that women are not beer drinkers. In fact, almost 50% of our clientele is women. We have women-only groups coming in for beer all the time at The Pint Room," Pradeep adds.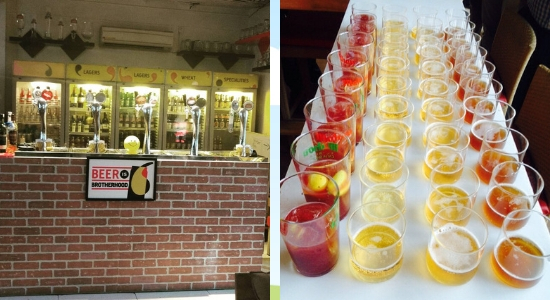 Nishant says that "A common misconception about beer is that - it is a summer-time drink only. This is true in case of a cold pilsner but definitely not for dark beers like stout or triple IPA, since these pairs best with warm dishes that one likes to eat in winter." 
"I want to promote the use of local ingredients by introducing them in my infusions, like aam panna beer, paan gulkand, and a range of others. In Delhi NCR, however, the majority of the people like wheat beers (Hefeweizen, Belgian wit, etc). Also, the demand for fruit infused beers has seen an increase these days since people are far more inclined towards experimenting with their palates."
According to Sudhanshu Tyagi, "The flavour of darker beers is also heavier so they fit better during winter, and comparably higher alcohol and intense flavour fit during the colder weather. Just like other types of alcohol, beer can give you a nice buzz. But beer is typically relatively low in alcohol content, around 4-6%. This is great because it reduces the risk that alcohol will sneak up on you and leave you wasted. On the other hand, various festivals and beer fests like Oktoberfest, Halloween nights, Dussehra, Diwali, Christmas, New Year, Valentine's Day, and others have increased the consumption of beer in a big way."