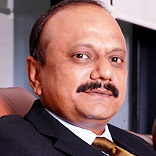 With an enviable experience of 20 years in the software industry, Rajeev Mittal is a name to reckon with. In his current position as Group Director for Microsoft India's Small and Medium Enterprise Group, he is at the vanguard of Microsoft's sales and marketing strategy for Indian SMBs. In an interview with Taslima Khan, Rajeev Mittal spoke about technology and Indian SMEs.
Taslima Khan (TK): What is Microsoft's definition of Small and Medium Businesses?
Rajeev Mittal (RM): While there are various indices which define what constitutes an SMB, including turnover, employee strength etc. Microsoft typically defines SMBs on the basis of number of employees and number of PCs used by the company:
•  Small business: 1-49 employees using 1 – 24 PCs
•  Mid-sized: 50-1,000 employees using 25 – 500 PCs
TK: What makes the Indian SME space interesting to you?
RM: According to the recent AMI Partners report on SMBs, there are about 4 million SMBs in India and interestingly they represent 99 percent of the businesses in India. Their criticality to the economy can be gauged by the fact that they represent 50 percent of the entire GDP of the country. The SME segment has also been delivering higher growth rate compared to the overall industrial sector, accounting for 39% of manufacturing output and 33% of exports. This segment is therefore a very important focus area for Microsoft as well.
TK: What chunk of your business is attributed to SMEs?
RM: Microsoft is among the first vendors in the country to work with SMBs and so we have a deep and extensive engagement with them. It is the fastest growing part of business at Microsoft and represents a significant share of our revenues.
Even against the backdrop of the recent downturn, SMBs are more resilient to changes than larger enterprises are and at Microsoft we are reaching out to them even more extensively to handhold them during these tough times.
TK: What are the major challenges or roadblocks you have been facing in the SME space?
RM: Lack of awareness happens to be one of the most significant challenges in reaching out to the SMB community along with the high levels of piracy here. Some of the challenges which we are constantly working towards overcoming include:  
1. Poor Awareness of Value of IT:
  A. IT adoption - a need for survival/to avoid competitive disadvantage, mandate from customers, suppliers
  B. No budgeting for IT, purchase driven by immediate need/funds availability.
2. Lack of Broad Skilled & motivated channel:
  A. SMBs lack skill to evaluate IT, rely on partners & peers for advice.
  B. Prefer from purchase from local channel
  C. Distrust IT (i) Data back up & security (ii) Lack of reliable local support & training
3. High Piracy  which stands at 69 percent
TK: Do you find Indian SMEs adopting technology aggressively?
RM: The larger part of the trends in the year 2009 was influenced by the recent economic scenario. Most analysts are unanimous in their belief that all organizations re-assessed their spending in the wake of the global economic crisis. They have modified their IT strategy from a focus on revenue generation or growth to an approach aimed at improving operational efficiencies and cost savings. 
According to an AMI Partners study, a majority of Small Businesses in India feel that the economy will have an impact on their business over the next twelve months. Almost 80 percent believe that the local economies will impact their business–with around 60 percent feeling it will have a very strong impact.
TK: What are the main deterrents to technology adoption for SMEs?
RM: Liquidity seems to be the topmost challenge for SMBs and is likely to remain a priority into next year. IDC believes that SMBs are more likely to focus IT investment on tactical projects, which deliver immediate benefits, than strategic projects. Clearly the immediate and near future is the focus of the SMBs. So the technology investments which they will be looking at are those which will stand them in good stead at the moment. According to AMI Partners the lease/finance model will also start seeing more adoption.     
TK: What are the recent upcoming technology trends in the SME space?  
RM: According to Springboard, Cost concerns will drive a primary focus on IT infrastructure consolidation among more mature SMBs, especially midmarket organisations. The need for increasing efficiencies will help virtualization emerge as key to business transformations. With the current times demanding innovation in the area of consolidation, virtualization is one vital device which will help SMBs in their quest for optimizing efficiency. Virtualization can help customers dramatically reduce their IT infrastructure costs and enable organizations to save their IT costs through server consolidation, disaster recovery, re-hosting of legacy applications and software test and development. The awareness levels on virtualization amongst SMBs is still at a nascent stage but going forward more SMBs are expected to embrace this technology.
TK: What are you doing to assist SMEs in technology adoption?
RM: We reach out to the SMB community through our extensive partner network which is our interface with the customer. We engage them in various training programmes which help them generate awareness among the SMB community about the enabling which IT could provide to them. We also support the partner community to emerge as consultants to the SMB community and handhold them especially during tough times.
Along with that we also make original software available easily through our online portal buyoriginalms.com.
TK: Which are the verticals that are very active in the SMB space in terms of technology adoption?
RM: There are some segments and verticals which are relatively more responsive as far as IT adoption is concerned rather than some others-these sectors include: IT/ITeS /BPOs, Manufacturing, including auto components manufacturing, Pharma, Financial services and Exports.