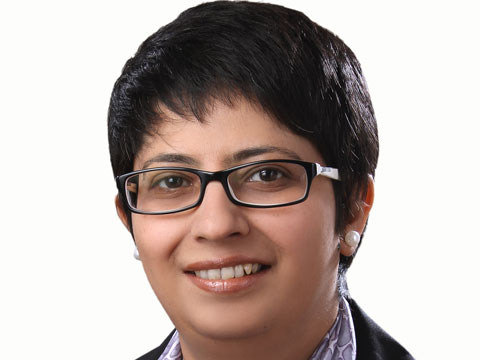 One of the key challenges that mid-sized corporations face is managing expenses effectively. Financial discipline can help companies tackle slower business growth even in a slackened economic environment. Therefore, a long-term perspective and efficient financial management systems can help SMEs to have maximize control and improve compliance with purchasing policy. American Express here plays a crucial role by providing tailored expense management solutions that are designed to help SMEs or MSMEs.
In an interaction with Entrepreneur India.com, Saru Kaushal, Country Business Head (Global Corporate Payments), American Express discussed more about the solutions that drive real savings for SMEs business and facilitate efficient administration of expense management programs using online tools.

What are your tailored expense management solutions for SMEs?

In today's environment it is important for mid-size organizations to find ways to sustain profits and continuously look at opportunities to control cost, in order to maintain their financial health and to be better prepared for the future. Our expense management solutions streamline purchasing and simplify reporting and reconciliation processes for business related expenses. Through our expense management solutions, we provide mid-sized companies with seamless access to pre-negotiated discounts and savings on everyday business spending including travel, dining, shipping and conferencing services.  These solutions help drive tangible savings for businesses; streamline processes to reduce time and cost; offer extended payment terms;
facilitate efficient administration of expense management programs using online tools and maximize control and improve compliance with purchase policy. And, it is all supported by superior 24-hour worldwide service.

How does you enable SMEs to manage expenses cost effectively? What are the tools that are offered by American Express?

We help mid-sized companies who often seek but can't secure the lower rates usually reserved for large corporations, as well as suppliers who are often looking for ways to better promote their products and services to the middle market. Moreover, many companies may not realize it, but business travel and entertainment are among the top controllable expenses in an organization. Hence, managing expenses on this front is as important as growing revenue. Our expenses management solutions are central to effectively control and monitor business travel expenses. They also give businesses flexibility around when to make payments, which enable companies to manage working capital and cash flows for investment in business growth.

What are the challenges small businesses today face in terms of complying with the purchasing policy?

One of the key challenges that mid-sized corporations face is managing expenses effectively. This is where the American Express Corporate Card program comes in as an effective tool to help mid-market companies – both in facilitating ease of payment processes and in driving savings. Besides brining savings, the program also provides various liability options as well as user defined spend controls and limits that help companies control expenses.

Moreover, business travel is highly important for the growth and development of the business specifically within the SME segment.  A substantial spend gets directed towards business travel and lodging.  Marrying this business need with spend cuts is an important challenge for SMEs – and that's where American Express' expense management solutions come into play.

What are the crucial changes that need to be incorporated in the spending behavior of SMEs?

Financial discipline can help companies tackle slower business growth even in a slackened economic environment. SMEs today should look at their businesses from a long-term perspective and put in place efficient financial management systems and processes. 

How American Express Management Solutions help SMEs to keep track on all business related expenses and gain visibility over the same?

With American Express expense management solutions, travel expenses, entertainment, and business related costs can be recorded in a complete expense management system. This provides complete transparency of company expenses, allowing management to more effectively achieve objectives such as consolidating suppliers and identifying savings opportunities, driving compliance and identifying out of policy spends, setting individual limits by staff and expenditure type, leveraging insights to compile best practices, integrating expense management and management information systems, pro-actively discovering trends and improving extended payment terms. 

Companies can also have 24/7 access to reporting online, with data that can be sorted, manipulated and customized according to their individual requirements.

To what extent, do these solutions have empowered SMEs to attain a comprehensive reduction in costs and increase revenue?

Companies using expense management are successfully realizing up to 8 to10 per cent savings through T&E expense management – this means that a company with T&E expenses of Rs 1 crores, can save upto Rs 8-10 lakh.

The spend data captured through the American Express closed-loop network provides companies with spend clarity. This delivers companies savings through enhanced vendor negotiations, as well as the elimination of steps in the expense claims process. Better negotiations with hotels and airlines can help drive savings of upto Rs 6 lakhs, while compliance and processes can help drive savings upto Rs 2-3 lakhs.

Please throw some light on your online services and corporate cards.

American Express offers its card members secure and convenient services 24X7 to manage their Corporate Cards online. The services enable increased visibility and transparency of T&E expenses, control of expenses by setting monthly spend limits on transactions, flexible billing and options to suit their payment schedules.

American Express offers a range of products which include the American Express Corporate Platinum Card that combines savings and superior concierge services giving an edge to mid-market enterprise owners/entrepreneurs; the American Express Gold Corporate Card, which helps companies drive savings and corporate rebates of up to 15 per cent on hotel expenses across Taj Group properties in India; the American Express Business Travel Account offers control over travel expenditure, and companies can benefit from the facility of interest free enhanced credit period of an average of 36 days as against the 15 day billing cycle followed by most travel agencies.

Corporate Membership Rewards program, enables mid–market companies in India to achieve greater savings and benefits on their company expenses. This, first-in-market program allows companies to consolidate reward points earned through multiple cards issued to employees into a single company account.

Recently, American Express also launched the Jet Airways American Express Corporate Card.  This co-branded card is the first-of-its-kind in India with benefits to both companies and their employees. Companies earn a share of the JPMiles accrued by their employees on T&E expenses, and incremental JPMiles on reaching various spend thresholds on booking with Jet Airways. Employees earn a welcome bonus of 10,000 JPMiles, 3 JPMiles for every Rs.100 spent on T&E and 6 JPMiles for every Rs 100 spent on jetairways.com for air travel bookings.
How American Express Consulting drive efficiencies in the procurement strategies?

What can procurement leaders do to support cash flow within their company? Simply negotiating more favorable payment terms with suppliers is likely to damage valuable relationships and only serves to force liquidity issues down the supply chain, but there are solutions that benefit both parties. 

Our expense management solutions enable a company to gain better visibility of business expenses, which again can lead to better terms being negotiated by companies with suppliers. If an expense system is properly working, with extensive visibility, procurement departments can negotiate with key suppliers and negotiate with them on price, delivering even greater value.

What are the feedback have you received till now from SMEs?
As per our long standing policy, we cannot disclose client related details. However, American Express Corporate Card program targets a diversified set of companies - Indian companies, SMEs and MNCs, across industries like IT, Retail and Manufacturing. We have already worked with several mid-sized companies across the country to deliver expense management solutions, and we are seeing an increased demand from tier 2 cities. 

What is your future roadmap?

We are represented in 12 cities across India currently and plan to extend our solutions and offerings to newer cities this year.