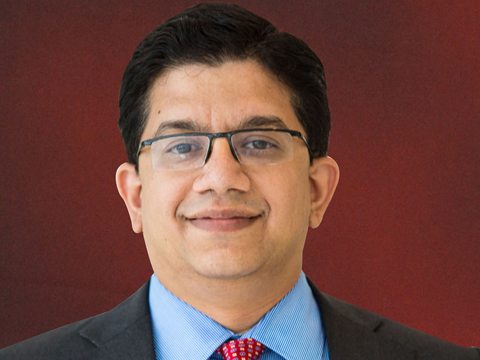 V. Srinivasan
Business Head, CRISIL Ratings- SME
CRISIL is a global analytical company providing ratings, research, and risk and policy advisory services. CRISIL is majorly owned by Standard & Poor's, a part of McGraw Hill Financial.
V. Srinivasan, Business Head, CRISIL Ratings-SME leads CRISIL's several other business verticals such as SME ratings, institutional sales for the SME business, real estate ratings and business school grading. He is also the Chief Strategy Officer of CRISIL. As CSO, Srinivasan is responsible for overall planning and execution strategy for CRISIL and all its businesses. In this role, he is also responsible for M&A and other strategic partnerships.
Srinivasan joined CRISIL in 2000 as a credit analyst in the ratings team. Over the years, he has provided significant leadership in driving efficiencies and productivity in processes for clients, resulting in millions of dollars of savings.
In an interaction Entrepreneur India, Srinivasan throws some light on the key procedures and the eligibility criteria of CRISIL SME Ratings and how it can help SMEs improve their business competitiveness
What are the key procedures involved in the CRISIL SME Ratings?
The process begins with the company signing a rating agreement. Once CRISIL receives the completed agreement, we request the company for information to carry out the rating exercise. Our representatives visit the enterprise and make site visits to observe its operations. Our analysts interact with the firm's management, bankers, suppliers and customers for getting the relevant inputs. After the conclusion of these discussions, a detailed rating report is prepared and rating is assigned. The report is then sent to the enterprise. On acceptance of the rating by the client, it is published on CRISIL's website. The entire process can be completed in 1-3 weeks.
What are the eligibility criteria and validity period of CRISIL SME Ratings?
All types of business enterprises, including public and private limited companies, co-operative societies, partnership firms, and sole proprietorships, are eligible for CRISIL SME Ratings.
A CRISIL SME rating is valid for one year from the date of issuance of the SME report by CRISIL. MSMEs are encouraged to obtain rating reviews periodically, and CRISIL carries out reviews whenever requested by the MSME or a lender (such as a bank).
How does it help SMEs to improve their business competitiveness?
Access to adequate and affordable credit is a key challenge for the segment. An important element in increasing the comfort of bankers in lending to SMEs is the availability of high-quality analysis and independent opinion on SMEs. And that is exactly what CRISIL SME Ratings seek to provide.
We believe ratings are a significant step towards empowering SMEs, increasing their access to funds, and at the same time, driving the entire SME ecosystem towards higher levels of transparency and corporate governance. We have received strong feedback from all stakeholders–including customers, bankers and industry associations–that stand testimony to our belief. In fact, our data and analysis show that ratings bring four distinctive benefits to SMEs, which I would like to highlight briefly.
Firstly, ratings help SMEs access funds by enhancing the confidence of bankers in them. Highly-rated SMEs also get interest rate reductions from lenders. Today, more than 20 banks provide interest rate concessions ranging from 0.25 per cent to 1.25 per cent to rated entities, depending on their ratings.
Secondly, getting rated gives SMEs greater acceptability among customers, suppliers as well as other investors. Many of the large corporates have integrated ratings in their vendor/dealer evaluation processes. Similarly, many of the government agencies use ratings while shortlisting vendors and suppliers.
Thirdly, the feedback and insights gained by SMEs during the rating process and through our rating report which clearly highlights their strengths and weaknesses area are valuable tool for self-improvement.
Finally, rated SMEs/SSIs get a free listing on CRISIL's RatingScan, a publication that is used as a reference for lending decisions by many banks, and on the CRISIL website. The entity's name is also featured on CRISIL SME Connect, the monthly newsletter that is sent out to more than 3,000 bankers and 12,000 companies across India.
Also, it is important to note that around 40 per cent of SMEs rated by CRISIL come back for renewal.
What are the key objectives of CRISIL SME Ratings?
CRISIL pioneered the concept of ratings for the SME segment in India in 2005. To date, we have completed more than 75,000 SME Ratings. Today CRISIL is the largest SME rating agency in the world in terms of number of entities rated.
We have always been focused on making markets function better and our innovations have been geared towards that. The concept of SME Ratings took shape in 2005 when we took a closer look at the segment and realised that even though there were approximately 26 million SMEs powering the economy, the segment was faced with some fundamental problems such as information asymmetry about SMEs, which eventually manifested itself in a lack of adequate finance to propel the growth of the segment.
Therefore, we felt that a customised rating scale for the SME segment would help serve the needs of the segment better by bringing in greater transparency and go a long way to help them raise funds. Over the years, we have seen that a lot of companies from the SME universe have used the ratings as a stepping stone to move to the next level of being a mid-size company.
Do investors and regulators have their say on the rating criteria?
We widely disseminate our criteria through our brochures, discussions with bankers and industry associations, and explain it to SMEs before a rating process. CRISIL publishes all its criteria on its website and every stakeholder can provide suggestions and comments. We have an independent team within CRISIL that designs and periodically reviews the criteria.All comments and suggestions are incorporated as appropriate.
Is CRISIL SME rating totally based on financial parameters or there are also other factors which are considered while measuring the performance of the company?
Financial parameters are just one of the many parameters that go into the evaluation of a SME. We perform a 360-degree analysis of a company. This analysis can be broadly bucketed into four key parameters.
Firstly, under the first parameter, we consider the following factors - track record and qualifications of the promoter, constitution of the organisation, quality of second-tier management, quality of systems and control and transparency/disclosure levels.
Secondly, we take into account the future prospects of the industry the client belongs to, and also the various micro and macro-economic factors affecting that industry.
Thirdly, the key determinants of an SME's business strengths are – business certainty driven by sustainability and growth in revenue, concentration risks related to its customers, geography and products. Additionally, we look at the customer profile, relationship between the SME and its customers, nature of technology/ production facility, quality of utilities and infrastructure, availability of raw materials and price volatility.
Finally, we gauge the financial strength of SME entities by looking at their sales/turnover, profitability margins, PBDIT/interest, networth, liquidity, working capital management, inventory management, cash management, and management of receivables and payments.
Highlight the purpose/objective behind CRISIL partnering with NSIC?
Currently, the government subsidises the fees for this rating by up to 75 per cent so as to enable small enterprises to get themselves rated. NSIC is the nodal agency implementing this scheme of Ministry of MSMEs, and hence the partnership with them.
What are the key initiatives that CRISIL SME Ratings is likely to take for the welfare of the small businesses in India?
We are one of the key stakeholders shaping an appropriate policy for MSMEs in the country. We provide our views at various forums like the Ministry of MSME, RBI, industry associations, etc. to highlight the needs of the segment. Our ratings provide transparency to the segment. We believe there is a large universe of more than 5 crore entities that can be potentially rated and we are working to grow the rated entities universe.