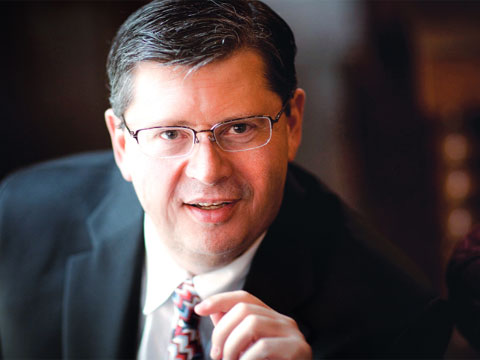 Richard D'Aveni
Strategist & Consultant,
Professor, author, strategist and consultant Richard D'Aveni is one of the top 50 management and strategy thinkers in the world. The Tuck School of Business professor is a recipient of the prestigious AT Kearney Award for his research.
On his recent visit to India, Richard D'Aveni emphasised on the need to boost women participation and encouraging start-up entrepreneurs in India. According to him, India's GDP growth will be higher than China, and by accelerating women participation, it can lead to a double digit growth much sooner. In an exclusive tete-a-tete, the Godfather of Strategy guides entrepreneurs.
What strategy can be employed by start-ups to compete with big players?
It depends on your goal as a start-up – if you just want to remain a small family business or want to grow big. The key for start-ups is to do something revolutionary. If you try to compete with big players on their ground by their matrix, you will never win because they have the mass and they will continue to improve their masses. So, the second point I will recommend these companies before they get started is anticipate what large companies would do.
Have a second act. One way to do that is to look at the complexities of the company you are competing with. Another point is all these big players have big economies of scale that become barriers to entry. Their brand name is a barred entry. But instead of considering it as a barred entry, consider it as a prison wall. It not only keeps you away, it also keeps the big corporation in the space that it has defined. So you can work everywhere around the prison wall.
Wal-Mart was beaten by companies that started from scratch like The Home Depot and companies that started to serve different kinds of items at less price. As a result, a lot of small boutiques were opened up near Wal-Mart, and they offered more varieties than Wal-Mart. So these companies turned the entry barriers into prisoned walls. Now Wal-Mart is being stung by 1,000 of little bees (small firms).
Now being stung in thousand of places, the elephant (Wal-Mart) doesn't know what to do. The elephant cannot remove all bees. So that's the lesson for small companies to sting the elephant. Small companies can come together to beat them.
Where do large firms fail?
They get momentum but their momentum is in a certain direction and turning the ship is difficult at that stage. You have to convince 100 thousand people to think differently. It's a very difficult thing for them to quickly turn to. On the top of that it takes years to train people in the way a company works but once that way becomes obsolete it's almost impossible to change them (people) after spending lots of money in training them in one particular way.
Now you have to adjust and people don't believe you because big companies lose their credibility when they try to change. They are very bad at adopting the new technology because it calls for writing off billion of dollars of investment.
For example, in India, we see big IT firms are losing because they can't adapt to what small firms are doing whether it is cloud computing, big data or the Internet of things.
How can entrepreneurs imbibe strategic thinking?
Entrepreneurship is a funny thing because there is a very high value in it and luck plays a big role. Strategy at the beginning has to take two directions.
At first, you have to recognise the odds against it. Nine out of 10 small firms fail so the first strategy is to do everything with the minimum possible investment. So don't open an office that requires furniture, don't buy a building, rent everything, use the minimum amount of investment that you can to get started.
Second direction is to adjust with the customer faster than a big company. So look for small niche in the market which is untapped and that can be very big. So you have to go there and experiment; if you don't, you will never know what they want.
You might have a brilliant product in mind but someone will never buy it. So the strategy is don't invest a lot and do everything as lean as possible. Moreover, don't get stuck with your own idea, go with a constant adjustment to discover and explore what it is that is untapped.